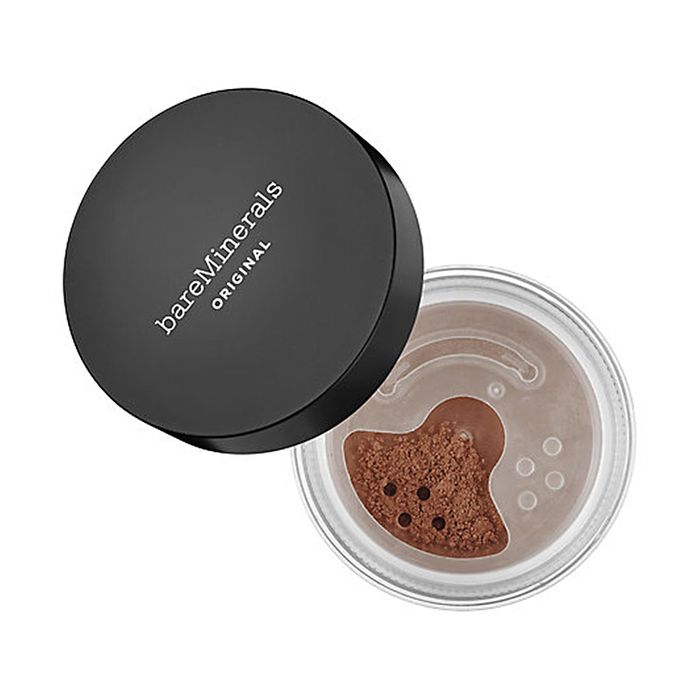 BareMinerals Original Foundation.
The not-so-secret secret to great skin espoused by celebrities, dermatologists, and beauty editors is that you should always, always wash your face before bed. But if you're human, you slip up sometimes. Even if you're not human (Beyoncé), you can sometimes be too lazy to wash your face at night, as the singer admitted to British Cosmopolitan in 2011. "My biggest beauty sin is sometimes I am too lazy to wash my makeup off at night," she told the magazine.
If you have to sleep in your makeup (or you've decided to make it a lifestyle choice like Charlotte Tilbury), the best makeup to sleep in is BareMinerals Original Foundation, whose tagline is actually "Makeup So Pure, You Can Sleep In It" (it's even trademarked). The brand's makeup is pulverized into a fine mineral powder that's free of traditional skin irritants like fragrance, parabens, silicones, or waxes, making it less likely to clog pores. I've slept in other makeup before, only to find an angry zit on my face a few days later. But I've gone to bed wearing BareMinerals and have found it still clinging to my face in the morning, white pillowcases squeaky clean. My skin remained surprisingly clear, even a few days later, and the foundation has afforded me blemish-free skin even after wearing (and sleeping in) it on long-haul flights.
Now the foundation isn't perfect. It's messy and it's practically impossible to do the Swirl Tap method founder Leslie Blodgett made infomercial-famous without leaving a fine coating of beige powder on your sink. It's also a little bit drying. Unless your skin is exquisitely moisturized or you have supremely tiny pores, the powder does tend to settle into skin so it won't look great close-up or in harsh lighting (it's better if you use a primer beforehand, but primers usually contain some form of pore-clogging silicone). But it doesn't leave me with a blemish that turns into an acne scar that then takes two months to correct, and it does come in a nice offering of shades, with a newly expanded count of 30 colors.
bareMinerals Original Foundation Broad Spectrum SPF 15