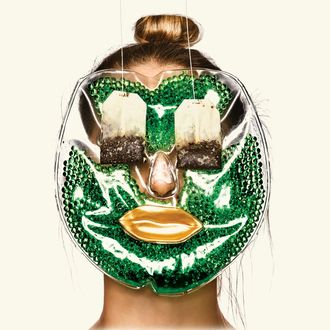 Photo: Bobby Doherty/New York Magazine
For the Best of New York, the focus, as always, is on things and places that are, if not brand-spanking-new, then newish, having debuted within the past year. Here, we have a guide to getting pampered, getting in shape, and getting up on the latest beauty trends across the city, including brow tints, IMAX workouts, and the drybar of hair color.
Niche Asian Beauty
UME COSME
318 E. 9th St., nr. Second Ave.; 646-964-4348
There's no shortage of sprawling Asian beauty emporiums in K-Town and Flushing (Tonymoly, Besfren Beauty), but relatively few in this part of town. And what Ume Cosme lacks in square footage it makes up for in curation, packing a surprisingly large array of high-quality brands onto its petite shelves: Skin Prestige Crème d'Escargot anti-aging snail creams ($60), Creamy Cleansing Foam from Japanese luxury line the Ginza ($90), and long-lasting Missha lip tints ($12), among countless other brightly packaged delights. The staff can be hit-or-miss, alternating between chatty and monosyllabic, but most of the products have English translations on the labels if you're having a tough time figuring out which peel-off face mask is right for you.
Color Touch-ups
Madison Reed Color Bar
7 W. 19th St., at Fifth Ave.; 646-682-9432
Essentially, this unpretentious salon is the Drybar of hair color: It offers services that are fast, unfussy, and cheaper than you'd expect. The most popular option, a root touch-up, is $45 for 45 minutes; glosses or blowouts are offered as add-ons. Though it's not the place for a drastic change of color or a complicated service like balayage, clients keep coming back to tide themselves over between appointments at their regular salon, often after a class at SoulCycle across the street or one of the other fitness studios nearby. (After work is also a busy time here: Four nights a week, Madison Reed stays open until 9 p.m.) The offshoot of a beauty brand that specializes in dyed hair, the salon also sells a range of products to use at home.
High-Intensity Interval Training
HIIT Box
527 Carroll St., nr. Fourth Ave., Gowanus; 917-937-6777
Students spend only half a minute to a minute on each move in Maryam Zadeh's 30-to-50-minute classes. ("You can do anything for 30 seconds," she says.) Her fast-paced sequences, which cover both cardio and strength and are set to top 40 hits, zip by, thanks largely to her motivational skills (she's like that one high-school sports coach who rode you hard but made you feel great about yourself). Perhaps best of all, the size of the single-location studio ensures that classes are capped at five people. This means personal-­training-level attention at prices on a par with the city's bigger-box high-intensity, barre, and boot-camp-style classes (about $30, depending on how many you buy at once) —­ without any of the branded merchandise or culty jargon.
Two-Chair Barbershop
Sposito
61 Greenpoint Ave., nr. Franklin St., Ste. 115, Greenpoint; 917-502-8324
Once you find this three-month-old barbershop, down a warren of hallways on the ground floor of Greenpoint's Pencil Factory, you're welcomed by what the kids call "chill vibes" — natural light, neon sign, looming cacti, a mid-century lounge area that looks like Palm Springs, and not a cashier or computer in sight. Your barber will be Mike Sposito or his pal Kevin Baker, both of whom logged time at bustling shops like Freemans and Fellow Barber before transitioning to house calls for GQ editors and then a storefront. They draw PR dudes and North Brooklyn line cooks with the kind of shaggy, boyish, not-too-done clipper cuts ($50) that Adam Levine would never request. Another plus, Sposito takes on-the-hour appointments online, every day from 9 a.m. to 9 p.m.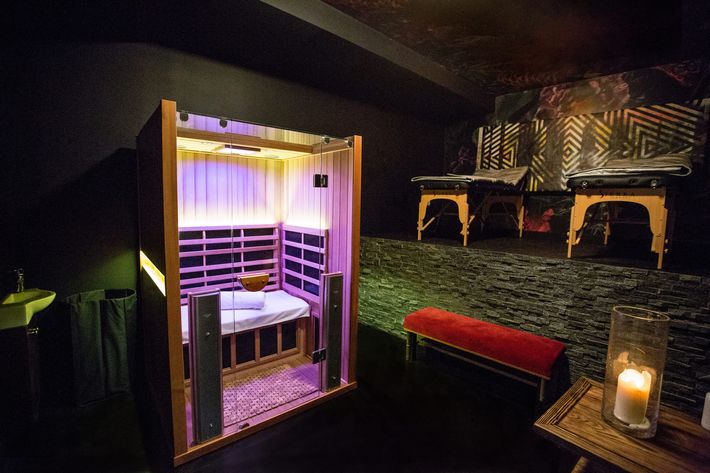 Witchy Wonderland
The Alchemist's Kitchen
21 E. 1st St., at Second Ave.; 212-925-1267
To meet all your holistic needs in this ever-more New Age–y age, you might spend the day bouncing from Maha Rose for a healing crystal to Enchantments for some intention-based incense to Higher Dose for a hit of the infrared sauna. Or you could get all this (plus vegan snacks in the first-floor café) at the sprawling Alchemist's Kitchen. The main floor has dozens of herbal medicines like He Shou Wu, a longevity-and-circulation tonic ($55), and botanical bath and beauty products like Monk Oil City Skin potion ($24). The shop also leases space to several independent wellness providers: infrared saunas run by Higher Dose ($45–$65), 15-minute cryo-facials from the Cryosphere ($85), Nutri­Drip IV hangover relief ($100 to $250), energy-restoring reiki ($120), and Theraphi, a hard-to-find electromagnetic-wave treatment inspired by the work of Nikola Tesla ($60).
Eyebrow Tattoos
Piret Aava
59 Franklin St., nr. Broadway, Ste. 206; 646-847-9070
For those who suffer from sparse or patchy brows — whether from over-plucking as a '90s teen, a wax gone awry, an autoimmune disease, or even chemo—Piret Aava (or "the Eyebrow Doctor," as she's known on Instagram) has the cure. To achieve this semi-permanent version of an actual tattoo, Aava — who did waxing and plucking at Warren Tricomi before social media convinced her she needed to get in on the makeup-­tattoo game — starts by drawing in your brow shape so you can see how the ink is going to look. Then she uses a tiny blade to deposit pigment under the skin that looks virtually indistinguishable from actual hair. This part hurts a little more than a wax, and the price is a whopping $1,200, but the results are truly remarkable (check out @eyebrowdoctor on Instagram for proof) and last for as long as three years. Plus, you can throw away all your fill-in pencils, powders, and gels that never quite did the job anyway.
Fancy Organic Skin Care
Credo
9 Prince St., nr. Elizabeth St.; 917-675-6041
Though the offerings are strictly focused on "clean" beauty and skin care — made with ingredients that are all natural and often organic — the vibe at Credo is more glamorous than granola. More than 100 lines are laid out in a gleaming, intimate space beyond the turquoise-painted exterior: well-known brands like Tata Harper (her Resurfacing Mask goes for $58) and RMS (whose two salient mascaras are $28 a tube) to discoveries like Beuti Skincare, a reported favorite of Kate Middleton's that only Credo carries in America.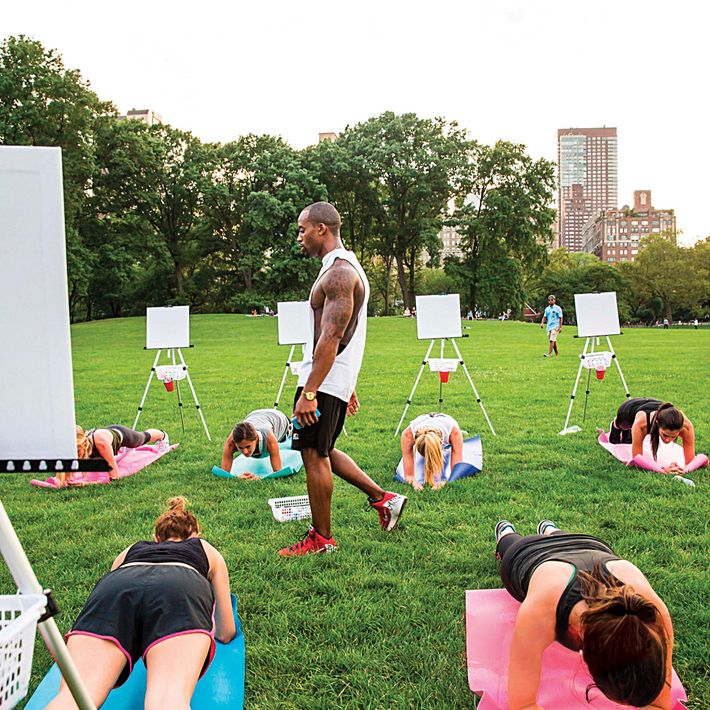 High-Intensity Interval Painting

Hiip Hype
12 St. Marks Pl., nr. Third Ave.; no phone
Sayco Williams was working as a trainer at New York Sports Club, but his clients kept telling him they hated exercising there. His solution: mixing fitness with one of his favorite hobbies in a hybrid called High-Intensity Interval Painting ($30). Each 75-minute class includes 30 minutes of painting; for every minute of push-ups, planks, and scissor kicks, there's one minute of painting on a canvas. The class ends with a 15-minute showcase where everyone presents their work to the class and explains both what ended up on their canvas and what they had meant to create. Williams provides all the materials: canvas, paintbrushes, acrylic paint, and yoga mats, to be used outside when it's warm or in a studio space during the winter.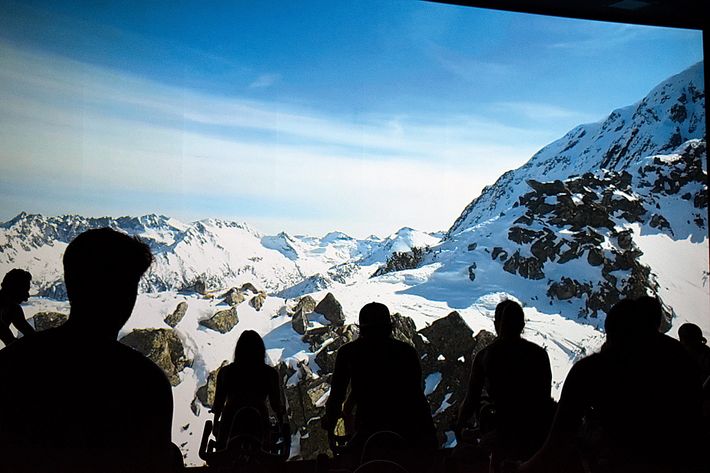 Spinning With a View
IMAXShift
127 Plymouth St., nr. Pearl St., Dumbo; 718-858-1200
The thing about spinning — and working out in New York's small quarters in general — is the unpleasantness of having to stare at the sweaty back of the person in front of you. IMAXShift solves that problem with a 40-foot-wide IMAX screen and four tiered rows of 50 bikes. When the music starts, so does the movie, rotating through a series of scenes with each song. A recent Monday-morning class ($34) started by looking out over a beach; then the beat dropped, and the cyclers got a first-person view of riding through the ocean as if on a Jet Ski. From there it was on to a Drake music video (there are entire classes dedicated to music videos), a romp through distant space, a visit to Rome, and a ride up and down a roller coaster the instructor called the hyperdrive.
*This article appears in the March 6, 2017, issue of New York Magazine.