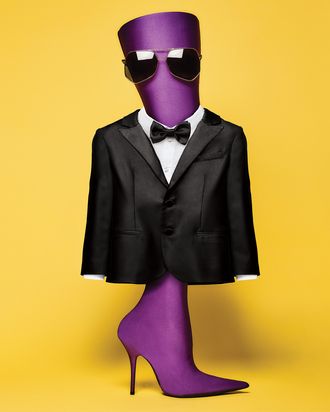 Balenciaga ultraviolet spandex thigh-high boots, $1,395 at 148 Mercer St., 212-206-0872; Grey Ant sunglasses, $420 at neimanmarcus.com; Armani junior black two-piece tuxedo with satin lapels, $1,800 at 1223 Madison Ave., 212-828-6920; Armani junior long-sleeve button-down shirt, $145 at 1223 Madison Ave., 212-828-6920; Armani junior black bow tie, $100 at 1223 Madison Ave.; 212-828-6920.
Photo: Bobby Doherty/New York Magazine
For the Best of New York, the focus, as always, is on things and places that are, if not brand-spanking-new, then newish, having debuted within the past year. Here, we have our hyper-specific guide to getting the most out of New York shopping, including where to find hefty sweatpants, alt Marimekko, and Bronx couture.
Restaurant Plates
Noble Plateware
87 19th St., nr. Third Ave., Gowanus; 347-683-8781
Ceramicist Wynne Noble makes much of the understated dinnerware you see at Contra, Momofuku Ko, and Gramercy Tavern, among other restaurants. She's been honing her craft for decades, rolling and pinching clay slabs (as opposed to throwing on a wheel) into organic shapes with natural textures and colors. Her wide, shallow Sapphire bowls ($11 to $31) are glazed in their namesake hue; roughly textured taco holders ($35 for a set of two) mimic the curvy shape of the food they're intended for. After years in Dumbo, Noble recently relocated her studio to a larger space in industrial Gowanus, which is open to the public by appointment and for the occasional walk-in. It's probably not the kind of place you'd wander into by accident, but if you plan for it, Noble will show you around her working studio space and set you up with a new set of plates, bowls, or tiny handcrafted sauce vessels at retail prices from $10 and up.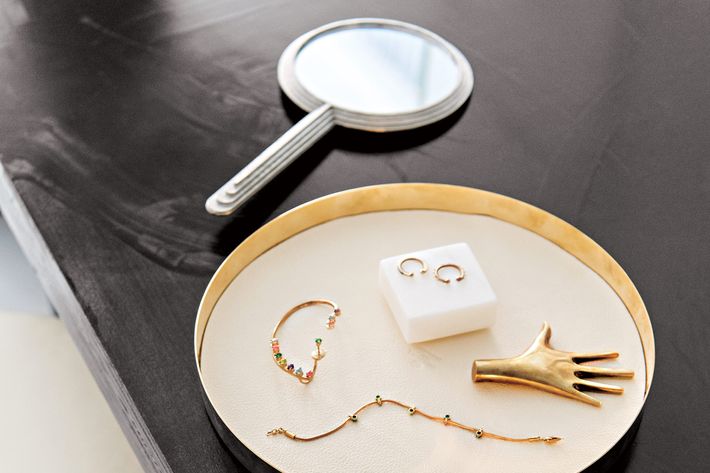 Cool Jewelry
Quiet Storms
142 Grand St., nr. Berry St., Williamsburg; 718-782-1547
Sleek collar necklaces, earrings in the shape of fried egg whites, evil eyes galore: The selection at Quiet Storms is of the subtly outré sort you might find in the jewelry department of Dover Street Market or Barneys. But here, you're tucked away among mostly Brooklyn locals and unpretentious salespeople. The average piece of jewelry (say, one of J. Hannah's gold signet rings) is between $400 and $800, and there are much pricier things, too — like Jemma Wynne's emerald-and-pavé-­diamond ear climbers ($5,000). But there's also a selection in the $100 range, including an extra-tiny single-hoop earring by Maria Tash.
Menswear Store
Todd Snyder
25 E. 26th St., nr. Madison Ave.; 917-242-3482
Todd Snyder is the former head of menswear at J.Crew, so it makes sense that his own line has nearly the same breadth. Offerings at his new flagship store, on the northern edge of Madison Square Park, include everything from soft T-shirts (from $50) and hefty sweatpants (from $118) to a full line of suits and even tuxedos (from $595). Plus Snyder has brought in his friends and chosen them well: the Moscot wall in back, the forthcoming El Rey outpost near the front, the Aesop grooming products and the vintage watches from Hodinkee. And if none of them wins you over, the bathroom in back — a rarity in retail — may just save your day anyway.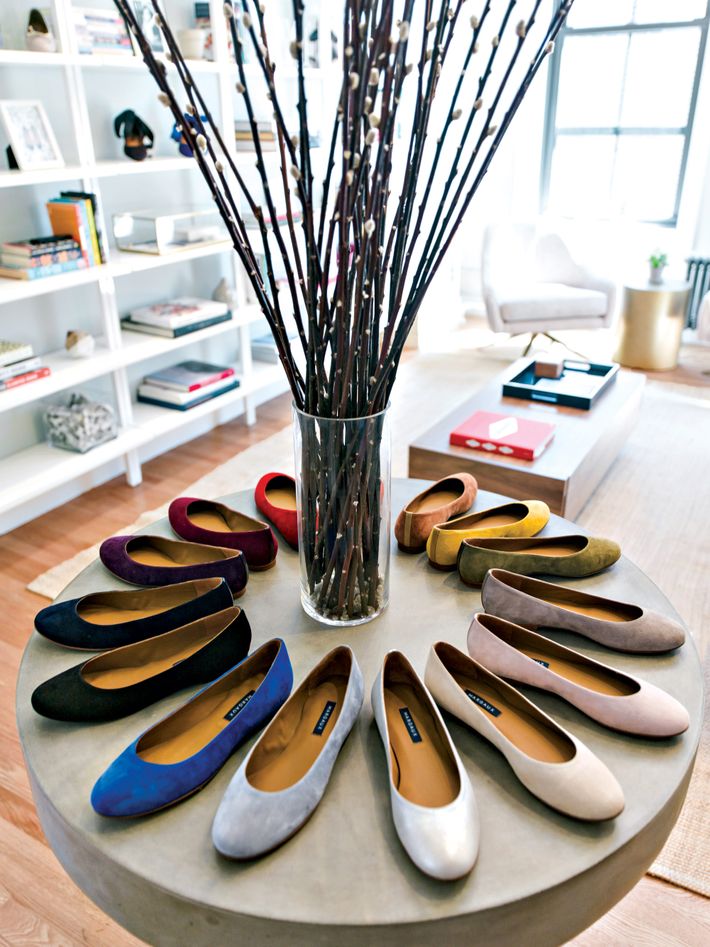 Custom Ballet Flats
Margaux
37 W. 20th St., nr. Sixth Ave., Ste.; 1206 347-855-4803
It might seem like a lot to spend $275 on a pair of ballet flats that aren't Manolo Blahnik, but in this case — a line started by two former Harvard roommates and housed discreetly upstairs in a prewar Flatiron office building — the Manolo-quality Italian suede is crafted ­specifically for your feet. An obsessive customization process, turned around within just two weeks, involves a series of eight measurements along with notes about ankle width, foot volume, and bunions; you also get to choose from a rainbow of suede and leather shades — tangerine and lemon, pale gray and cream. The brand's signature shape keeps toe cleavage to a minimum, with a just-round-enough front that's both elegant and supportive. Ready-made options are also available, for $185.
Analog Toy Store
Geometry Kids
48 Grand St., nr. Kent St., Williamsburg; 718-388-4480
Don't expect to pick up the latest Hatchimal behind the blush-pink door of this classic toy store. You're more likely to find attractive non­electric toys and clothing curated with a designer's eye — the store's owners include an architect and the woman behind the culty flower shop Sprout Home — like beechwood toy Broncos (from $25), framed art prints ($175), and Collégien slippers decorated with clouds ($32), all displayed between neon fried eggs and cacti lamps that dot the walls. And if you want to encourage your kid to go completely off the grid, there's even a working typewriter on display from the set of Girls (not for sale).
Fancy Dog Store
Max-Bone
21 Crosby St., nr. Grand St.; 646-484-5846
Nearly hidden among all the design stores is the chic-est pet store in New York. It's but a small box of a shop with just one big ceiling-­grazing plant for decoration. The light-wood floating shelves hold poop bags ($12) and knit jumpers ($55), and doggy toys are arranged in piles on the floor. While the space looks more like the perfume shop down the block than a pet store — it probably smells like that perfume store, too, thanks to the Byredo candle by the register — the staff is obsessive about pampering dogs, whether it's by dressing them in the latest sailing-rope leashes ($85) or setting them up with a two-tone teepee ($220).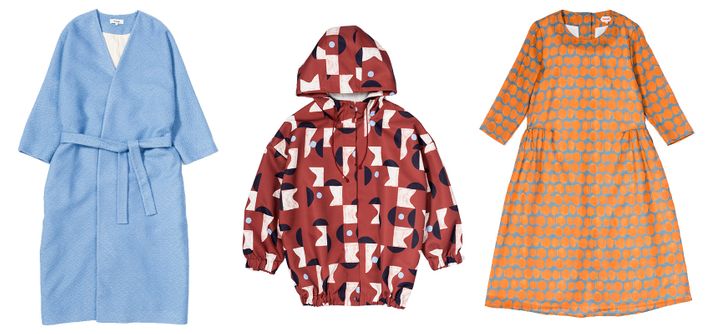 General Store
Regular Visitors
149 Smith St., nr. Bergen St., Boerum Hill; 646-766-0484
Situated on a bustling corner in ­Boerum Hill and brimming with Odeme candles, copies of The Gentlewoman, and kombucha on tap, Regular Visitors isn't the first brand to try to Brooklynize the old-school general store. But while you might find yourself dropping $350 for a throw blanket at the more upscale versions of this trope, the selection here tends to be more reasonably priced: a handsome leather-band watch for $43, a Minor History leather tote for $185. And even though the pastry offerings admittedly aren't the thing here, you can grab a croissant and coffee, pull up a seat at the marble countertop that looks out onto Smith Street, and people-watch for as long as you want.
Marimekko Alternative

Samuji
12 Prince St., nr. Elizabeth St.; 646-495-6549
Imagine you're looking at a Mari­mekko print through a wabi-sabi lens, and you have Samuji, another quintessentially Scandinavian (though much more muted and slightly more splurgy) brand from former Marimekko creative director Samu-Jussi Koski. The space — soft tones and birch wood and smoked glass — is a fitting backdrop for clothes like accordion-pleated pants ($390), slouchy canteloupe-colored wrap coats ($590), and summer-weight knit dresses in speckled olive ($790). Same goes for Samuji's Koti (the Finnish word for "home") line of décor, which includes mouth-blown-glass watering bulbs ($65), burled-wood bowls (from $240), and indigo-dyed Japanese linens and Finnish fabrics available by the yard (from $29).
Pin Store
Pintrill
231 Grand St., nr. Driggs Ave., Williamsburg; 718-782-1000
Pintrill has made a success story out of the pin store. The shop's founder, Jordan Roschwalb, takes inspiration from Supreme and similar streetwear shops by making limited-­edition runs of pins, including an enamel pair of Yeezys ($15). Hundreds of pins stick out of clear acrylic holders along the all-white walls: mini-bottles of Sunny D ($35); Alpha Industries collaboration packs ($38); and a caseful of rare finds from around the world, such as a ten-year-old Mr. Met bobblehead ($40) and a Keith Haring Radiant Baby from Japan ($99). Sit back and look through them all from the comfort of a worn-in chesterfield couch.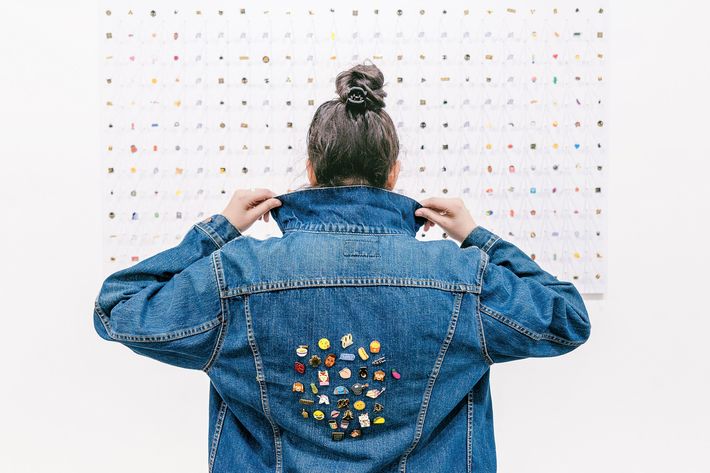 Bronx Boutique
9J
41 Bruckner Blvd., The Bronx; 646-770-7187
Owner Jerome LaMaar calls it a "gallotique." The store mixes LaMaar's custom pieces — like a recent run of nine oversize denim jackets embroidered with Swarovski crystals (price upon request) and denim lab coats ($200) — plus unusual brands that match LaMaar's flashy sensibility (see the $300 hand-embroidered tunics by Ukrainian brand Foberini). Couture clients have included Beyoncé and Hailey Baldwin; Tina Knowles and Michele Lamy have even made it to the Bronx to shop in person.
Designer Boutique
Vivienne Westwood
14 E. 55th St., nr. Madison Ave.; 917-893-3556
How to translate Vivienne Westwood's British punk sensibility to Midtown East? It starts with small touches throughout the three floors of Westwood's first New York store in a decade: penis whistle key rings ($325), for example, are hidden among luxurious leather gloves ($370) and wallets (from $150). There's also the at-first-unassuming metal racks, which actually have hooves, the UFO-print carpet topping a quiet beige floor, and, of course, the clothes: from men's cow jackets ($4,460) on the basement level to women's squiggle-printed oxford trousers ($1,110) up top.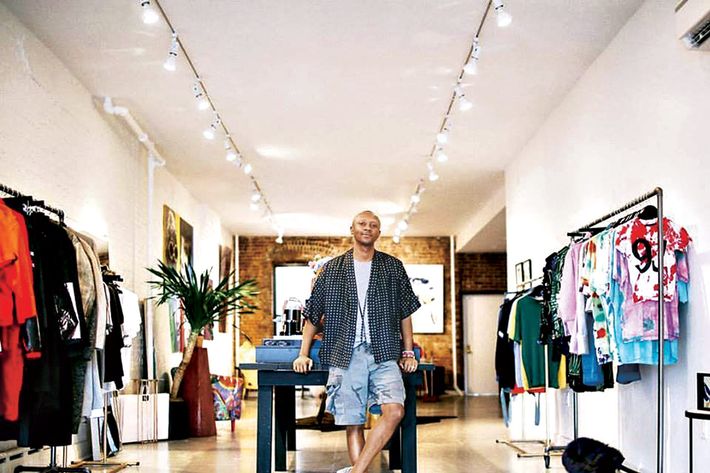 Upscale Head Shop
Village Grannies
346 E. 9th St., nr. First Ave.; 212-254-1555
Cast aside all your typical sketchy associations with the East Village head shop. Helmed by two delightful women of a certain age, Village Grannies is all reclaimed-wood displays and hand pipes dangling from the ceiling. The prices are slightly higher than your standard smoke shop ($5 to $12 for one-hitters; $50 to $150 for glass bongs), but the goods are of superior quality — among the standouts is a one-of-a-kind glass giraffe water pipe — and all made in the USA.
Regular Sunglasses
Atelier Mira
224 Grand St., nr. Driggs Ave., Williamsburg; 718-747-8844
In a year of wild sunglasses — the far-out Korean brand Gentle Monster, the futuristic Barton Perreira, and the groovy Garrett Leight all debuted New York shops — ­Atelier Mira stands out for its wearability. The just-cool-enough glasses and sunglasses range from French-made La Petite Lunette Rouge metal frames inspired by Kraftwerk ($315) to Toronto-made Rapp frames in acetate and titanium formed in unusual circle-square shapes ($545). Beyond the frames, the spacious shop features Isaac Reina leather goods and of-the-moment Memphis home-décor pieces, including squash ashtrays by Maria Sanchez ($240).
Gift Shop
AHA Front
147 Front St., nr. Jay St., second fl., Dumbo; 646-454-1110
Shauna Mei thought New York needed a store like Paris's Colette and Milan's 10 Corso Como. So she brought her e-commerce juggernaut AHAlife, a place that curates goods from more than 2,500 artisans worldwide, to a physical space. To accommodate all the gold-beaker candles from Melbourne ($59), marble Apple Watch charging docks made in Las Vegas ($120), and ­powder-coated-steel Jaeho tables handcrafted in Chicago ($780), the merchandise constantly rotates. Each piece sits next to a card noting its maker and origin. And for the perfect housewarming gift, friends of the brand like Fern Mallis and Bradford Shellhammer have labeled picks throughout the store.
*This article appears in the March 6, 2017, issue of New York Magazine.