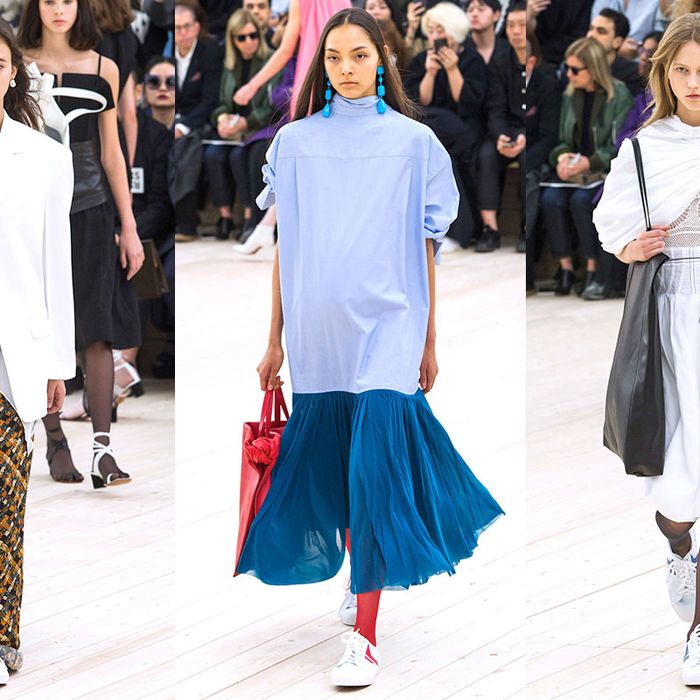 Chances are you owned a very specific pair of canvas sneakers at some point in your life: They were low-top, white (at least when you bought them), and had finicky soles that took at least five wears to fully break in. They're probably languishing in the depths of your closet as we speak. Well, it's time to bring them back, because they're going to be the sleeper hit of the summer.
That's a bold claim to make in a time dominated by Rihanna-inspired satin sneakers, Stan Smiths, and Nike Air Maxes, but here's why: Phoebe Philo showed them at the spring Céline runway show. There's really been no other person who has been more effective in converting high-heel loving, style-conscious women into sneaker addicts. Those popular Stan Smiths? She wore them with slouchy black trousers back in 2010. The ubiquity of Vans-style slip-ons? She made incredibly luxurious versions in leather, suede and pony hair that inspired countless other brands to do their own variations. Whatever she does eventually trickles down to a trend that lasts for years, so it's safe to bet on this style making a comeback.

The genius in the way Céline approaches sneakers is that Philo takes a classic silhouette that you probably already own (albeit neglected in your closet) and makes a few subtle tweaks. Suddenly it feels completely new and you start to obsess over it. Her version of the canvas sneaker has all the classic details — rubber sole, crisp white fabric, and lace-up silhouette — but she adds on those graphic side squiggles to make it fresh. Thrown on with a pair of sheer tights and a dress or loose pants, it feels cool, relaxed but still pulled together.
While you could could splurge and buy the original, you can also spend way less than $100 for the same effect. The idea is an inexpensive way to make your clothes feel exciting again, even if it's the same old dress you've had for years. Plus, there's that satisfying smug moment when you can (rightfully) claim you were among the first to adopt the trend.
If You Want the Real Thing
So you're a Phoebe-fan and you're ready to make the splurge on the originals? These are the two styles that hit the runway and they'll sell out before spring even ends.
If You Want to Get a Jump On the Trend
Should you want something that's strikingly similar, this Feiyue option is about as close as you can get. Fun fact: These shoes were originally intended for Chinese wushu practitioners back in the 1920s.
The canvas coupled with the thin red trim hints at your inspiration without being a true dupe.
This has the graphic side detail but in a more subtle white-on-white.
But if you want the sides to really pop, go for these green Tretorns instead.
Remember when everyone wore Supergas? Well, it's time to bring those back into rotation.
Converse is synonymous with canvas sneakers, but these are a cleaner, more minimalist spin on the classic style.
You'd never think of G-Star as a place to get sneakers but this low-top canvas style has the same feel as the runway style, down to the rubber grooves.
If you buy something through our links, New York may earn an affiliate commission.