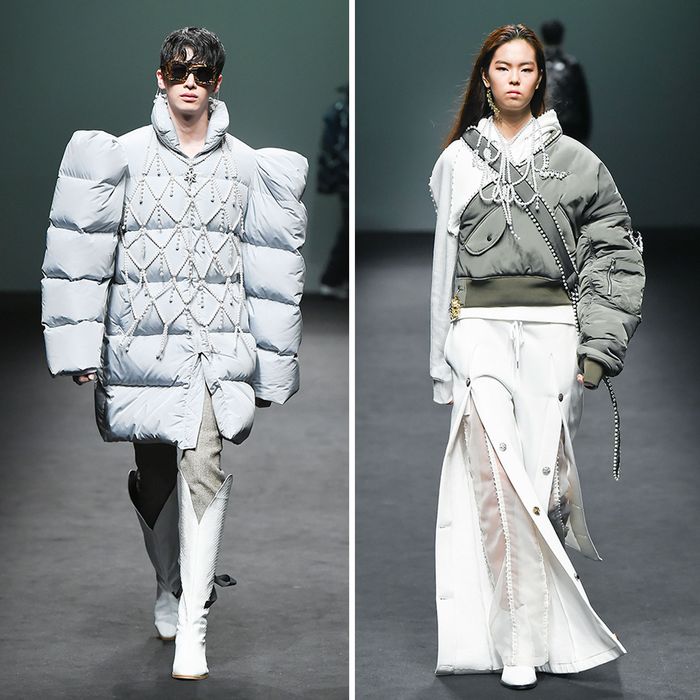 Photo: Courtesy of Seoul Fashion Week
In recent years gender-fluid clothes have become more common in ads and runway shows — look at Pharrell wearing a Chanel purse, Jaden Smith's collection of skirts, or Burberry's Virginia Woolf–inspired September collection. You'd think this was a liberal-thinking, Western-oriented trend but it's not. The most exciting line out of South Korea, Blindness, fully embraces the idea that it's all about making beautiful pieces that anyone, regardless of social preconceptions of gender norms, can wear.
Designers KyuYoung Shin and JiSun Park debuted the brand in 2013, but it was their last collection that really launched their work globally. Their The Danish Girl–inspired spring 2017 collection was filled with corset-inspired silhouettes, pearl trims, and millennial-pink ruffles — mostly shown on men. It was enough to grab the attention of the judges behind the LVMH prize, where they finished as semifinalists.
Taking the momentum from being noticed by one of the most influential luxury-fashion conglomerates, the duo decided to go even flashier for their fall collection. This time the idea sprang from the death of David Bowie and his fashion legacy. What resulted was sparkly, eye-catching mix of puffers, dresses, cowboy boots, and yes, more pearl accents on mostly men with a few women sprinkled in.
Their choice in what each model wears down the runway feels deliberately unconventional. The two women skew more masculine while their muse, male model Jae Yong Na, at one point wears a pearl-studded crop top, while another outfit features a sequin-studded pencil skirt with knee-high red boots. Even the closing look, a silver "evening" dress is shown on a tough, bald-headed guy with a chest full of tattoos.
While the designers might not have a dream client, it's easy to imagine seeing someone like Rihanna, Jared Leto, or Frank Ocean in the clothes. And really, given their current track record, it won't be long before we do.