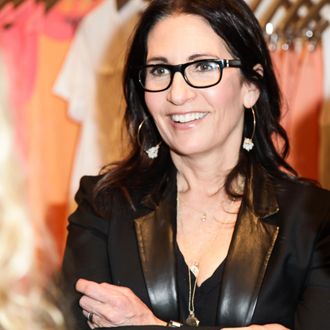 It's not easy to get attention for being normal, especially in fashion circles. But Bobbi Brown has made a career out of championing the everyday. Fans of her beige, brown, and pink makeup are regular women who aren't interested in edgy looks for the clubs. Their aim is pretty, and their clubs are of the "book" and "country" variety.
Brown gave me my first and best makeup lesson in the mid 1980s, when she was just toying with the idea of starting her own line. She unveiled it in 1991, sold it to Estée Lauder in 1995, and served as its chief creative officer until last December, when she walked away from it all — the line, the company, her namesake. She's figuring out her next move while working with her husband, Steven Plofker, on renovating a hotel in Montclair, New Jersey, her hometown. She's also written her ninth book, Beauty From the Inside Out, with recipes (for dishes such as zucchini noodles and chia pudding), makeup tips, and aphorisms ("Strong is better than skinny"). The word "basic" is used throughout, as high praise.
I spoke with Brown over the phone while she was vacationing with her family at Baker's Bay Golf & Ocean Club, on a private island in the Bahamas. Jennifer Lopez and Alex Rodriguez (J-Rod) showed up there a few weeks later, making Brown's normal vacation seem a little less so — which pretty much sums up the way her life works.
What were your early days like as a makeup artist?
It was the '80s, and I know that because I used to go to an aerobics class on Crosby Street and Madonna was exercising next to me. I was trying to figure out how to be a freelance makeup artist, and I literally opened up the Yellow Pages and started cold-calling agencies and photographers. My first official job was for Glamour magazine, and it was black-and-white pictures of a dancer, 20 on one page. Brigitte Lacombe was the photographer.
When I came into the industry, it was a time when everyone was doing contoured faces and overdrawn lips. I was amazed at how good the girls looked when they washed their faces. A makeup artist told me, "If you don't do the contour, you'll never work in this town." And I just couldn't do it.
I was always told what I wouldn't be able to do. A hairstylist told me if I didn't cut my hair and have a style, I would never work in this town. I just kept doing what felt right to me and people kept telling me I wasn't doing it right. But I was doing what I knew. And I thought the girls looked pretty.
And then, early on, I was lucky enough to work with Bruce Weber.
He was a perfect match for you.
He was. Bruce didn't want any makeup — he wanted me to pinch the girls' cheeks. And I was like, "No way — I'm here doing Vogue with Bruce Weber." So I learned how to put "no-makeup" makeup on the models.
My big, big break came when I worked with Andrea Robinson [a beauty editor at Vogue in the 1980s] and I did ten pages of beauty. You literally saw the face and nothing else. I did a red lip and no eye, none, whatever; it was amazing. And that's when I realized my style.
You gave me a makeup lesson in the '80s at your boyfriend's apartment. It was before you had your line, so you did it with bits and pieces of other makeup. It seemed radical because it was all shades of nude.
My aesthetic was really the nude. And nude doesn't mean beige. Nude means the exact color of your skin and lips and eyes and all that.
You used a Calvin Klein lipstick from his discontinued line then, a beigey pink. I wish I still had it.
Me too. I can see those things in my head. I know the color, and it was the perfect thing. That definitely influenced me when I did my first lipstick.
You also used a stick foundation.
I used a lot of foundations that I bought at theatrical-makeup stores, like Ben Nye, because they were yellow. But I had to mix them with moisturizers because they were too flat.
And then you put on eye shadow with an unraveled Q-tip.
The gel liner (Bobbi Brown Long-Wear Gel Liner) that I invented actually came from when I was once doing makeup on myself on a photo shoot and I had no brushes. I needed liner, and there wasn't any. So I took a Q-tip and I unraveled the cotton and I lined my eyes with a waterproof mascara. The next day, I called the labs and they said, "Well, it's gel-based." So I said, "Okay, cool. Why don't we pour it into that bottle from a vintage store that looks like an inkwell?" And that's how the gel liner was born.
You told me at that makeup lesson that you were going to do your own line. Little did I know …
Little did I know, by the way. I met a girl on the elevator at that apartment. And I asked her, "What do you do?" She said, "Oh, I work at a cosmetic lab." And that's how I found my first lab. It was in Long Island City, called Mana.
Weird stuff was always happening to me. I met a really nice lady on a book tour, and she said, "I love when you're on the Today show." I'd been on once. She said, "I think you should be a regular. And, honey, Jeff Zucker is my grandson." [Zucker was the executive producer of Today at the time.] And that's how I became the beauty editor of Today for 14 years.
Aren't you one of the first makeup artists to have a makeup line?
Yeah. Well, if you don't count Estée Lauder, but I guess she wasn't a makeup artist. Or Max Factor. He was a Hollywood makeup artist. I might have been the first fashion makeup artist to do it. Certainly in my name.

You've always been a rebel. I mean, a good, healthy rebel. Not a rebel without a cause.
I'm a rebel with a cause: I want to make people, especially women, feel good about themselves. Because you know what? I'm sitting here on this beautiful island, and I've never seen so many thin, tall, beautiful women since a fashion show. And I'm like, "Okay, I'm not going to ruin my time here because they're young, tall, and thin." And I had to do that in the fashion industry; I had to do that at the Met Ball. I just have to feel good about myself and I do it through fitness and eating healthy. And I like to spread the message.
You were an early proponent of confidence in beauty, which has now become a catchphrase that companies attach to every ad and BB cream.
Exactly. I think it's simple: The reason we wear makeup is to look better. And as soon as you look better, you feel better. And to me, all confidence means is you're comfortable. You're comfortable in your clothes, you're comfortable in your skin. You look in the mirror and you say, "Okay." For me, it's a good blow-out. And a very simple navy outfit and jewelry that I love and simple makeup, and then I feel my best.
Why do you think everyone is so obsessed with contouring now?
I hate contouring. It's telling people there's something wrong with their face.
That's exactly how I feel.
It doesn't make sense to me. I never made a contour palette, and I had a lot of pressure to do it. It just doesn't look good. To me, pretty, healthy, glowing skin is all about moisture and hydration. If you wear red lips or a smoky eye, that's up to you.
Do you wear makeup to the grocery store?
I don't. I mean, the healthier I am, the less makeup I need. I wear glasses, which is very fortunate. I can get away with no makeup and I could put a bit of blush on my cheeks if I felt like it. But if I'm not wearing my glasses, I definitely need mascara and concealer.
You demystified makeup for women, and people who don't know anything about makeup might not recognize how important that was. Tell me about how you did that and what you think it meant to women.
I was really not a very talented makeup artist. I could not paint a face the way George Newell or Kevyn Aucoin or François Nars did. But I figured out how to do things to make it look good. I figured out that if you use foundation that's the color of the skin, it doesn't matter about the application. I couldn't pencil in eyebrows, but I could sure use a slanted brush with an eyeshadow. So I just kind of figured out ways to do things that made the end result look good. When I was a freelance makeup artist, once a week I was at the Frederic Fekkai salon doing makeup on Mrs. Schwartz, or whoever. And I'd say, "Look, it's really easy. Just find a lipstick that looks like your lips."
And the way you figured it out ended up being the answer for all of us who don't have artistic ability.
Yes! As I got older, I kind of used myself and my friends and said, "Okay, I just had a baby. I'm exhausted. Just put this concealer on the inner corner of the eye." I don't look good in a lot of makeup. And I would always do my makeup in the car. Or running from one place to another.
You're the mother of boys. Do people say to you what they say to me, which is, "Oh, it's too bad you've got boys"?
I'm like, "Thank God I don't have girls." I don't want to give my insecurities to some girl. So, no, I'm grateful I have boys; I'm grateful they have girlfriends.
You carved out such a particular territory of your own. It was so true to you and so user-friendly.
But everyone needs to do that. With their life, certainly their careers. Like, okay, for so long we all cared about what everyone else thought of us, whether it's the fashion editor who looks you up and down when you go to a party, or the corporate president who doesn't like something, and it's like, "Okay, guys, at some point, I know I'm a good person. I know I'm doing the right thing, and I just need to be comfortable and happy."
It's peaceful for me that I'm going to be 60 in April and I can let go of some of that. It's not about perfection, and now that I'm not running around the world promoting a brand, I'm in my sneakers and jeans with my hair in a ponytail, and I've never been happier. My philosophy is always, "Be who you are." When you finally figure out who you are, God, it feels good.
Is that a transition into why you're no longer in the corporate world?
It was time. I need to be an entrepreneur again. I need to be full-on creative, I need not to listen to 100 people. I'd rather just start all over and create new, different, cool stuff.
I will always be a makeup artist, and I'm talking to an agent about actually doing people's makeup again. We'll see how that works.
It would be nice to get back to the thing you loved, where you started, with your hands touching the makeup and touching a woman's face.
I feel like I've been let out of … I don't want to say jail or prison, but out of my day-to-day. Now I get to see what's out there. There are some interesting things in drugstores and in the natural cosmetics world. There's a world out of the high-end. That's the most fun thing. I'm like, "Okay, I see a hole."
How do you feel when people accuse you of promoting vanity?
I've heard that. Then I tell them about the time I was invited to do makeup on a group of wives whose husbands died in 9/11. And let me tell you, it was the most emotionally hard thing. And they came up to me afterward and said, "We need to find things to feel good about ourselves." And, "I haven't felt this good in a long time."
Makeup: It's about enhancing who you are and feeling good. Even supersmart women want to feel good.
What's next for you? Would you do a line under a different name?
I have a stripper name, but I'm not telling you in case I use it. Anything is possible. But no, I have not thought about changing my name.