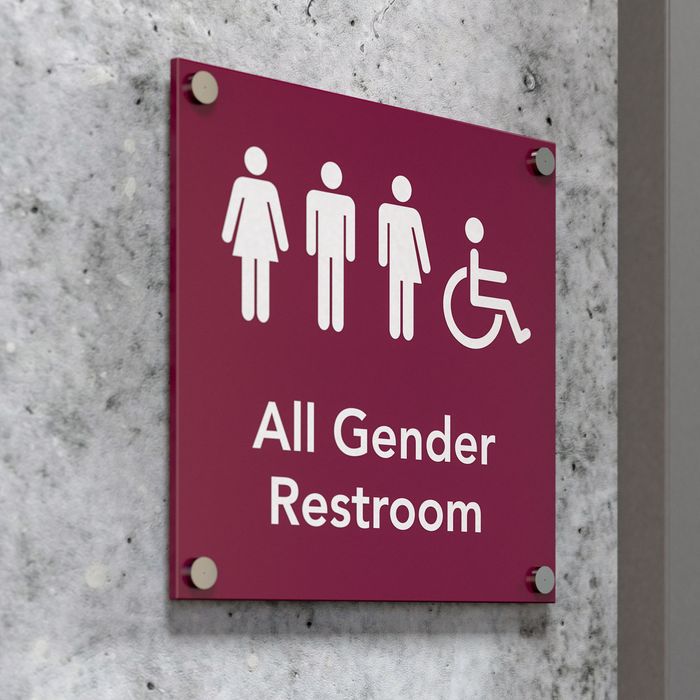 A boy in Pennsylvania just sued his high school for its bathroom policy.
Photo: ciud/Getty Images/iStockphoto
A number of lawsuits have been filed by transgender students for the right to use the bathroom that matches their gender identity, the most widely known of which is Gavin Grimm's, a case the Supreme Court recently declined to hear. But in a lawsuit filed yesterday, a cisgender high-school boy in Pennsylvania is suing the Boyertown Area School District for the opposite reason: because he wants his school to revoke its trans-inclusive bathroom policy.
The lawsuit claims that the student, known as Joel Doe, experienced "embarrassment and humiliation" when he noticed that a transgender boy was changing clothes near him in the boy's locker room.
After the incident, the boy reportedly complained to school officials that "there was a girl in their locker room," the suit says. But the principal told him that "students who mentally identify themselves with the opposite sex could choose the locker room and bathroom to use, and physical sex did not matter," and added that he should "tolerate" the situation.

He's being represented by lawyers at Alliance Defending Freedom, a Christian-advocacy legal group, who say the school district's policy violates his civil rights, BuzzFeed News reports. Interestingly, Doe's case also depends on the court's interpretation of Title IX, which trans students have used to argue for inclusivity:
Because Title IX allows for sex-segregated facilities as a general matter, the complaint says, only people identified as male at birth may enter facilities designated for boys, and vice versa. The suit adds that the 14th Amendment guarantees privacy from people of a different birth sex in those facilities.
In another ironic twist, Doe's complaint says that "the anxiety, embarrassment, and stress he feels as a direct result of [the school district's] practice … has caused him to refrain from using restrooms as much as possible, stress about when and if he can use a given restroom without running into persons of the opposite sex, and opting to hold his bladder rather than using the school's restroom." Which is more or less what transgender people deal with every day.