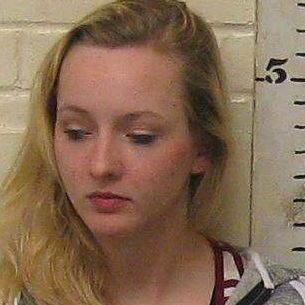 Breana Talbott.
Photo: Denison Police
On March 8, 18-year-old Breana Talbott of Denison, Texas, said that she had been kidnapped by three black men wearing ski masks, who drove her into the woods and raped her. She first brought attention to the alleged crime when she walked into a local church half-naked, covered in cuts and scratches — though her then-fiancé, Sam Hollingsworth, had called police earlier to report her missing after arriving at her apartment and finding "her back door wide open," and her belongings, including her phone and her keys, scattered about. On Tuesday, Talbott admitted to police that she had made the whole thing up, and that her injuries were all self-inflicted.
Police were initially suspicious when she was taken to a medical center and the staff could find no evidence that she was sexually assaulted. They launched an investigation regardless but, in between then and the time it was determined to be a hoax, news of Talbott's alleged ordeal spread through far-right websites, including — the Washington Post reports — the white-nationalist message board Stormfront.
On Wednesday, the Denison Police Department posted a lengthy statement confirming that Talbott had lied. "Breana Harmon Talbott's hoax was also insulting to our community and especially offensive to the African-American community due to her description of the so-called suspects in her hoax," they wrote. "The anger and hurts caused from such a hoax are difficult and all so unnecessary." Talbott will be charged with making a false report.