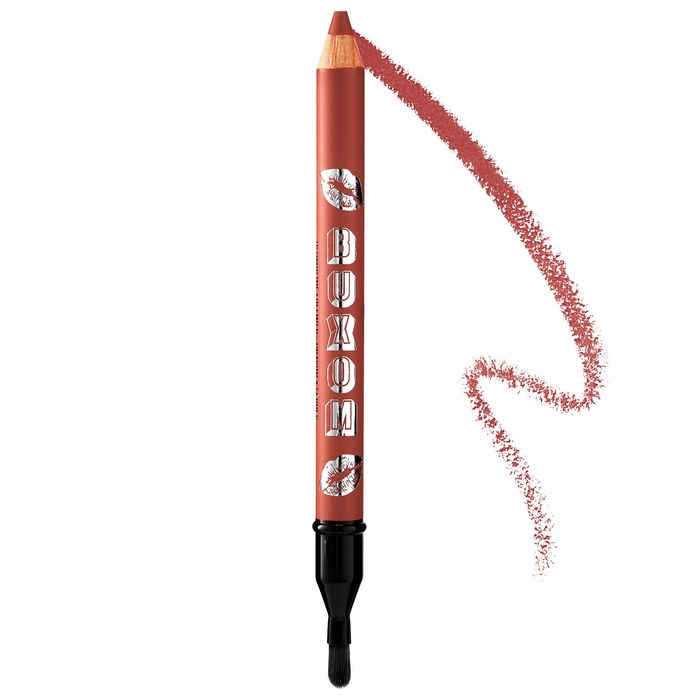 Buxom Plumpline Lip Liner.
There's a tinted moisturizer on my face right now. On top of that there are two elegant globs of blush and a smattering of bronzer. The hairs on my full brows neurotically fall in one direction thanks to an eyebrow pencil and brow gel, and my eyelashes aren't invisible because of several hundred strokes of mascara. I'm forgetting some things. Oh, underneath the moisturizer is a peach color-corrector to cancel aesthetically oppressive under-eye circles (it's strange how no one sees them but me), followed by a creamy concealer for good measure.
All of this is to say, there are few makeup elements I consider virtually irrelevant. Lip liner is one of them. Most are awful, drying accoutrements. Clé de Peau's version is the rare excellent exception but it costs $50. Buxom's new liner, on the other hand, is so useful (and affordable) that it nearly erases the need for lipstick at all.
Called the "Plumpline," this magic crayon addresses the cardinal flaw of most lip liners: dryness. A delightful mix of jojoba oil, aloe, and vitamin E arms the pencil to glide as confidently as a stick of lip balm while leaving a matte finish that stays put. In fact, Plumpline's soft matte finish charges the pencil's pigment to become immovable for hours — staying intact through coffee sips, snacking, and random lip-licking.
Here are a few more great bits to think about: Plumpline's fat crayon-like pencil tip makes drawing on lip liner a slightly easier endeavor (you'll only need to draw a few fat lines as opposed to several skinny ones as with a traditional lip liner), and the tiny brush on the pencil's end means the color can be smoothed over to look more natural and less fussy. There are 20 shades to choose from, though I can't stop swiping the magnificently warm nude, "Incognito."
Plumpline ultimately gets its name because it's engineered to make lips appear fuller. I can't say I experienced that effect, and I can't say I really care. These days, when I want a lip color that lasts all day, I reach for Plumpline. And because of that, these days, I hardly reach for lipstick at all.
If you buy something through our links, New York may earn an affiliate commission.