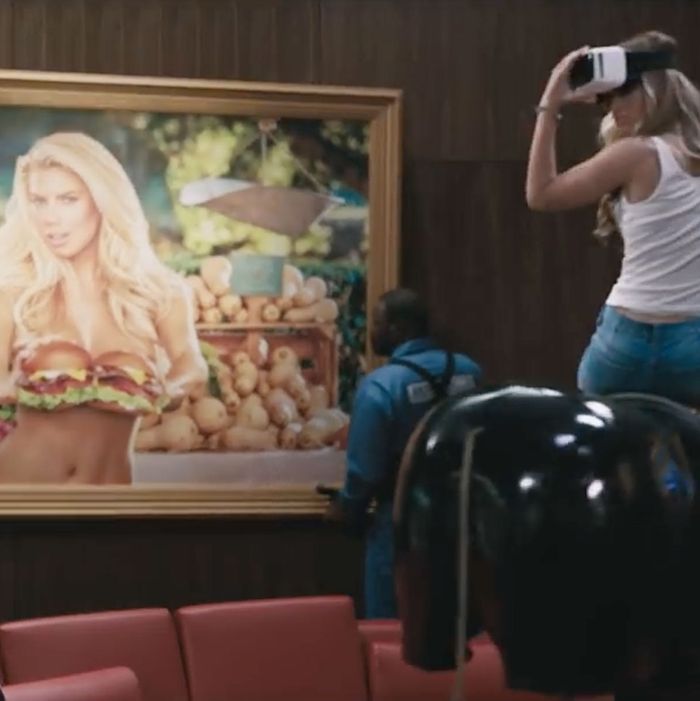 Carl's Jr.'s newest ad.
Photo: Courtesy of YouTube/CarlsJr
Fast-food chain Carl's Jr. released a new ad on Wednesday that diverges from everything else in their, uh, oeuvre — scantily clad women like Charlotte McKinney and Paris Hilton chowing down on burgers — while openly acknowledging the shift. In it, a fictional "Carl Hardee Sr." arrives at the company he founded to take it over from his son, the one supposedly running the show and responsible for all of the lewd branding decisions over the past 15 years or so. After kicking Carl Jr. out of the way, the elder Carl gives a spiel on company history, positioning it as a good ol' family brand with quality beef — or, more succinctly, "food, not boobs."
According to Adweek, the campaign — which includes new logos, packaging, and uniforms for the chain — was created by the agency 72andSunny. "It was time to evolve," executive creative director Jason Norcross explained. "Some of the product attributes got lost because people were too busy ogling girls."
This pivot comes at a time of great change for the company, as the longtime CEO of CKE Restaurants (the Carl's Jr. and Hardee's parent company), Andy Puzder abruptly resigned from his position in early March. Shortly before that, Puzder withdrew from consideration to be Trump's labor secretary after spousal-abuse allegations surfaced, and news that he had once employed an undocumented immigrant as a housekeeper became public.
In a Thursday interview with Fox Business, Puzder shared that he had introduced the idea of this rebrand back in December 2015. "I went to our ad agency and said 'Look, young hungry guys aren't as affected by the racy ads with swimsuit models because you can get a lot of that on the internet now,'" Puzder shared. "Young guys today, the millennial young guys, are concerned with where do you source your beef, what kind of cooking system do you have? … You and I certainly may like the ads we've been running a long time but the younger guys can get that on the internet … you can get sex on the internet you don't need a Carl's Jr. or Hardee's ad."*
But while Carl's Jr. may have found a way to avoid further criticism that their ads objectify women, they still have much larger problems to solve — like their above-industry-average sexual-harassment rates for female workers, and their numerous violations of the Fair Labor Standards Act.
*This post has been updated to add Puzder's comments on the brand pivot.