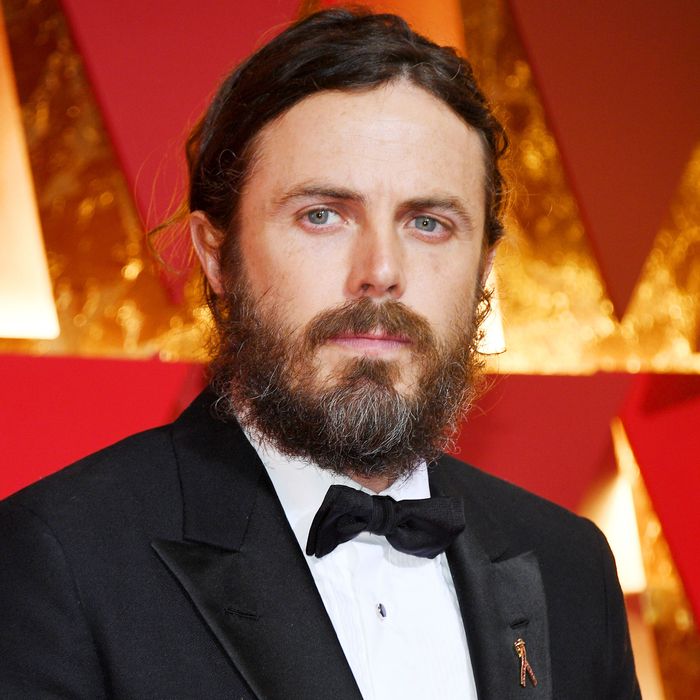 Casey Affleck.
Photo: Kevork Djansezian/Getty Images
When Casey Affleck won the Oscar for Best Actor on Sunday, a couple of his peers expressed disappointment. Brie Larson, the Oscar-winning actress responsible for presenting him his award, apparently refused to clap for him, and B.J. Novak tweeted, "Can we check Best Actor again" (after the now-infamous Best Picture screw up). Many other critics and awards watchers were similarly displeased with Affleck's victory, due to the fact that he was accused of sexually harassing two female employees while directing I'm Still Here in 2010. Affleck denied these allegations at the time, and he settled with his accusers out of court, but several publications including the Cut resurfaced the story last year. Due to his privileged position in Hollywood, however, Affleck was not forced to seriously contend with the allegations during awards season.
In his first interview since Sunday, Affleck finally addressed his past, because The Boston Globe asked him directly about the backlash to his win. His response:
Affleck paused and sighed heavily. He said both sides in the case are prohibited from commenting on the matter, and none of the people who are condemning him online know what happened.
But, he added, "I believe that any kind of mistreatment of anyone for any reason is unacceptable and abhorrent, and everyone deserves to be treated with respect in the workplace and anywhere else."
"There's really nothing I can do about it," Affleck added wearily. "Other than live my life the way I know I live it and to speak to what my own values are and how I try to live by them all the time."
Affleck's statement falls in line with comments he has made about the allegations in the past. It is vague, with no specific mention of sexual harassment, his accusers, or women at all. But save for the outward disapproval from a few other actors, Hollywood does not seem to be asking Affleck for anything more.
On Tuesday, Variety reported that Affleck sold a new film, Light of My Life, to Black Bear Pictures. He will write, direct, and star in the movie, which is a drama about a father-daughter relationship. Per Variety:
"Light of My Life" centers on a father and his young daughter, who are trapped in the woods after a deadly pandemic radically alters the world. As the father struggles to protect his daughter's innocence, shielding her from the newfound dangers of man, their bond is tested.
This will be Affleck's first time directing a feature since I'm Still Here.