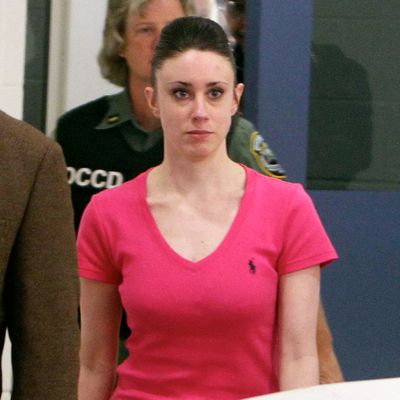 Casey Anthony.
Photo: Red Huber/MCT via Getty Images
Six years after being acquitted of murdering her 2-year-old daughter Caylee and being branded "the most hated mom in America," Casey Anthony is speaking publicly about the case for the first time. "I don't give a shit about what anyone thinks about me, I never will," she told the AP. "I'm okay with myself, I sleep pretty good at night."
According to the AP, who spoke to Anthony over the course of five on-the-record interviews, the 30-year-old's remarks were "at turns revealing, bizarre, and often contradictory, and they ultimately raised more questions than answers about the case that has captivated the nation."
Caylee Anthony's grandmother reported the toddler missing on July 15, 2008, and Anthony was arrested the next day on charges of child neglect. At that point, Caylee had already been missing for a month, a period of time Anthony was unable to convincingly account for. Caylee's skeletal remains were found in the woods near the Anthony home in December 2008, six months after she disappeared.
Anthony maintains that she doesn't know how her daughter died. "I'm still not even certain as I stand here today about what happened," she says.
Despite widespread public belief in her guilt, Casey Anthony was acquitted of murder, aggravated manslaughter, and aggravated child abuse in a widely publicized 2011 court case. She was convicted of four counts of lying to police, two of which were eventually dropped.
"Based off what was in the media, I understand the reasons people feel about me. I understand why people have the opinions that they do," says Anthony. "My sentence was doled out long before there was a verdict. Sentence first, verdict afterward. People found me guilty long before I had my day in court."
During the trial, Anthony's defense team suggested that Caylee drowned accidentally. Prosecutors were unable to establish Caylee's cause of death nor to find Anthony's DNA on the piece of duct tape they allege was used to suffocate her.
"Everyone has their theories. I don't know," said Anthony of the drowning theory. "As I stand here today I can't tell you one way or another. The last time I saw my daughter I believed she was alive and was going to be OK, and that's what was told to me."
Anthony does admit she lied to police while they were gathering evidence, but suggests that she would not have been believed even if she had been entirely truthful. "Even if I would've told them everything that I told to the psychologist, I hate to say this but I firmly believe I would have been in the same place. Because cops believe other cops. Cops tend to victimize the victims."
Today, Anthony lives in South Florida with private detective Patrick McKenna, helping him with his investigative work. McKenna served as lead investigator on Anthony's defense team as well as on the O.J. Simpson trial. Anthony says she still has trouble visiting the supermarket in case her daughter's face is plastered on the front pages of tabloids. Her bedroom is decorated with photos of Caylee.