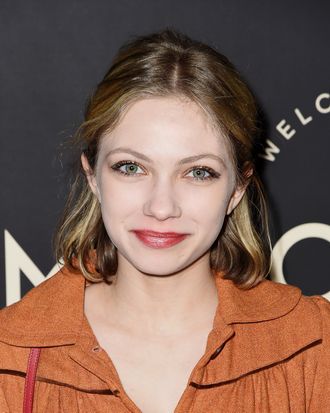 Tavi Gevinson.
Photo: Nicholas Hunt/Getty Images
Almost every celebrity with an online presence today is supplementing his or her income with social-media marketing. The bulk of the work is happening on Instagram, where actors, reality-TV stars, and style bloggers are advertising everything from weight-loss tea to vacuum cleaners. The practice is so mainstream now that some stars have posted ads tied to personal moments in their lives: Kim Kardashian has shared her vacation destinations through ads for Airbnb, Audrina Patridge announced her pregnancy via an ad for Clearblue pregnancy tests, and a recent Bachelor star celebrated her baby's "first taco night" with an ad for Pace salsa. When brands are willing to sponsor every aspect of celebrities' lives, what's next?
Last week, one influencer broke new ground in the ever-expanding world of celebrity spon-con. Tavi Gevinson, the 20-year-old actress and founder of the socially conscious teen magazine Rookie, started advertising her own luxury apartment building on Instagram.
Gevinson, who has over 500,000 followers on the app, posted several photos documenting her move to 300 Ashland, a glossy 35-story tower in Fort Greene, Brooklyn. In many of the posts, she explicitly listed her new address — 300 Ashland Place — in the location field. In captions touting the building's amenities and prime location, she used the hashtag #300AshlandPartner, signaling to her followers that she was being paid for the posts.
"Tonight I spent a long time admiring/trying to understand this 3D CLOUD-SLASH-MIRROR in my new lobby #adamfrankinc #300AshlandPartner," she captioned a recent post featuring 300 Ashland's lobby art by Adam Frank. In another post, she noted 300 Ashland's proximity to BAM, the indie-favorite movie theater. Currently, one-bedrooms in the building are renting for $3,500, and additional amenities include 24-hour concierge service, a fitness center, and a new Whole Foods going in on the ground floor.
A public-relations representative for 300 Ashland's management company, Two Trees, confirmed to the Cut that Gevinson is partnering with the company to advertise her new building. The rep would not comment on the exact terms of the deal, but he said that Gevinson is living in the building full-time, paying rent, and also being compensated by Two Trees. "We are partnering with a few creative influencers who are great fits for our residential buildings," he said in a statement. "In a rental market crowded with perfectly staged model apartments, we wanted to show what it's really like to live in a Two Trees building."
The rep also revealed that, as part of her partnership deal, Gevinson will host private events for her fellow tenants at 300 Ashland. "Our influencers will continue to create the same great content while enjoying their new homes and neighborhoods, and will be hosting special experiences open to our residents. We think it's an exciting addition to our marketing efforts and a terrific amenity for tenants." This means that Gevinson will regularly be making herself available to her neighbors in the building.
So far, Gevinson is the first celebrity to post advertisements for Two Trees, which has luxury properties in Brooklyn and Manhattan. The rep promised that other celebrities will follow suit in the coming months.
It is easy to see why Two Trees would want someone like Gevinson as a brand ambassador: She's a young fashion darling with progressive politics and famous friends. The Ashland property is currently battling for tenants with two other recently opened luxury towers in the area, so her posts could convince her cohort to join her in one of her building's 303 perfectly appointed apartments.
It is less clear why Gevinson would want to reveal her personal address for the sake of an advertising partnership. Gevinson has previously created sponsored content for upscale brands such as Tiffany, but this 300 Ashland deal is unlike anything she — or really any celebrity — has done before. Plenty of stars have posted ads for Airbnb vacation rentals, but those kinds of deals do not require celebs to reveal their exact location or make themselves available to other building tenants. Will celebrity apartment advertising become the new normal?
We reached out to Gevinson for comment about her partnership and will update this story if we hear back.
Update, Thursday 12:15 p.m.: Gevinson confirmed to the Cut that she is living in 300 Ashland, but she did not comment on the terms of the deal or her decision to publicize her address. "This is a new kind of partnership for both of us but I'm very excited to be teaming with Two Trees, and for all the projects being in this space will allow me to create," she wrote in an email.