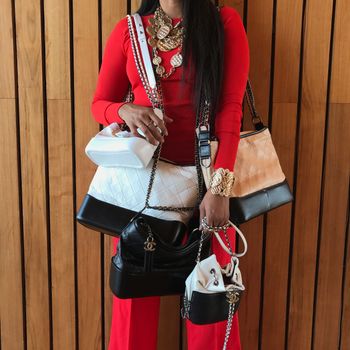 Learn how to style the Gabrielle collection every way from stylist Shiona Turini.
Photo: Emily Sundberg
Karl Lagerfeld isn't shy when it comes to making memorable, highly Instagram-worthy moments at Chanel. He did launch a rocket at the brand's most recent Paris Fashion Week show and last September sent models down the runway with an uncanny resemblance to Daft Punk robots. His accessories also reflect the same cheeky attitude, like the enormous hula-hoop bag back in 2013 or the quilted gas can from the brand's Dubai show. This season, he decided to merge fantasy with reality with the introduction of the Gabrielle collection, a highly wearable line of bags inspired by augmented-reality glasses, a.k.a. VR headsets.
As the brand's first major new bag since the debut of the Boy in 2011, the Gabrielle actually has historical roots. It's a reimagination of a 1955 design by Coco Chanel. The original bag was intended to free up women's movements while still being beautiful and stylish. The new version mimics this vision, emphasizing both comfort and flexibility in the form of a chain that can be worn multiple ways. You could throw it over your shoulder as is, wrap the chain so it's a handbag, or loop the leather fixings to create a fanny pack. The bag comes in three shapes: a backpack, a large hobo-style shopper, and a smaller hobo-meets-shoulder bag.
And while the origins of the bag might be over a half-century old, Chanel went for a decidedly modern, gender-fluid approach in advertising it. In a very 2017 move, the Gabrielle was featured not just on your traditional female models like Cara Delevingne but also on Pharrell Williams, the first man in a Chanel ad carrying a bag. "When I first started wearing it I didn't have anything in it. I was just so excited to have it," Pharrell told WWD earlier this year. "But now I use it to carry my phone, and — you know — essential personal things."
To show off just how versatile the Gabrielle is, we asked Cut contributor Shiona Turini to take a break from her busy travel schedule and hang at the Standard Hotel. Watch as she switches between wildly different outfits all the while mixing up the ways she wears the bag. And should you want one, it hits stores on April 3.
The Gabrielle collection starts at $3,000.