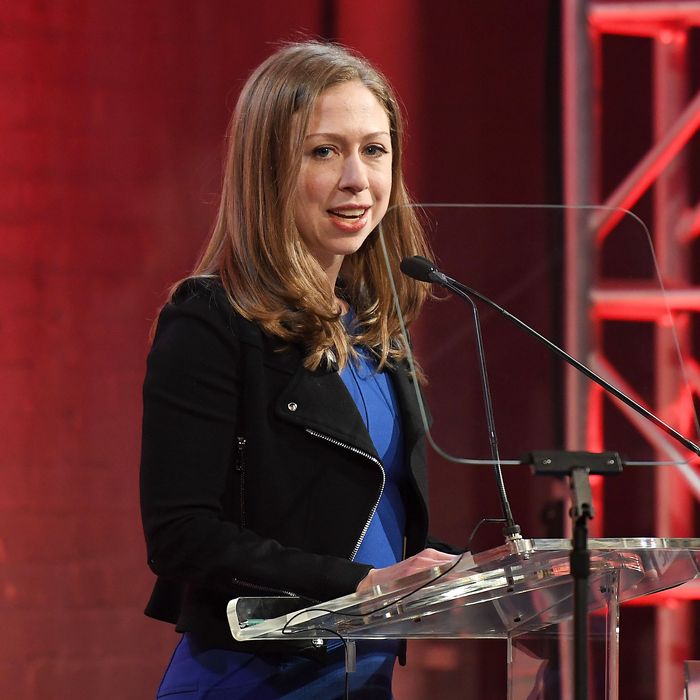 When asked if she's considering a run for public office, Chelsea Clinton was like, "No."
Photo: ANGELA WEISS/AFP/Getty Images
Just after Hillary Clinton's electoral loss, a report surfaced that her daughter, Chelsea, would be the "next extension of the Clinton brand" in electoral politics. "While politics isn't the life Hillary wanted for Chelsea, she chose to go on the campaign trail for her mother and has turned out to be very poised, articulate, and comfortable with the visibility," an unnamed source told the New York Post.
She was even reported to have her eye on a congressional seat: Democrat Nita Lowey's, who represents New York's 17th District in Westchester County. Chelsea was supposedly planning to run for the seat when Lowey retired. But in an interview with Variety, Chelsea put an end to rumors that she's gearing up for a congressional run.
"I am not running for public office," she said.
She went on, "I really am constantly surprised by the stories of me running for, fill in the blank — Congress, Senate, City Council, the presidency. I find this all rather hysterical, because I've been asked this question a lot throughout my life, and the answer has never changed." Which doesn't leave much room for interpretation.
Chelsea's mom has been swept up in the rumor mill, too; in January, a handful of reports suggested she might run for mayor of New York City. (A former Bloomberg aide countered with, "The reality is that she's not going to.") This may be the death of the Clinton dynasty, but hey, we'll always have their politically charged children's books.