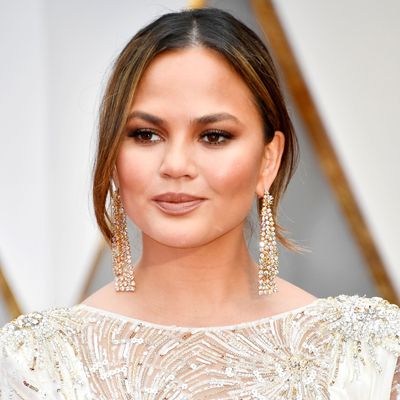 Chrissy Teigen.
Photo: Frazer Harrison/Getty Images
Chrissy Teigen opened up for the first time about her battle with postpartum depression in a new essay for Glamour, explaining that she wanted to share her story to let other women know that they don't have to feel embarrassed or alone for struggling with the condition.
The supermodel and cookbook author wrote that, by the time her daughter, Luna, was born in April, she thought she had everything she needed to be happy. She had a great husband, great career, and a great new baby that she describes as "perfect." But instead, Teigen found herself struggling to get off the couch, unable to eat for days in a row, spontaneously breaking out into tears, and being short with those around her.
"What basically everyone around me—but me—knew up until December was this: I have postpartum depression," Teigen wrote in her essay for Glamour.
Although the Centers for Disease Control reports that one in nine women are affected by postpartum depression, Teigen never had anyone talk to her about the condition. She had heard of it, of course, but as a child of the '90s, she always associated it with "people who didn't like their babies or felt like they had to harm their children." But as she looked at her daughter every day "in amazement," she never realized she was suffering from the condition. She wrote:
"I also just didn't think it could happen to me. I have a great life. I have all the help I could need: John, my mother (who lives with us), a nanny. But postpartum does not discriminate. I couldn't control it. And that's part of the reason it took me so long to speak up: I felt selfish, icky, and weird saying aloud that I'm struggling. Sometimes I still do."
In December, before the holidays, Teigen went to her doctor and was diagnosed with both postpartum depression and anxiety. She started taking an antidepressant, and shared the news with family, friends, and co-workers. She's also found a new therapist she plans to start seeing soon. Teigen explained that, writing the essay in February, she already was starting to feel like herself again, and that she hoped her honesty would help others realize that postpartum depression can affect anyone.