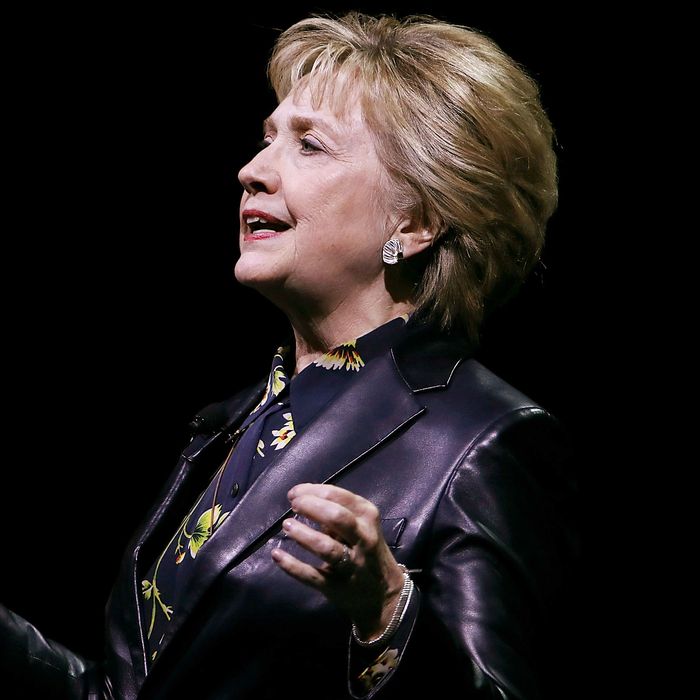 Hillary Clinton gave her first major postelection speech in San Francisco Tuesday.
Photo: Justin Sullivan/Getty Images
Hillary Clinton gave her first major postelection speech in San Francisco on Tuesday. Addressing the attendees of the 28th Annual Professional Business Women of California conference, she went after the Trump administration for its policies as well as the number of women in its top jobs, which she called "the lowest in a generation."
"These are bad policies that will hurt people and take our country in the wrong direction,'' she said, adding that the GOP's attempt to repeal and replace Obamacare was "disastrous," and its failure was "a victory for all Americans."
She also addressed the barriers women must overcome to be taken seriously, calling out Press Secretary Sean Spicer for his treatment of journalist April Ryan, and Bill O'Reilly for his racist and sexist comment on Congresswoman Maxine Waters's hair.
"Too many women — especially women of color — have had a lifetime of practice taking precisely these kinds of indignities in stride," Clinton said. "And any woman who thinks this couldn't be directed at her is living in a dream world."
Most importantly, however, Clinton introduced the audience to her new (rhyming) mantra, which she said is the "[kind] of [thing] you think about when you take long walks in the woods": Resist, insist, persist, enlist. From CNN:
She encouraged the audience to "resist actions that go against our values as Americans;" insist on "putting people first;" "persist" like Senator Elizabeth Warren did when she was prevented from reading a letter written by Coretta Scott King about Senator Jeff Sessions; and "enlist" others by running for office or opening a business.

"I'll be right there with you every step of the way," she said.
Memo to Chelsea: There are at least three new options for the title of that children's book.