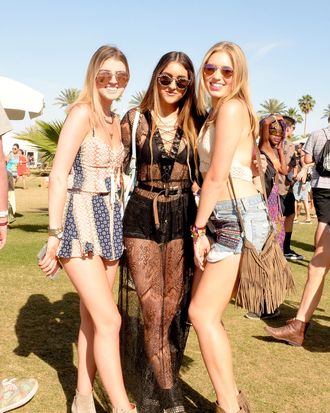 2016 Coachella attendees.
Photo: Matt Cowan/Getty Images for Coachella
Every year, the Earth travels around the sun, we get a bit older, and, I regret to inform you, Coachella happens once again. In advance of the music festival's 2017 kickoff, which takes place the second weekend of April, WWD reports that they've filed a lawsuit against Urban Outfitters, Inc.
Fashion is, of course, an integral part of Coachella — think flower crowns and jorts and fringe crop tops and those silver-and-gold temporary tattoos and every other incarnation of hipsterdom you can possibly envision. Coachella's lawsuit, filed in a federal court on Tuesday, alleges that Urban Outfitters is infringing on trademarks and "trading on the goodwill and fame" of the festival name with several of Free People's branded products: the "Coachella Boot," "Coachella Mini Dress," "Coachella Pocket Tank," and "Coachella Valley Tunic." (Coachella has already partnered with another retailer, H&M, for a licensed branded collection called H&M loves Coachella.)

Per WWD:
Coachella asked the court for unspecified treble damages and for an order demanding that Urban remove from sale any infringing items and engage in "corrective advertising" to inform consumers that the festival is in no way affiliated with Urban or Free People.
They're also alleging that they've had to ask Urban Outfitters to remove the products before, to no avail.
The products originally in question are no longer available on Free People's site, however, searching "Coachella" will bring up several similarly spirited products like the "Festival Feels Slip," the "Loren Festival Bra," and a $14.00 bandanna.