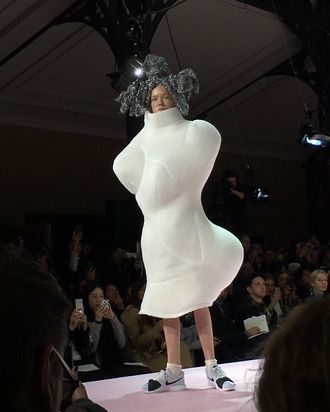 The runway at Comme des Garçons.
Photo: Rebecca Ramsey
This season's Comme des Garçons show was beyond stunning, with exaggerated silhouettes and new forms on display. The fabrics were equally untraditional, with outfits and even wigs comprised of felt, metallic foil, packing materials, insulation, and mattress fabric. The models came out in pairs, at times circling each other, seeming to summon each other out onto the runway. Anna Cleveland closed the show in a voluminous pale-pink look, accessorized with silver hair and Nike sneakers as twirled her way off the runway.
Andrew Bolton was in attendance in anticipation of the Met's upcoming Rei Kawakubo/Comme des Garçons show, "Art of the In-Between."