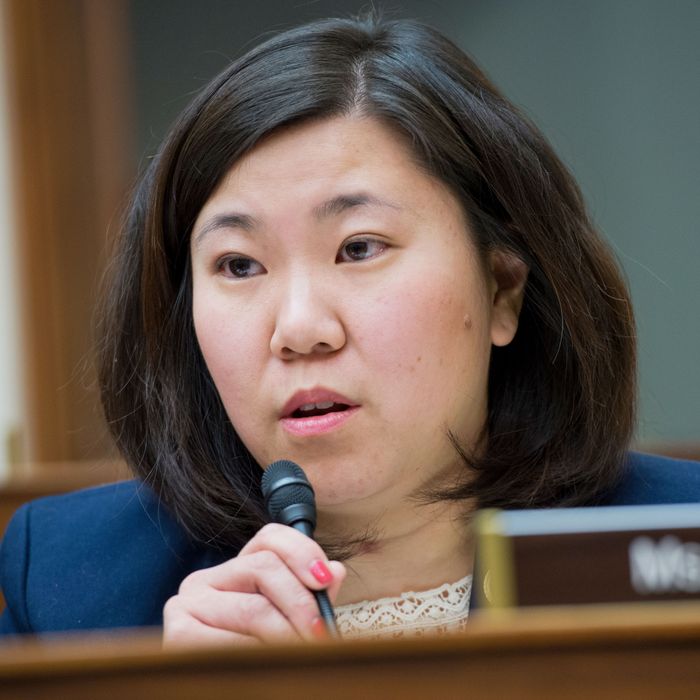 Congresswoman Grace Meng.
Photo: Tom Williams/CQ-Roll Call,Inc.
As New York, Connecticut, Illinois, and the District of Columbia take steps to make feminine products (e.g., tampons and pads) tax-free within their borders, one Democratic congresswoman is working hard to make those same menstrual products available at a lower cost — or even free — for women across the country.
In a new interview with People, Congresswoman Grace Meng of New York explained that she introduced the Menstrual Equity for All Act of 2017 (HR 972) in February with the goal of helping women across the U.S. afford these products. The bill would allow people to buy menstrual hygiene products with money they contribute to their Flexible Spending Accounts, in addition to providing refundable tax credits to low-income individuals, allowing funds from the Emergency Food and Shelter Grant Program to be used by homeless-assistance providers for menstrual products, and more.
Many in her district are unable to afford the monthly costs of buying tampons or pads, despite living in a developed country where access to these products should be a given, she noted. Per People:
"We've heard stories about girls in New York City who are too embarrassed or couldn't afford these products. Some of them have used a rag; some would just skip school for a few days. And that's just heartbreaking for me," she says.
The third-term congresswoman went on to say that she felt compelled to work on the issue after hearing about young girls in her own city, as well as those living in homeless shelters and prisons, who can't afford their own products. "It isn't just girls in underdeveloped countries who have to skip school for a week out of every month because they couldn't afford these kinds of products," she told People.
At the moment, tampons and pads aren't included in FSAs, and she blames their exclusion largely on the stigma surrounding periods. The congresswoman noted that not being able to afford these products is "a real issue" that prevents half of the population from getting an equal shot at education, and also causes many young girls and women to feel shame.
"I think it's time that we educate ourselves and make sure we're doing our part," she said.