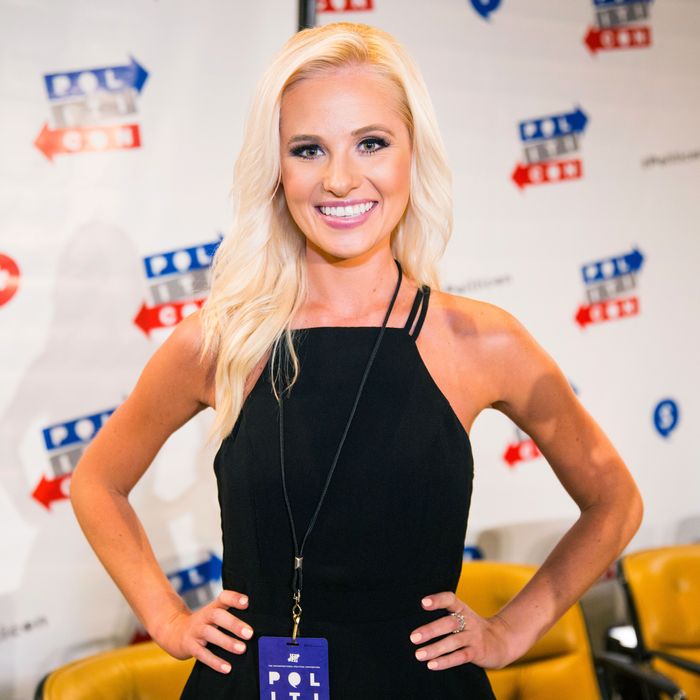 Tomi Lahren is a rare pro-choice conservative.
Photo: Colin Young-Wolff/Invision/AP
Twenty-four-year-old pundit Tomi Lahren, who was hired by the Blaze after an anti-Obama rant she recorded went viral, is wildly popular in conservative spheres. During an appearance on The View this morning, Lahren attributed her success to the fact that she's a rare breed: "I do something very different," she said. "There's not a whole lot of conservative women out there, so I provide that for a lot of young women."
During the election, Lahren became one of the most visible supporters of Donald Trump — in fact, the president reportedly called her to thank her for her "fair coverage" on Fox's Hannity. However, despite the fact that she's a Republican who supports conservative causes, Lahren is pro-choice. Here's how she explained her stance on abortion to the View hosts:
I am a constitutional — you know, someone that loves the constitution, I am someone that's for limited government. So I can't sit here and be a hypocrite and say I'm for limited government but I think the government should decide what women should do with their bodies. I can sit here and say that as a Republican, and I can say, "You know what? I'm for limited government, so stay out of my guns, and you can stay out of my body as well."
She added that she's gotten hate from conservative women thanks to her stance on abortion — "I think it's equal attacks from all sides for me," she said.