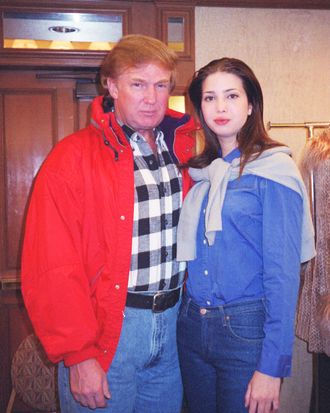 Ivanka in Aspen with her dad in 1999.
Photo: Getty Images
Ivanka Trump is spending the week in Aspen with her family, where they're reportedly annoying everyone and making it almost impossible to get tables at restaurants. (As one New York woman put it, "They're everywhere. There are so many of them.")
Of course, this isn't the Trump clan's first time in Aspen — the site of Ivana Trump's infamous shouting match with Donald's then-mistress, Marla Maples. According to the Aspen Daily News, Ivanka once started some drama of her own on a visit.
Years ago, when she was a teenager staying at The Little Nell with her parents, Ivanka Trump could not be located, and the police were called, said a longtime member of local law enforcement who responded and who requested anonymity.

The official said she was eventually found in another hotel room with "a boy." Ivanka Trump: the original cool teen.