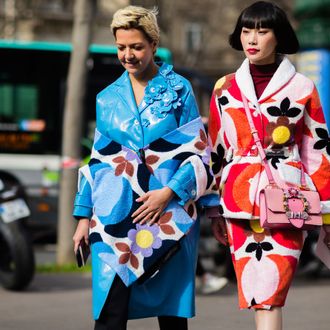 Ksenia Chilingarova and Mademoiselle Yulia.
Photo: Nabile Quenum/Nabile Quenum
After a week of nearly nonstop torrential rain in Paris, it was nice to end Fashion Week with some sunshine. And it seemed like showgoers were just as thrilled, pulling out their brightest and most cheerful clothes in honor of the better weather. No one felt more appropriately happy than Ksenia Chilingarova and Mademoiselle Yulia, who choose coordinating Miu Miu outfits, earning them the last Golden Peacock Award of the season. Between the color, pattern, and texture, they're the glorious rainbow at the end of gray, depressing storm. If you're going to close out the month, you have to go big right?