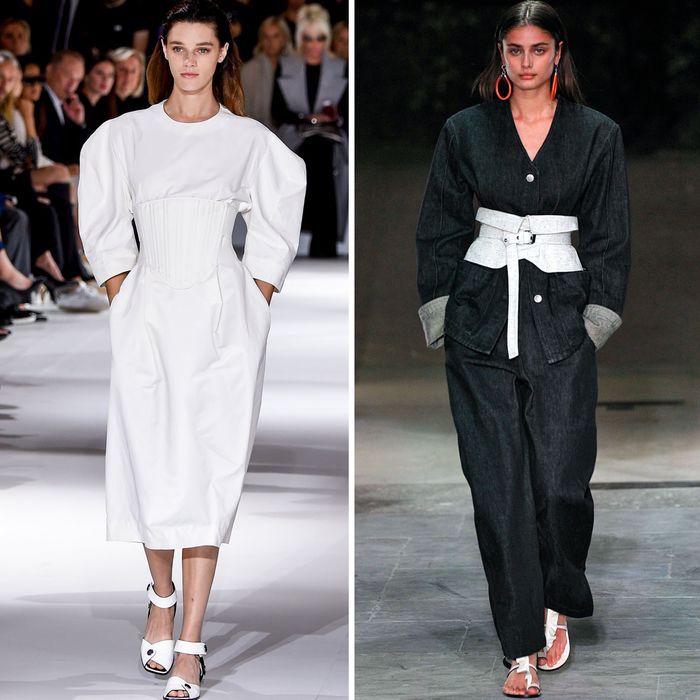 From left: Looks from Stella McCartney, Isabel Marant, and Giambattista Valli.
Photo: Getty Images
"Take a deep breath." Such is the instruction given to Judy Garland's character in the classic 1944 movie Meet Me in St. Louis, just as her sister Rose begins lacing her, painfully, into a corset. As Rose determinedly cinches, Garland gasps, groans, pants, and clutches at her midsection. "It does wonders for your figure," Rose proudly states. "I feel like the ossified woman in the sideshow," Garland retorts. "I feel elegant … but I can't breathe!"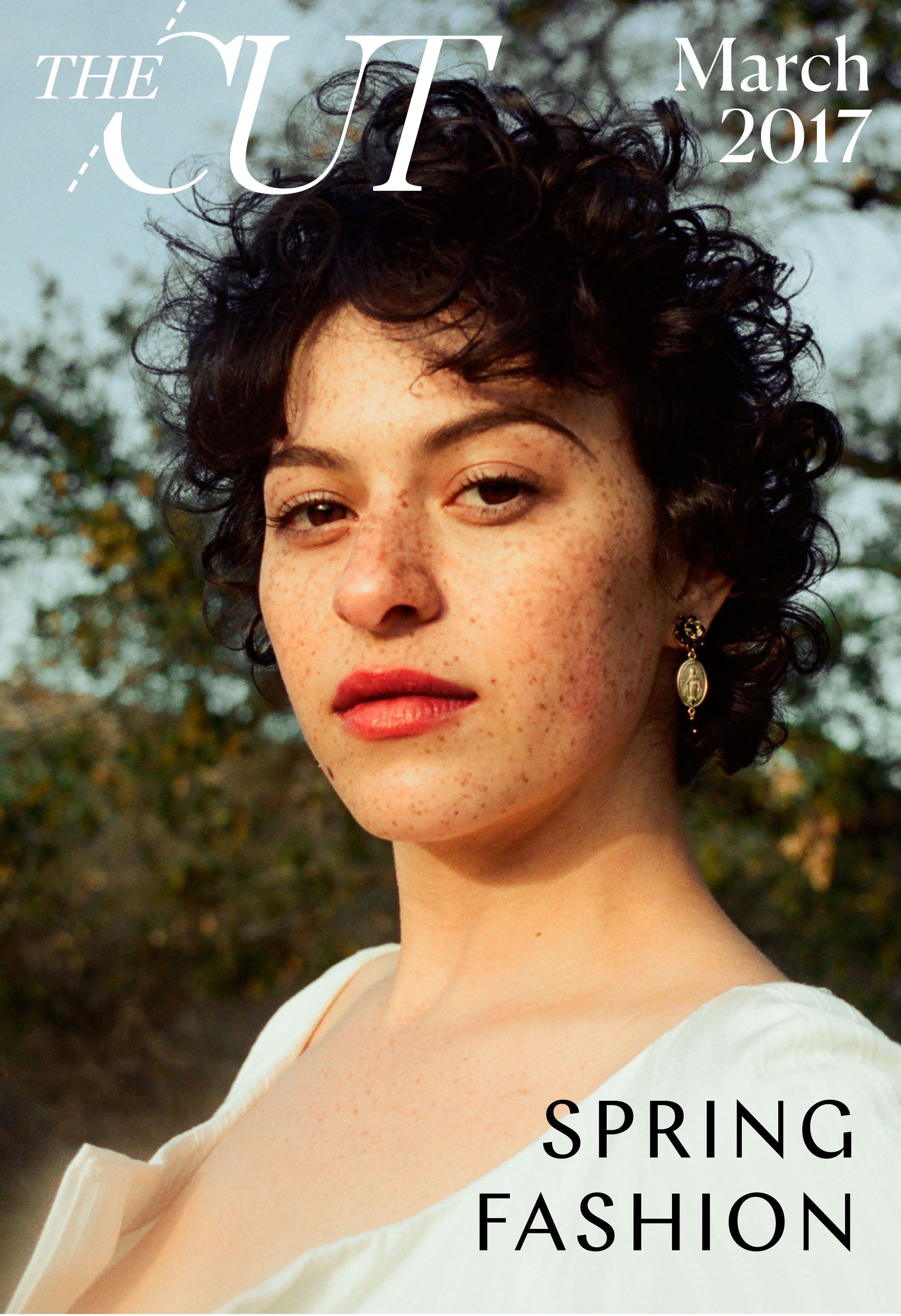 Such is the dilemma of the traditional corset, arguably the most fraught article of clothing of the past few centuries. The garments, which originated as the first body shapers during the Renaissance period and again in the Victorian era, are widely regarded as symbolic of the pressure — literally — to conform to an unnatural standard of beauty. Some (though not all) permanently changed the forms of women's bodies, causing an irreversible narrowing of the rib cage; reports of restricted breathing, as evinced by Garland's performance, are legion. In her 2001 book, The Corset: A Cultural History, director and chief curator of the Museum at the Fashion Institute of Technology, Valerie Steele, calls the corset "probably the most controversial garment in the history of fashion." And lately, they've been making their return.
Before we dive into why many women living in the time of Trump — a moment when wage equality, Planned Parenthood, and reproductive rights are at risk — are opting for historically "restrictive" clothing, a bit of backstory: "A true corset is a boned and laced foundation garment that acts as a bust support and a waist cincher and that was an integral part of women's fashion for 300 years," Steele says, by way of definition. "Nowadays it's no longer an integral part of women's fashion and when it appears, it's a kind of optional component." says Dr. Denis Bruna, a curator for the fashion and textile department at the Musée des Arts Décoratifs, Paris, whose 2015 exhibition "Fashioning the Body" explored this very theme. "[Corsets] allowed women to modify their bodies: the waist was compressed and the chest was hoisted up. 18th-century texts say that the corset allowed women to have 'a nice waist and a high chest.'"
In the 20th century, corsets went in and out of fashion — out during WWI as women went to work and needed increased comfort and range of motion; out in the 1920s with the advent of Coco Chanel's loose-fitting garments; in during the '50s as women sought out the nipped-waist effect popularized in Dior's New Look. The resurgence was short-lived, as the feminist movement of the '60s condemned the garments as unilaterally repressive. But in not-so-distant memory, corsets have once again enjoyed sartorial comebacks, often, in fact, touting undercurrents of female empowerment. There was Cyndi Lauper's brazen red one in her 1983 "Girls Just Wanna Have Fun" video; Madonna's wave-making cone contraption back in 1989 (courtesy of Jean-Paul Gaultier); and, more recently, the lace-up numbers in Über-feminist Miuccia Prada's fall 2016 Prada collection. These corsets were loosely laced, artfully dishabillé, and worn over menswear-inflected pieces. It was an influential statement about owning the power of one's womanhood, and also yet another example of how today's corsets are body-conscious without being body-restrictive — and the trend was contagious.
Other power-women designers from the comfort camp kept the sentiment going when they showed the style for spring 2017, Isabel Marant, Chloé's former creative director Clare Waight Keller, and Tibi's Amy Smilovic included. The latter reports that Tibi's corsets — rendered in unexpected wearer-friendly fabrications like denim and knits — have become seasonal best sellers. "'Corset' was the most searched term on our site for spring," Smilovic says, and the denim style is already out of stock.
Want one? If you visit Net-a-Porter, you might still find the style in question, as well as iterations from Alexander McQueen (thick leather belt redux), Marques' Almeida (denim and distressed), and Tom Ford (either overtly sexy or chastity belt-esque, pick your poison). Sarah Burton at McQueen also showed tighter, bustier corsets in her spring show, as did Rihanna at Fenty x Puma, and Dolce & Gabbana (they're a mainstay for the brand at this point). Even Gucci showed a thick, embossed-leather version cut to hit right under each breast amid the fluffy tulle pieces from the collection; Loewe's were flesh-toned and structured.
But there's something uncomfortable — no pun intended — about resurrecting the corset at a time when the political mandate seems to be to take women back to the 16th century. Despite many well-founded claims that corsets have been unfairly demonized (more on that below), they still come with symbolic baggage: The idea that looking skinnier, bustier, and sexier is the fashion endgame might make modern feminists queasy. But the designers who showed them — savvy, astute, progressive women — are about empowerment, not hemming in their customers. So what were they getting at? According to Smilovic, it's largely about the reappropriation of the garment, and simultaneously a novel shortcut to refreshing one's wardrobe. And it's more than the wardrobe that's getting an update. "If you think about it through history, [the corset] was made to please everyone but the wearer. Putting it into comfortable fabrications and sweater knits makes it a lot more democratic — it's entirely in the control of the woman wearing it. You're definitely not having someone else tying you up," the designer asserts. Adds Steele, "This sort of post-Prada thing is taking a bit of the erotic energy [of the corset] and putting it into daywear in a way that is not physically constraining." Bruna agrees, "Today, corsets no longer modify the body. They emphasize the waist and chest without exerting any deforming pressure."
For its spring 2017 cover, photographed by Cass Bird and styled by Alex White, Porter magazine put model Natalia Vodianova in a T-shirt emblazoned with the word "superwoman," topped off with one of those Marant front-lace corsets, an overtly political pairing. It's worth noting that while the designers showed their spring '17 collections before the election, Porter's spring issue was shot later and clearly with the current political milieu (or maelstrom) in mind.
The trend has been embraced on the streets as well as on editorial pages. As nice as it would be to leave Kardashians out of it (they are famous proponents of real, utilitarian corsets as body-shaping garments), Kim's recent outing in which she paired a less painfully tight one (worn as a top) with sweatpants and a puffer coat is one of the more memorable street-style moments of recent times. By coordinating her corset with the ultimate in casual clothing, Kim seemed to personify the idea that the point of fashion today — corsets included — is wearing whatever you want; whatever makes you comfortable. Democracy might be crumbling around us, but in fashion, every woman is free to make her own rules.