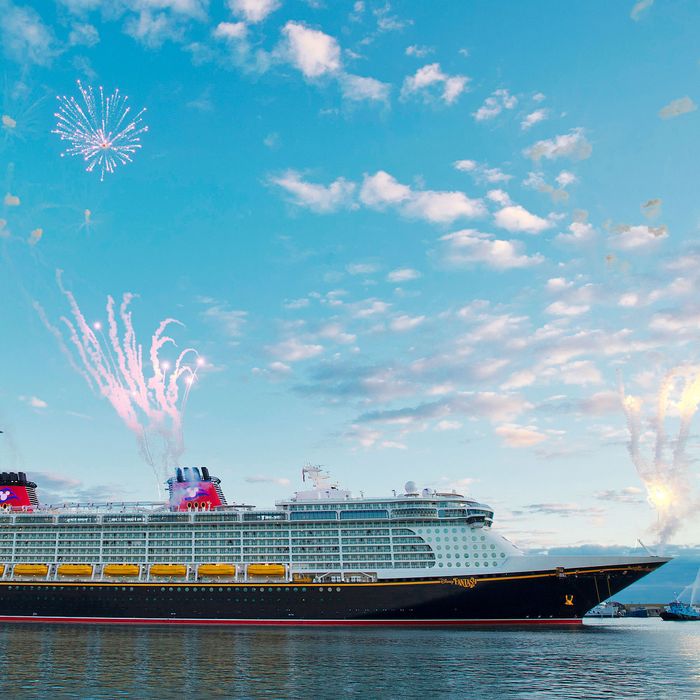 Cruises are trying to lure millennials.
Photo: Handout/Getty Images
In February 2013, a Carnival cruise ship caught fire and was left floating for days in the Gulf of Mexico, as passengers set up so-called "shanty towns" on the deck due to the overwhelming smell of feces and urine that overtook the boat. Many of us watched the horror unfold from our computers — and the memory of this "Poop Cruise" has been seared into our brains ever since.
But just four years later (which some might argue is too soon), cruise companies seem to really want millennials to forget about the Poop Cruise that has been haunting us. Now, their fleets are pulling out all the stops to lure the 20-to-30-something crowd to come aboard for a week of organized activities. According to the New York Times, instead of merely catering to its chief demographic (the over-60 set), cruise companies are starting to offer spin classes, hip-hop dance parties, music festivals, self-improvement seminars, and DJs — i.e., the very things millennials cherish the most.
There are ships with programs "designed for 20- and 30-somethings' hunger for purpose" and others dedicated to giving off a Vegas or EDM vibe. Times writer Sheila Marikar actually went aboard one such ship, the Regent Seven Seas Explorer, and wrote of its "Canyon Ranch–certified" masseuses, cooking classes, state-of-the-art fitness center, and late-night dance parties on the observation deck. The cost of ten nights on the liner? Only $5,799 per guest, based on double-occupancy room. Per the Times:
"It's for the millennial couple that works really hard," said Randall Soy, Regent Seven Seas' executive vice president for marketing and sales. "Millennials want someone to take care of them. It's very easy for us to do that."
If these cruise ships really want to reach millennials, might we suggest simply offering a floating Juice Press with wifi?