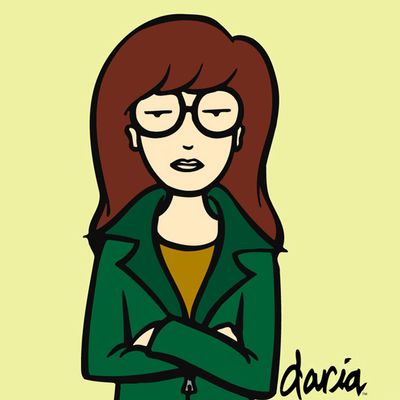 In January, Daria came face-to-face with herself. Tracy Grandstaff, who voiced MTV's animated antiheroine from 1997 to 2002, was sent an image of her cartoon alter ego in the form of a protest sign, spouting the speech bubble, "The Future Is Female." The photo was taken at the Women's March on Washington and the sign was in the hands of a 15-year-old girl, who would have been born the same year Daria went off the air.
This week marks 20 years since Daria first launched on MTV, but despite the two decades that have passed since her conception, the "misery chick" continues to be a touchstone for the women who grew up with her and even for those who didn't.
The bespectacled brunette initially appeared in the third episode of famed TV producer Mike Judge's Beavis and Butt-Head, an animated show about a pair of acne-ridden, sex-crazed, brain-dead adolescents. The first words that came out of her mouth, "They think and feel just like us?" was her attempt to define "sentient" to a classroom full of boys — but she could have just as easily been giving them a much-needed education about girls: Daria was the opposite of their blonde, buxom fantasies, wearing a flat affect to go with her flat hair and flat combat boots. Her introduction on the show was a modest salve, but it wasn't Judge's idea.
Beavis and Butt-Head's much smarter foil came out of a specific request from MTV, whose president at the time was Judy McGrath. "One of the only main notes we got from the network was to have a girl that they know that's in school with them, which I thought was a good idea," Judge says. He named her Daria after a fellow physics grad from the University of California, and her last name, Morgendorffer, was borrowed from a colleague's mother. Her original look — dowdy, androgynous — was inspired by cartoonist Lynda Barry, whom Judge reimagined as a gothier high schooler. Her voice, infamous for its deadpan apathy, belonged to Tracy Grandstaff, one of two female staff writers on Beavis and Butt-Head. Her direction? "It's you on a bad day," Grandstaff recalls.
Despite her gender and her wit, Daria barely registered within the confines of Beavis and Butt-Head's world because she had so little to do with it. She was there solely to riff off the boys, her existence defined by theirs — which aligned her with many of the women on MTV at the time. By the early '90s, the network had acquired a reputation for exploitative programming like Spring Break, which marked its slow degeneration over the decade into prurience. "We were showing too much skin at that point," Grandstaff says, adding that Real World — the Big Brother–type show that launched the reality genre in 1992 — didn't help, nor did MTV's choice of female hosts, two of whom (Jenny McCarthy, Carmen Electra) were ex-Playmates. The objectification of women was so flagrant that the press started calling the network out for it. "It really came down to," says Grandstaff, "'There's not one woman represented in a way that is positive?'"
The answer was Daria Morgendorffer.
Four years after she first appeared on Mike Judge's show, she was given her own — a radical departure for the network, both inside and out. Two longtime MTV employees, Glenn Eichler and Susie Lewis, oversaw the spinoff. The latter was one of the few women to work on Beavis and Butt-Head which, over its 18 years, employed only 2 female writers (out of 44) and one female director (out of nine). On Daria, however, Eichler vowed to hire as many women as possible. Over the course of Daria's five seasons (65 episodes), 9 out of 19 writers and 6 of the 19 directors were women. To put this in context, the Center for the Study of Women in Television and Film reported that even in 2015-2016 women made up only 26 percent of the top jobs in television — creators, directors, writers, producers.
A fan of My So-Called Life, Eichler was intent on turning Daria from a one-dimensional stereotype into a three-dimensional personality. "We felt like we had to explore how [Daria's] so-called take-no-prisoners attitude could negatively impact her," he says. "That was part of the reason the other characters were well-rounded, so that they could confound her expectations on the long five-year journey to her becoming slightly more mature." Daria's major themes included the very '90s concern of selling out, the subversion of stereotypes, body image, friendship, and identity crises, and Lewis chose tracks by grrrl-friendly bands that reflected "the tone and feeling." Juliana Hatfield, Bikini Kill, and Veruca Salt were sprinkled throughout.
Daria aired for the last time in 2002, after five seasons and two specials. "We felt like five years was enough," says Eichler. In the final episode, she offers the following advice to her fellow students at graduation: "Stand firm for what you believe in, until and unless experience proves you wrong. Remember, when the emperor looks naked, the emperor IS naked. The truth and a lie are not sort of the same thing." Her words seem particularly cogent now, which is perhaps why Daria was a recurring symbol this year at various Trump protests (appearing on both posters and fingernails) and why Sick Sad World (Daria and Jane's go-to tabloid "news" show) became a minor anti-Trump meme.
Since her inception, Daria has presented an alternative to mainstream girl culture, which is perhaps why she had to be a cartoon — it declawed her. "There was this sense that the world might not be ready for a girl who doesn't want to be prom queen," says co-founder of Bitch Magazine Andi Zeisler, "and wants to just talk shit." Today, Daria remains a familiar bellwether of pop proto-feminism. In 2010, Marisa Meltzer asked "Where Are the Darias?" And, as if in response, months later Tavi Gevinson told The New Yorker of her "Daria mind-set." Then, within a few years of each other, deadpan actress Aubrey Plaza played Daria in a College Humor trailer for a fictional live-action adaptation of the series, and pop star Katy Perry cosplayed as Daria's best friend, Jane, for Halloween. But despite her lasting impact, Zeisler is doubtful that Daria would have the same effect were it to debut today, at a time when there is no longer one dominant and one "alternative" culture. "Now we live in this world where there are countless alternatives and countless subcultures that might not have any sort of dominant organizing principle," Zeisler says.
Daria herself would probably appreciate the paradox of her very existence — that she was created by a man, but is embraced by women; that she was the embodiment of alternative culture, yet was born out of corporate interests. This is the show, after all, that made the catch phrase shared by two best friends, "I hate you." And in that case, the truth and a lie are sort of the same thing.