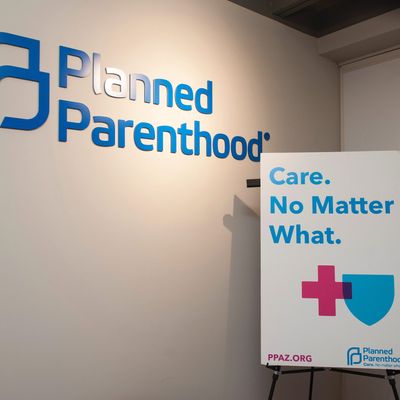 Under Trumpcare, thousands of women will lose access to contraceptives.
Photo: LAURA SEGALL/AFP/Getty Images
A week after the Trump administration introduced its answer to Obamacare — the American Health Care Act — the Congressional Budget Office countered with some bad news: Under the AHCA, 14 million Americans would lose health insurance next year, and 24 million would lose insurance by the end of the decade.
As predicted, the bill also strips Planned Parenthood of its federal funds by kicking the organization out of Medicaid. According to a CBO estimate, defunding Planned Parenthood will lead to thousands of new births — especially in the case of low-income women who will lose access to contraceptives, the Washington Post reports.
"To the extent that there would be reductions in access to care under the legislation, they would affect services that help women avert pregnancies," the report reads. "The people most likely to experience reduced access to care would probably reside in areas without other health-care clinics or medical practitioners who serve low-income populations. CBO projects that about 15 percent of those people would lose access to care."
In other words, 15 percent of low-income women would lose access to birth control, leading to an increase in births by "several thousand." Republicans have defended defunding Planned Parenthood in part by pointing out that it will save money — the CBO report estimates kicking Planned Parenthood out of Medicaid will reduce federal spending on the program by $178 million in 2017, and $234 million from 2017 to 2026.
Ironically, part of those savings would be offset by the thousands of additional children born. Medicaid pays for about 45 percent of all births, and many of those children will end up qualifying for Medicaid, meaning federal spending on the program would increase by $21 million in 2017, and $77 million over the next decade.
President Trump reportedly told Planned Parenthood it could keep its federal funding if it stopped providing abortions, but the organization rejected the offer before it could be formally presented; as Planned Parenthood's executive vice-president told the New York Times, "Providing critical health-care services for millions of American women is nonnegotiable." Although the deal might sound like an olive branch, it's more likely the president was trying to preempt the blowback that could result from defunding the organization, which is widely popular with voters.