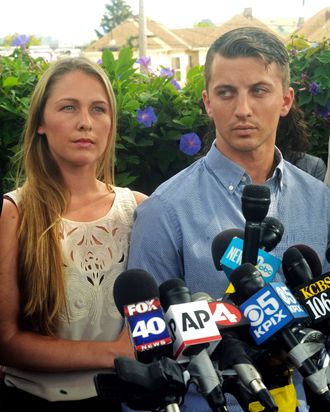 Denise Huskins and Aaron Quinn.
Photo: Mike Jory/AP
When Denise Huskins was kidnapped for ransom from the Vallejo, California, home she shared with boyfriend Aaron Quinn in 2015, sexually assaulted, then released four days later near her parents' home in Huntington Beach, police dismissed it all as a hoax. They claimed she "didn't act like a victim," saying, "If anything, it is … Ms. Huskins that owes this community an apology."
Matthew Muller, a disbarred attorney who attended Harvard Law School, eventually pleaded guilty to the crime. (Huskins said that, even after it was established that she had not faked her kidnapping, she was still harassed online by people who believed she had made the whole thing up.) During Muller's sentencing, she came forward to testify about the emotional impact of his crime, the Associated Press reports.
Calling it the "hell that we have survived," Denise said, "I still have nightmares every night. Sleep is not rest for me. It is a trigger."
The AP also says that she was "sobbing uncontrollably" when she said, "The only way I got through it was to picture that it was Aaron that I was with." The Los Angeles Times reports that Huskins asked that Muller receive life in prison, saying, "I know, without doubt or hesitation, that as long as he walks free, there will be more victims."
The details of the kidnapping, as reported by the Associated Press, are also horrifying:
The details of the case are Muller used a remote-controlled drone to spy on Huskins and Quinn before he broke into their Vallejo home with a fake gun, tied up the couple and made them drink a sleep-inducing liquid, prosecutors said. They were blindfolded while Muller played a pre-recorded message that made it seem as if there was more than one kidnapper.
Muller then took off with Huskins in the trunk of his car, to his home, where he'd keep her for two days — during which time he recorded himself sexually assaulting her twice.

He received a sentence of 40 years in prison.