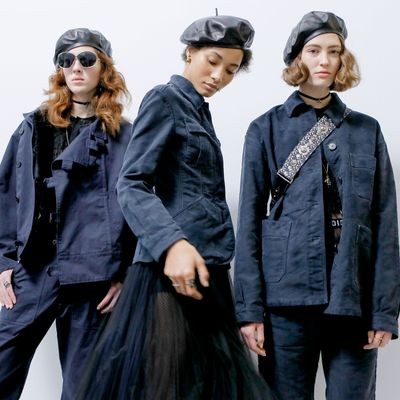 Backstage at Dior fall 2017.
Photo: Lorenzo Palizzolo/Getty Images
Maria Grazia Chiuri's latest show for Dior walked today at the Musée Rodin in Paris. In the audience were a host of celebrities, including Rihanna — in a leather beret — Kate Moss, Karlie Kloss, Sienna Miller, Anaïs Gallagher, and Uma Thurman.

Backstage, everyone was getting aura photos taken. (Our beauty director Kathleen Hou's is purple, in case you were wondering.)

Attendees found white bandannas — part of the ongoing #TiedTogether movement — on their seats. They were emblazoned with the words of Chimamanda Ngozi Adichie: "Feminist: a person who believes in the social, political, and economic equality of the sexes."

Campaign star Ruth Bell opened the show in a black pantsuit. The predominant color palette was black and navy blue — according to a quote from Christian Dior's The Little Dictionary of Fashion included in the show notes, "Among all the colors, navy blue is the only one which can ever compete with black, it has all the same qualities."
Chiuri referenced the house's fall 1949 collection, which featured hooded Chevrier (goatherd) looks. Another nod to house history? A variation on the Bar jacket, worn by Lineisy Montero — but this one in a jean finish, and worn over a sheer ball skirt.

Blue is also, as she referenced in the show notes, the color of workwear, so there was a series of more industrial looks, like these denim coveralls.

The models all wore black leather berets and many of them carried cross-body bags, some with straps that read "J'adior" or were adorned with the classic allover logo.

Gowns, some in crinkly black taffeta or blue velvet, others embellished with celestial prints (in keeping with the astrological theme backstage) closed out the show, to the strains of — what else? — "Blue Moon."