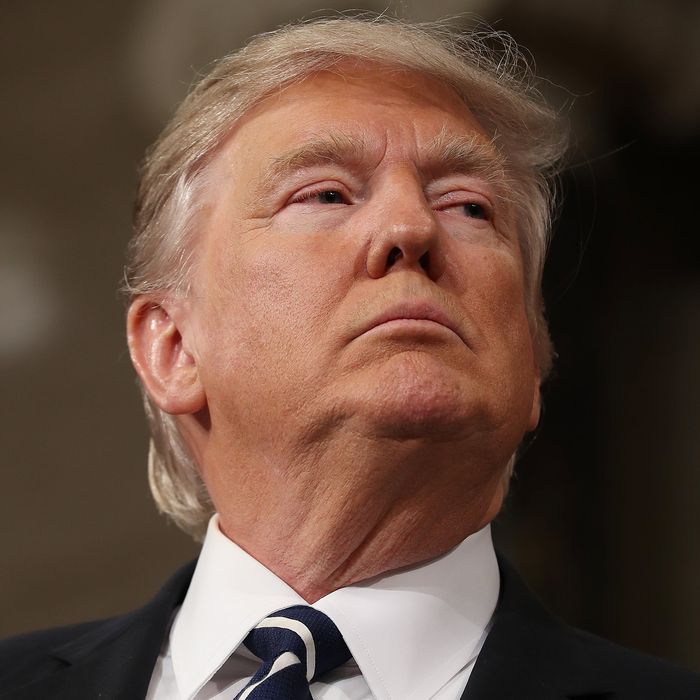 Photo: Jim Lo Scalzo/Pool/Getty Images
During his first presidential address, Donald Trump stepped up his anti-immigrant stance, presenting to the world four people whose family members had been killed by illegal immigrants. This was a way of introducing his announcement of a Homeland Security office called Victims Of Immigration Crime Engagement, or VOICE. "We are providing a voice to those who have been ignored by our media, and silenced by special interests," he said.
This comes on the heels of DHS memos that speak to mass deportation, greater detention, and the big, beautiful southern border wall. "Protecting the American people is the highest priority of our government and this Department," one such memo read, with a crackdown on immigration the way of doing so.
No one can deny the tragedy of these killings, but Trump's assertion that immigrants cause crime is no more true today, in March 2017, than it was when he said it on the campaign trail (though surely it's the kind of rhetoric that fires up his nativist base). In fact, if you look at a wide array of research, the opposite is true: Immigrants don't drive up crime, they lessen it.
Chiraag Bains, a former federal prosecutor and now a senior fellow at Harvard Law School's Criminal Justice Policy Program, expanded on this at the Marshall Project. He pointed to a new study in the Journal of Ethnicity in Criminal Justice that looked at the link between immigration and crime from 1970 to 2010 in 200 American metropolitan areas. After controlling for factors like unemployment, the labor market, and population age, the researchers found that immigration has a consistently negative effect on property crimes, robbery, and murder. Every 1 percent increase in the foreign-born population was linked with a decrease of 4.9 crimes per 100,000 people. Similarly, a 2010 study of cities with over 50,000 residents found that the places that took in the most immigrants from 1990 to 2000 also saw the biggest drops in murder and robbery rates. City-specific studies of New York, Chicago, Miami, San Antonio, El Paso, and San Diego have all found similar findings.
While the research hasn't come to exhaustive conclusions, two main themes have emerged: Immigrants commit less crime than their socioeconomic status would indicate, and immigrants drive up home prices — with a telling exception.
To wit, a 2007 working paper from the National Bureau of Economic Research looked at the 1980, 1990, and 2000 censuses and found that among young men — who commit more crimes than any other demographic — immigrants had lower incarceration rates than native-born Americans. The margin went up every decade; by 2000, immigrants were in jail at 20 percent the rate of the native born, as Science of Us has noted before. The American Immigration Council, in its analysis of the 2010 census, found that among men in the U.S. aged 18 and 39 without a high school diploma, Salvadoran and Guatemalan men were incarcerated at a rate of 1.7 percent, Mexican men 2.8 percent, and native-born Americans 10.7. There's a culturation effect, too: first-generation immigrants are 45 percent less likely to do violence than their third-generation peers.
There're lots of common-sense reasons for why immigrants commit fewer crimes. "They may represent those among their countrymen with the most motivation and the greatest ability to seek a better life abroad," Bains notes. "They may also have the most to lose, especially if they entered illegally or have family back home counting on their income."
Another lever for reducing crime, of course, is economic development. A 2013 report looked at housing data from 1970 to 2010, and found that each immigrant adds 11.6 cents to the home value of the counties they move to. It adds up, notes Tanvi Misra at CityLab: 40 million immigrants in dense American countries leads to a $3.7 trillion increase in home value.
Similarly, a 2007 study by Albert Saiz, now the director of MIT's Center for Real Estate, found that a 1 percent increase in immigrant population at the metro level translated into a 1 percent increase in housing prices. But his 2011 follow-up found that housing value does dip with white flight: After certain ethnicities move in, whites move out. (This was the case for new black neighbors, but not Latinos). This bottom-up self-segregation — which has been happening since at least the 1920s — compounds top-down, systemic segregation, all of which lead to civic disinvestment, insecure neighborhoods, and the closing of social networks and the access that comes with them.
When crime goes down, money comes in: Zip Codes that saw the biggest drops in crime in the 1990s saw blooming property values. If immigrants do come, and residents do stay, that diversity primes development. University of Chicago's John Roman explained it to Science of Us this way: Immigrants move in, then gentrifiers, then investors, and more investors. (And while gentrification is certainly a complicated topic, there's good reason to believe concentrated poverty is the larger problem.) From a real-estate perspective, it might be a good idea to listen for foreign languages. "If I'm going to gentrify, what I want to see is a lot of recent immigrants," Roman said. "That's a strong signal to me to buy."