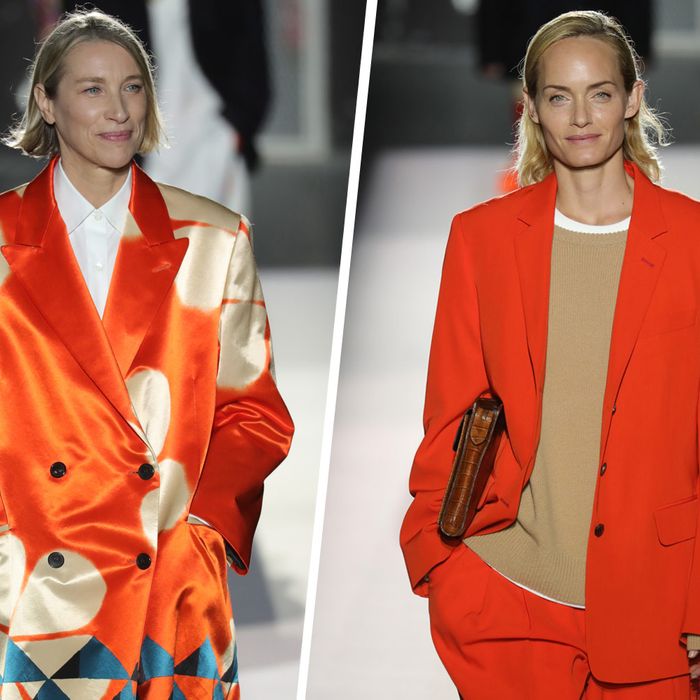 Kristina de Coninck and Amber Valletta on the Dries Van Noten runway at Paris Fashion Week.
Dries Van Noten celebrated its 100th show today at Paris Fashion Week by casting only women who had walked in the brand's show before, as a tribute to models of then and now. Of the many who walked, a good amount were over 40, including Amber Valletta, Nadja Auermann, Carolyn Murphy, Trish Goff, Kirsten Owen, Kristina de Coninck, and Michele Hicks. All were dressed to look natural with bare makeup.
In a vast white-walled room, everyone had a front-row seat on simple wooden chairs, including Catherine Deneuve.
The show was a double tribute to both the brand's models and the most famous art-inspired prints from the past 99 collections. Show notes explained where each look on today's runway came from — for example, a silky floral print circa 1994, or paisley from 2007.
The fall 2017 collection had great layering: navy jackets worn over jeans, thick luscious knits and furs, and loose iridescent vinyl suits in mint-green and blue. Menswear-style overcoats and skirts were embellished with sequins.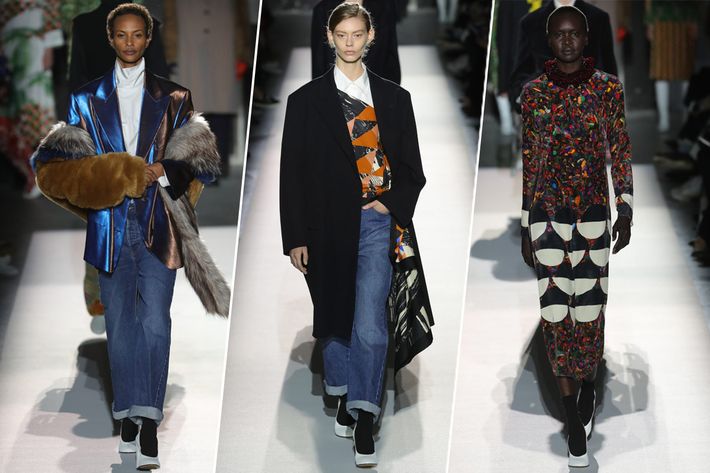 Other models on this star-studded lineup: Liya Kebede, Hanne Gaby Odiele, Mica Argañaraz, Sasha Pivovarova, Élise Crombez, Missy Rayder, and Hannelore Knuts. They wore white boots and these amazing velvet heels:
The designer gave each guest a flip book with his favorite prints — like a special gift for Instagram mood boards: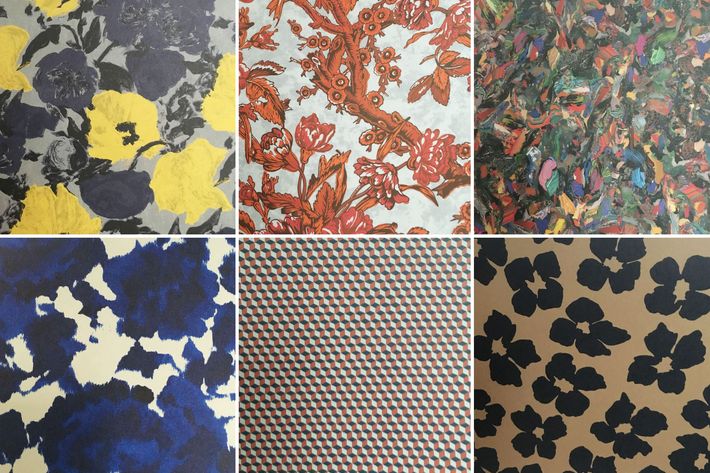 Julia Nobis closed the show to a standing ovation, joining all of the models on one side of the runway. Dries Van Noten came out, waved to the cheering crowd, and posed with models for photos.
If Instagram is any measure of success or life achievements, Dries had a great day today — the brand's account hit 500,000 followers immediately after the show.