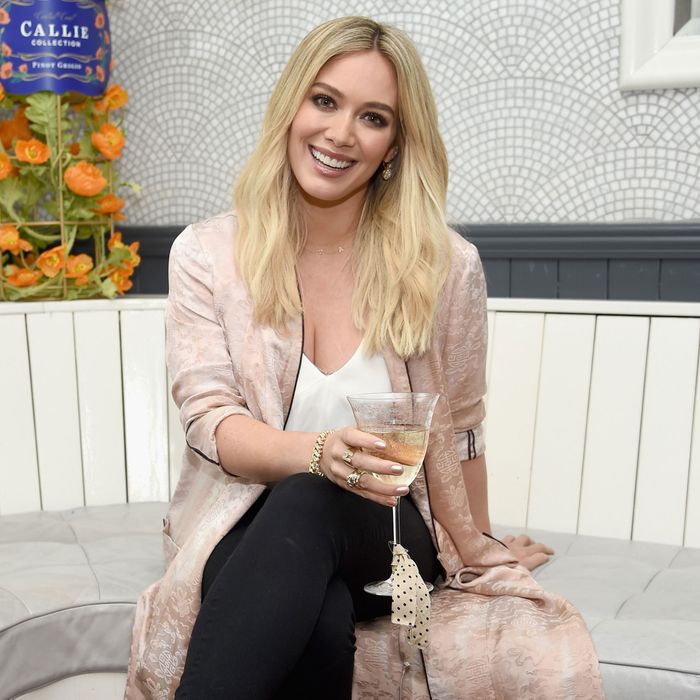 Hilary! Duff!
Photo: Dimitrios Kambouris/Getty Images
One evening earlier this week, three dozen blonde and blonde-ish women wearing flowy tops and ankle boots rushed the doors of an upscale Meatpacking District restaurant for a wine tasting.
Though the promise of free Pinot Grigio likely motivated some of us to charge up the stairs and into the launch party for Callie Collection Wines, the real draw was the brand's newly minted spokeswoman: Hilary Duff. The 29-year-old pop singer and star of TV Land's Younger was just inside, and we had to see her.
Duff first came to my attention in the early aughts, when she played the titular role in the hit Disney Channel series Lizzie McGuire. She portrayed a goofy middle-school student who had to ask her mom to buy her a bra; I was a goofy middle-school student who had to ask her mom to buy her a bra. Never mind that Duff was actually a homeschooled child star who dated Aaron Carter; in my mind, she was just like me. I deeply related to her back then, and my feelings never really changed. Now, Hilary Duff loves wine. Same!
According to the press materials, the Callie Collection was created for "moments that stop time," and when I made it into the party, I understood. There, across the room, was Hilary Duff, resplendent in black jeans and a rosy pink duster. Her hair was blonde, her makeup was bronze-y, and her eyelashes were distinctly visible, even from several yards away. The other twentysomethings who barreled into the party with me were similarly transfixed: We had found our leader. She was drinking Pinot Grigio and talking to E! News.
Though she is a celebrity, Duff, now 29, is still a kind of millennial everywoman: She loves beach vacations, Snapchat filters, and coffee. She has a French Bulldog named Peaches and thinks Diva Cups are edgy. She is prone to posting sassy quotes on Instagram and trying out new kinds of hats. So — and I say this with the utmost respect — she is the perfect ambassador for Callie Collection Wines, which cost $13.99 a bottle. What celebrity could better represent such an affordable vintage? Who else would so readily admit to drinking it?
In all, about a hundred publicists, social-media influencers, and journalists attended the launch, and each woman was dressed so similarly to the next that I began to wonder if we were going to be inducted into the Hilary Duff Beachy Waves and Floral Accents Club later in the night. (I would have happily signed in blood.) Everyone matched the décor, which was furnished by Anthropologie. In the center of the room, a DJ played cheerful pop music that was not by Hilary Duff, which felt like a missed opportunity.
While I waited for my appointed interview time, I perused the crafting table, where slightly tipsy attendees were decorating wooden block letters with faux moss and flowers. In my head, I repeated the mantra Duff once shared with Elle magazine: "I'm 5'2, I'm really fit, killing it in the gym, and doing crazy things." I also drank a glass of Chardonnay, which was okay. Then, suddenly, a publicist was leading me to my destiny. I was going to meet Hilary Duff.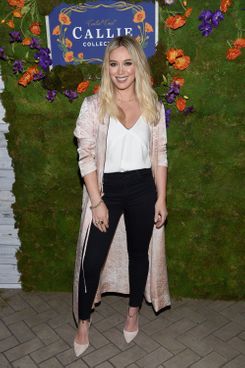 I joined the Callie Collection spokeswoman on a couch in the corner of the room for exactly one minute and 32 seconds. We talked about: wine!
"You know what, I am such a wine drinker," she told me, her face beaming with soft glitter. Wine from the Callie Collection, she explained confidently, "is basically like a love letter to California, and I'm such a California girl that I loved everything about it." I nodded in a way that said, oh, same, even though I'm from Pittsburgh. Then I asked what it was like to be able to drink wine for a job after being a Disney star for so long.
"God, I'm almost 30 now, so I've been drinking wine for a long time," she sighed, and I nodded again. "I don't think that there's ever felt like there's been really like, rules to what I can and can't do, but it is nice to kind of share with the world things that I enjoy doing."
Before a chain of publicists signaled to me that my time was up, Duff told me the name of her favorite wine, and I literally knew what she was going to say before she even said it: Pinot Grigio. (From the Callie Collection.) "When we have boozy nights with my girlfriends, we go through quite a few bottles," she said, leaning into me conspiratorially. "Thank you!!!!" I responded.
After our brief but meaningful chat, Duff left the party with her publicist and a few friends, who should think about how lucky they are every day. I stayed for a minute to try Hilary Duff's favorite wine. I will think of her now every time I drink Pinot Grigio, which, you know what, is a lot.