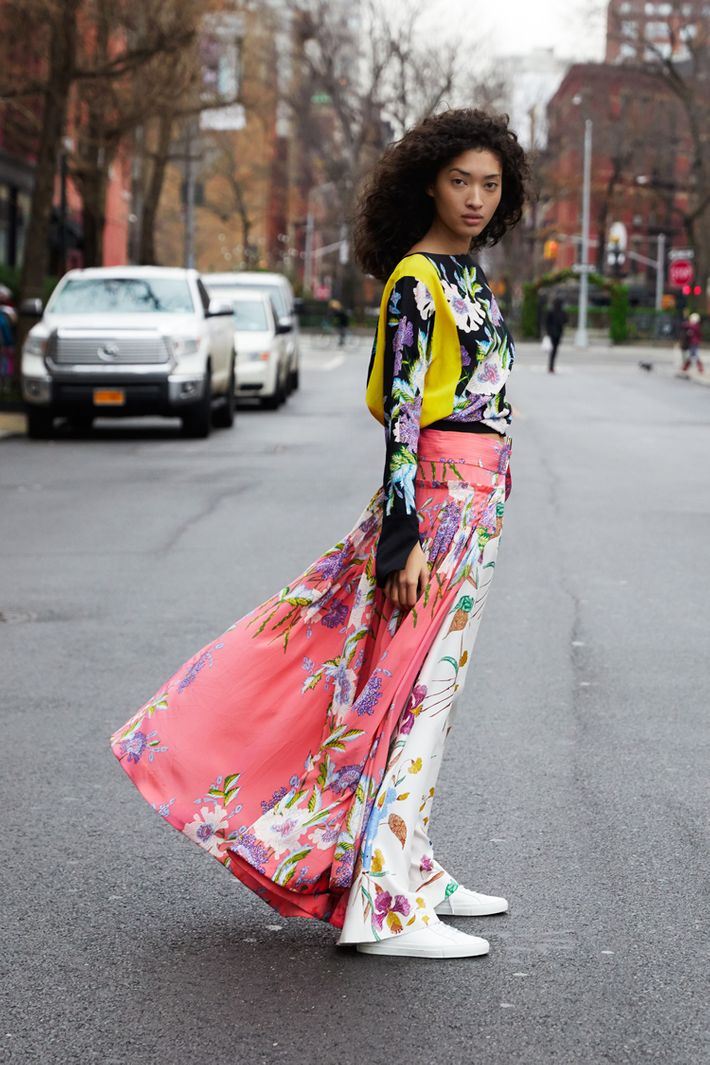 Among the maelstrom of vacuous content on Instagram is an ever-growing number of series with genuine thought behind them (like our own). One that's worth checking out now is DVF's #DVFgirl project, an anti-campaign showcasing real women who work there, friends of the brand, and other interesting New York personalities. The women style themselves in the collection, the looks are shot out on the streets of the city, and the stars are quoted talking about their creative projects and passions.
One of the women who caught our eye was buzzy model Aqua Parios. The irony, of course, is that Parios (who goes by just "Aqua") is a professional in the role of a "real girl." But beyond wearing the clothes to exceptional effect, she was free to just be herself. A self-described model who smiles, she brazenly mixed prints and textiles in her cool, layered looks. And while they first popped up in our feeds mid-winter, it's finally time for us to revisit and study her creative spring outfits, shown here. Plus, Parios let us in on her style tenets, thoughts on the series, and who she is outside of modeling.
Tell us about the experience of shooting your #DVFgirl looks.
It was really great because normally models don't have a big say in what they wear during the jobs. I thought it was really cool to be able to choose outfits that represented me and express my personal style.
What does being a #DVFGirl mean to you?
They're giving me an opportunity to show my personality and have a voice. A lot of young girls look up to DVF, as well as the faces who represent the brand; DVF is all about embracing your individuality and loving yourself, which is something we really need to impress onto the youth.
DVF is all about female strength, bold style, and an energetic spirit. How do you identify with those themes?
Women are strong! And women do have a voice. DVF lets women embrace themselves and make the looks their own. There's definitely something for everyone in this collection. It's nice because a lot of times collections put limits on who can wear the clothes, but I feel that DVF is for every girl.
What facets of yourself do you wish people could see more of?
That models aren't always so serious and straight-faced! I have a really big sense of humor.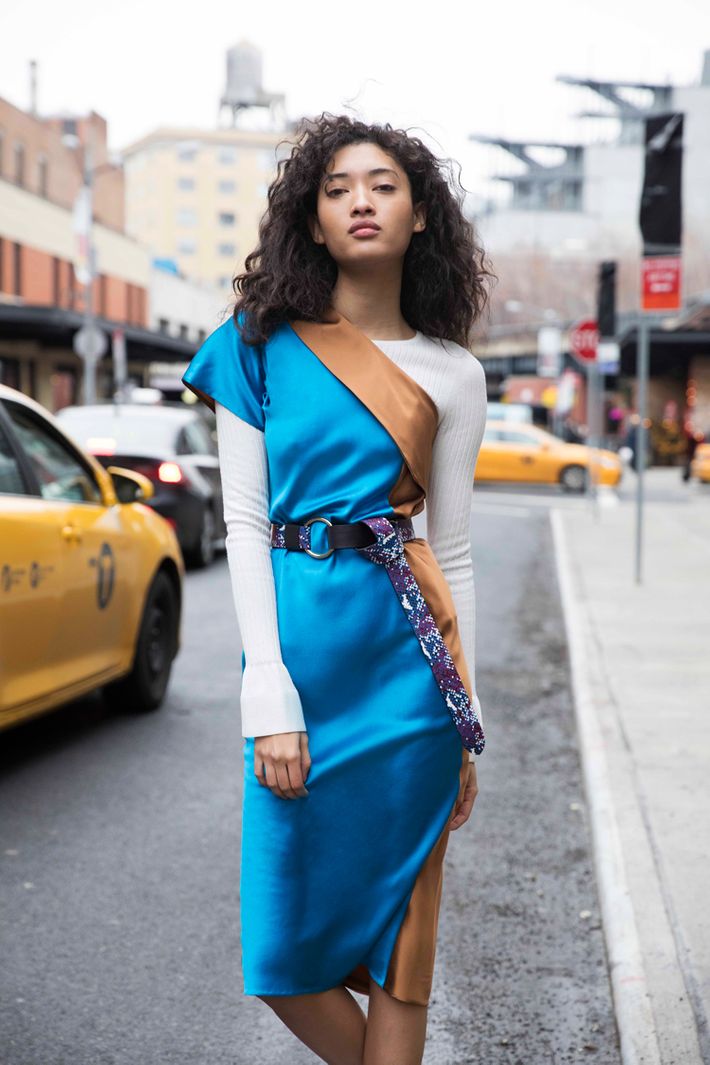 In terms of personal style, what makes you feel confident?
I wear whatever I'm feeling that day. Most of the time it's jeans and a t-shirt, but then it could be a really cool tracksuit or a dress. I dress for comfort. And I love colors. I feel like I wear too much black, so I go for cool prints and bright tops to mix it up. My favorite DVF look is those long plaid pants. So unique and simple. I also love the glitter mini wrap-dress.
Are there any spring trends you're looking forward to trying?
I'm really into cool pants. And I'm excited to wear some of the cool shorts I got during Fashion Week.
Has your Louisiana background influenced your relationship with fashion? And did moving to New York affect your style?
My dad's the most stylish person I know. But there's more creative freedom here — I can wear pretty much anything without people staring.
What do you look forward to when you visit home?
I love gumbo and the pecan candy that my family makes. Southern cooking is the best!
Where can you be found hanging out when you're not working?
At a cool restaurant with my girlfriend. We love trying new food.
Your hair and skin are amazing. What are your secrets?
Thank you! I don't do too much: I drink a lot of water. I use drugstore face wash and hair products. And I use a repairing serum at night.
Aqua is represented by Heroes. Read more of her story over at DVF.
Shop Diane von Furstenberg
This is paid content produced for an advertiser by New York Brand Studio. The editorial staff of The Cut did not play a role in its creation.