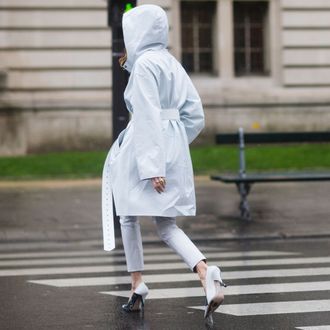 Ece Sukan.
Photo: Nabile Quenum/Nabile Quenum
As much as we love Fashion Week attendees who break out the bright colors and bold accessories, it's possible to make a statement while remaining more subdued. Case in point, Ece Sukan in this white and pale-gray ensemble. This is a true power move in terms of rainy-weather wear, and it makes the stylist and writer our Golden Peacock from yesterday's Paris Fashion Week shows.
Choosing light colors in the rain is not recommended, but Sukan went for it anyway. Every aspect of this look — from the raincoat to the cropped pants to the white heels — remains spotless, a true superhuman feat. Plus, the patent-leather trench is one of the most stylish raincoats we've ever seen. We can only hope to splash around in the rain and look as immaculate as Sukan does here.