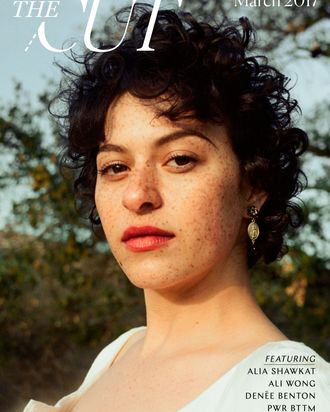 In November, after Trump was elected, many of us on staff felt that it was hard to care about getting dressed. As the months have gone by, the climate is only more fraught, and much of the joy we've previously felt about fashion has been eaten up by larger concerns about geopolitics and justice in America. As a site that thinks a great deal about style and what happens in the fashion world, this created an internal conversation that I suspect will last for a long while.
At the same time, many interesting stories about style were shaping up. The fashion press made speculations about which designers would dress Melania. Debates broke out over what it means to #dresslikeawoman. The "alt-right" attempted to co-opt the "dapper" look of Brooklyn hipsters from five years ago. Ivanka pimped her jewelry line on 60 Minutes (and later, Kellyanne Conway made a sales pitch for the fashion line on television). A pink knit hat became an international symbol of resistance.
Shopping shouldn't be confused with political activism, but dressing has always been a way to send powerful messages about political beliefs. Trump and his ilk have an almost comically clear, Gordon Gekko aesthetic — dark suits for men, sheath dresses, barrel-curls, and heels for the women — and it turns out the dress code is just as prescriptive and limited as the rest of their ideas about how people should live.
This spring, when we set out to make a statement about what to wear now, we thought about nonconformity, power, and how women express themselves in opposition to dominant ideas about femininity. Over the month of March, each day the Cut will publish a feature — a photo shoot, or an interview, or an essay — exploring individuality and fashion. We spoke to actress Alia Shawkat about being an Arab-American while Olivia Bee photographed her in Los Angeles. Comedian Ali Wong explains why glasses are her favorite accessory (she calls them "shoes for your face"), and also why she named her daughter after Marie Kondo. Photographer Stella Berkofsky took voluminous pastels into a swamp with our fashion director Rebecca Ramsey and shot them on a young woman and a woman over 35. The gender-nonconforming musical duo PWR BTTM made Marc Jacobs's platform decaled boots seem wearable on anyone. Jahleel Weaver, the creative director of Rihanna's Fenty line, styled some of his muses, and author Cintra Wilson, who took a fashion road trip across the United States for her book Fear and Clothing, wrote an essay on why dressing how you want is an indelible part of the American dream.
We've organized this "issue" around a loose set of ideas about fashion at this particular moment — though all the clothing is available right now, it's not exactly "spring" dressing because it's more than a seasonal approach. It's about the spirit of individual beauty, which cannot be broken.
On Alia Shawkat: Dolce and Gabbana 18k Gold Icon Earrings, $1,850, at 717 5th Ave.; (212) 897-9653; Carolina Herrera Ivory Pinstriped Dress with Belt, $2,490, at 954 Madison Ave.; 212-249-6552.
Photograph by Olivia Bee for the Cut; Styling by Susan Winget; Hair by Terri Walker at Jed Root; Makeup by Sandy Ganzer at Forward Artists; Styling assistance by Kimme Jackson.