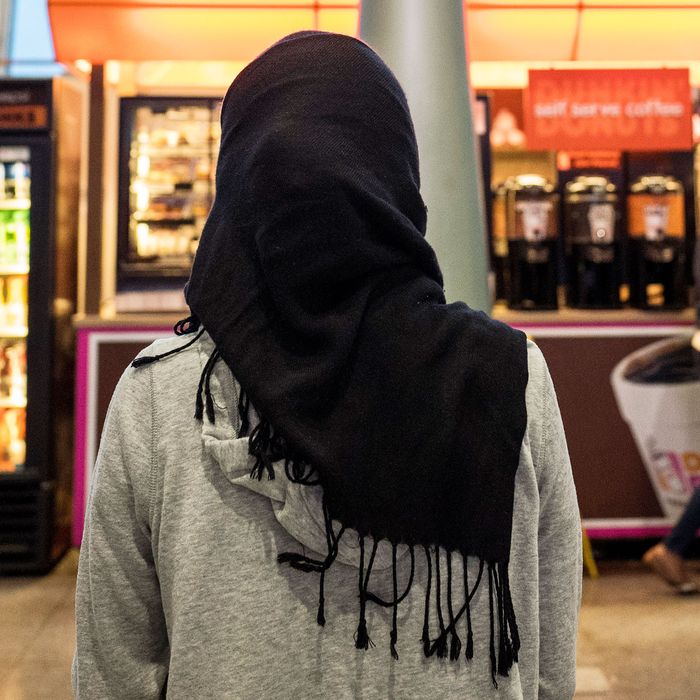 The EU's highest court ruled employers can ban hijabs from the workplace.
Photo: 2017 Getty Images
The European Union's highest court has ruled that employers can ban staff from wearing hijabs at work, the Guardian reports. The ruling was made by the European Court of Justice on Tuesday, and argues the ban doesn't qualify as "direct discrimination" if a company has a policy banning "any political, philosophical, or religious sign." Though the ruling technically applies to any religious symbol or garment, advocates say it specifically targets Muslim women.
"A ban on religious and political symbols feels to me as a disguised ban on the hijab," Warda El-Kaddouri, a columnist for a Belgian newspaper, told Al Jazeera from Brussels. "I cannot think of another symbol that will affect hundreds of thousands of people in Europe."
The ruling was made with regard to two separate lawsuits: one by a Muslim woman in Belgium, and another by a Muslim woman in France. In the Belgian suit, Samira Achbita was fired from the security firm where she'd worked for three years after she began wearing a hijab to work — the company reportedly said she'd broken "unwritten rules" prohibiting religious symbols. In the second case, another Muslim woman — Asma Bougnaoui — was fired from a tech-consultancy firm after a customer said his employees were "embarrassed" by the hijab she wore while giving them a presentation.
In Achbita's case, the court ruled that companies are allowed to have policies banning religious symbols from the workplace. Although the European Union has laws in place that bar religious discrimination, Achbita's firing was based on equal application of company policy and was not discriminatory. But in Bougnaoui's case, the court ruled in her favor, saying that because the demand came from a client and not her employer, it "cannot be considered a genuine and determining occupational requirement."
Right-wing leaders in Europe reacted enthusiastically to the ruling. François Fillon, the French presidential candidate, issued a statement that called it an "immense relief, not just for thousands of companies but also for their workers." He added that the ruling would be "a factor in cohesion and social peace" in Europe. Meanwhile Germany's right-wing populist party, Alternative für Deutschland, said the ruling "sends out the right signal, especially for Germany."
The ruling comes at a time when right-wing populist candidates who've taken hard stances against Islam — such as the Netherlands' Geert Wilders and France's Marine Le Pen — are experiencing an unexpected surge in popularity.