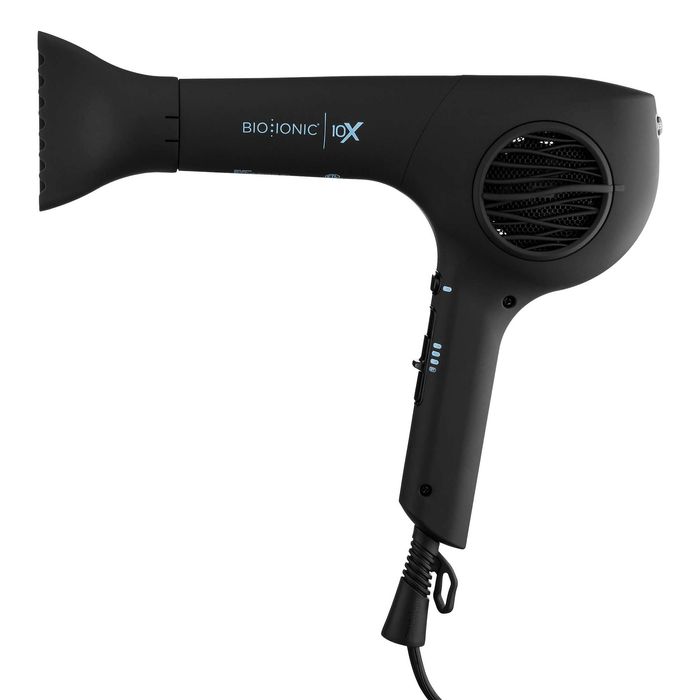 The Bio Ionic Hair Dryer.
These days the Dyson hair dryer collects all the glory, and I get it. It's sleek; it doesn't sputter raucous white noise; it's made by a pompous British company. It's phenomenal in many ways, but it's not the best implement for a quick and easy blowout. That title belongs to the Bio Ionic Ultralight Speed Dryer. It is ultra light — it weighs less than a pound — and straightens hair at warp speed (it cuts my typical drying time by a third). The latter benefit occurs because the dryer emits a negative charge that clasps onto water molecules in wet hair. In turn, these molecules evaporate at a quicker rate, which lessens drying time. Any numbnut could tell you that this is the foundation of ionic dryers, but Bio Ionic's version is perfected. The brand claims that the water molecules are actually absorbed by the hair, thereby providing a level of hydration. That sounds silly to me, but then again, my hair feels especially soft and healthy each time I make use of the dryer. And it's straight, too. Users aren't able to adjust the dryer's temperature, only the speed, which is the Bio Ionic's singular drawback. The dryer is $330, which, surprisingly, is still not as costly as the Dyson. While that's still a lot for a dryer, the lightweight comfort and super speedy dry-time is worth every hard-earned coin.
Bio Ionic Ultralight Speed Dryer, $330 at Sephora.
If you buy something through our links, New York may earn an affiliate commission.