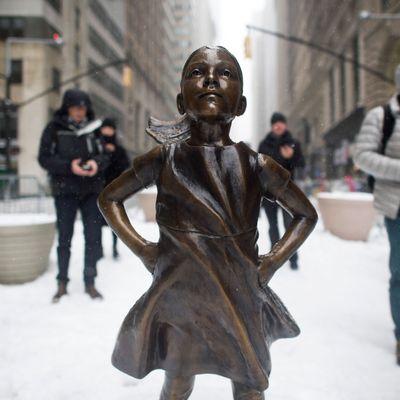 The "Fearless Girl."
Photo: DON EMMERT/AFP/Getty Images
In early March, near International Women's Day, State Street Global Advisors installed a bronze statue of a defiant child staring down the famous Wall Street bull. Named the "Fearless Girl," it was typical corporate feminist posturing that served to earn public goodwill while successfully glossing over Wall Street's history of fleecing the working poor (not to mention State Street's own fraud charges). It's also been a target of repeated vandalism.
On Monday, Gothamist published several photos taken by a tipster that show the "Fearless Girl" statue wearing a MAGA hat and draped in an American flag, while two men hold up signs near it — one has a drawing of Pepe the Frog next to the word "Trump," while another says "VETS B4 ILLEGALS." The source said this occurred right after midnight on Monday morning.
This isn't the first time the statue's been messed with: A few days after it was put up, a photo of a Wall Street bro humping it went viral.
The statue is scheduled to be in place until April 2, though some are pushing for it to be a permanent addition.