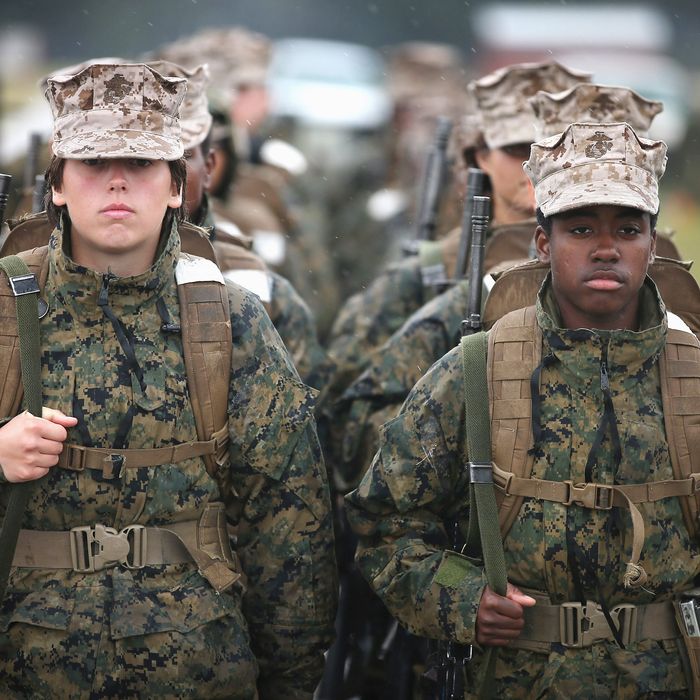 Hundreds of nude and clothed photos of female Marines were shared in secret Facebook groups.
Photo: Scott Olson/Getty Images
While military higher-ups wrestle with the best way to discipline current and former U.S. Marines who reportedly shared hundreds of explicit photos of women — both civilians and active service members — in secret Facebook groups, a spokesperson for one of those groups has come forward in their defense. Former Marine Marshall Chiles told the Daily Beast that Marines United, a Facebook group with as many as 30,000 members, is just "a group of males coming together who can understand each other."
"The purpose of the group is to create camaraderie, creating that same feeling that we had when we were all in the military," he said, calling the sharing of nude photos without a woman's knowledge or consent a form of "social validation."
Moreover, he seemed to blame the scandal on the military's decision to bring women into the fold (Secretary of Defense Ash Carter ended the ban on women in combat in December 2015):
"The Marine Corps is supposed to go out and win wars, being the front line of defense for America," he continued. "So why should would we integrate women when we know it's going to happen and it's just going to continue to be a huge distraction?"
Chiles added that integration in the military only came about because of political pressure from "civilian leadership." "I think the Marine Corps should stand up for itself and say, 'Look, we have been winning wars for America since 1775 why should we continue to change the wheels when they're not broke,'" he said.
Yet Marine Corps Commandant General Robert Neller all but admitted that the wheels were broke in a hearing before the Senate Armed Services Committee Wednesday. "This is a problem with our culture," he said. "We're going to have to change how we see ourselves and how we treat each other." As for how Neller and other military brass plan to fix the problem? "I don't have a good answer for you," he told senators.