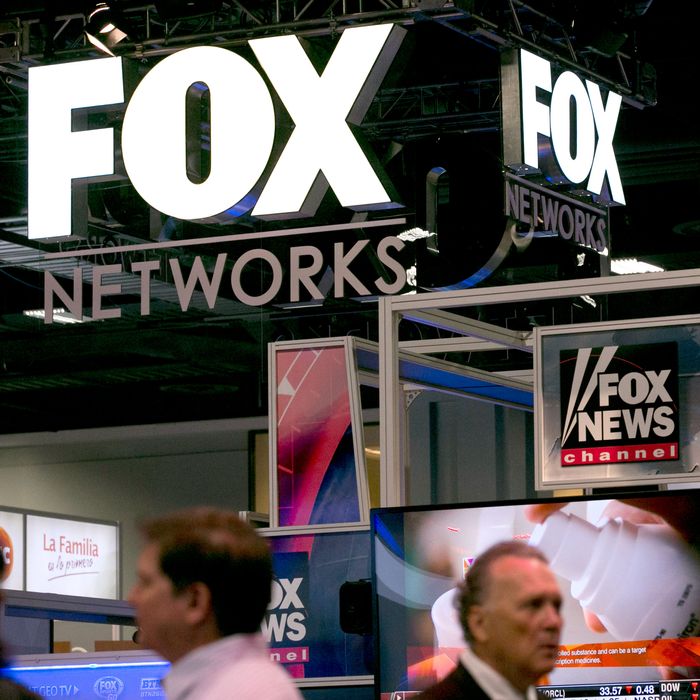 Tamara Holder, a Fox contributor, said she was sexually assaulted by a Fox executive.
Photo: Andrew Harrer/Bloomberg via Getty Images
In February 2015, Francisco Cortes, the vice-president for Fox News Latino and someone "close" with former Fox News chairman Roger Ailes, allegedly invited Fox contributor Tamara Holder into his office, shut the door, and poured them each a shot of tequila. According to a document drafted by Holder's lawyers and obtained by the New York Times, Holder said that Cortes then got up, held the door shut, and forced her mouth toward his penis, which he'd taken out of his pants. Holder quickly left the room.
She didn't report the incident to Fox until September 2016 because she worried it would be brushed off. "I was told by agents and lawyers that if I opened up, I would forever be 'toxic' and my career would be over," she said. But last fall, around the time multiple women came forward with claims that Ailes had sexually harassed them, Holder told the top lawyer at Fox what had happened. She gave executives more details in late October, after which Cortes was fired.
On Thursday, the Times reported that 21st Century Fox reached a $2.5 million-plus settlement with Holder in late February*. In a joint public statement with Holder, Fox acknowledged that in September 2016 she "reported an incident of sexual assault at Fox News headquarters from the prior year." It continues, "Immediately after Ms. Holder notified Fox News of the alleged incident, the company promptly investigated the matter and took decisive action, for which Ms. Holder thanks the network."
Holder left the network on January 1, 2017, when her contract was up. The joint statement with Fox was part of the settlement she received, but thanks to confidentiality agreements, she's prohibited from discussing its terms – or anything else related to Fox News.
Fox has offered settlements to at least two women who claimed to have been harassed by Ailes, including a $3.15 million agreement with former director of booking Laurie Luhn and a $20 million agreement with Gretchen Carlson. The network also stuck a deal with Juliet Huddy, who accused popular anchor Bill O'Reilly of sexual harassment. "When it comes to this issue, there's already a conspiracy of silence," one former Fox employee told the Daily Beast. "The problem is you don't want to come forward because you don't want to be personally and professionally destroyed."
*This post has been updated to more accurately reflect when Fox News and Holder reached a settlement.