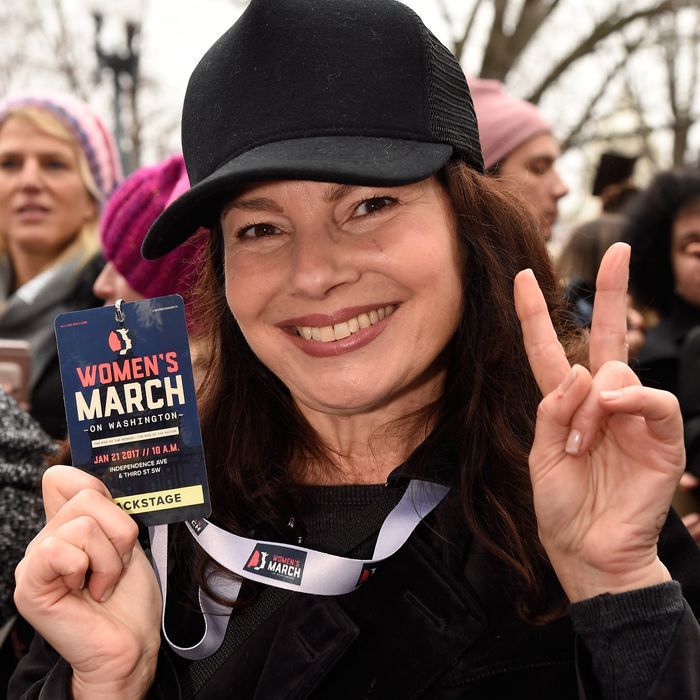 Fran Drescher at the Women's March on Washington.
Photo: Kevin Mazur/WireImage
For reasons both earnest and savvy, celebrities have embraced anti-Trump activism with a zeal typically reserved for a juicing trend. And while we aren't in the habit of congratulating famous people for having non-noxious political views, there is one star whose political enlightenment has been historically underappreciated: Of course, I'm talking about '90s sitcom star Fran Drescher. The former star of The Nanny isn't just "I went to the Women's March" woke — though to be fair, she did. She is also "capitalism has run a mock" [sic] and "we are all pawns of the ruling class" woke.
Drescher cares about "showing big business who's boss."
And sees the pharmaceutical industry for what it truly is.
And thinks capitalism creates "greedy monsters."
Drescher knows the Dakota Access Pipeline is only about rich companies getting richer. "Let big biz know our planet, people, natural resources & wild life mean more to us than all the gas and gadgets in the world," she wrote on Instagram. "Stop the consumption and demand ethical practices over greed!"
"STOP CAPITALIST GREED NOW," she captioned another #NODAPL protest Instagram. "AND DON'T LET THEM DIVIDE OR DISTRACT US EVER AGAIN!"
She wants to end both capitalism and the two-party system.
Drescher hasn't quite crossed the threshold where over-the-top political correctness accidentally becomes problematic, but when she does at least she'll get to hang with Susan Sarandon.