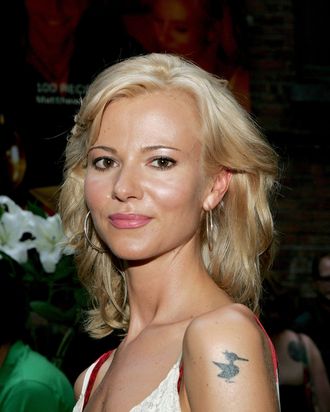 Sarma Melngailis in 2005.
Photo: Paul Hawthorne/Getty Images
In May 2016, Sarma Melngailis — vegan restaurateur to the stars — was arrested. She had spent several months on the run from police after she was accused of not paying employees and stealing millions of dollars from her restaurant, Pure Food and Wine. A man and his penchant for processed cheese were ultimately what did her in: Authorities managed to track Melngailis and now-estranged husband Anthony Strangis down in a Tennessee hotel room after he ordered a Domino's pizza.

Per the New York Post, on Wednesday, Melngailis learned that the lightest plea deal she could get was six months in jail and five years probation, as offered by Brooklyn Supreme Court Justice Danny Chun.*
At a previous court hearing regarding a plea deal, the potential sentence looked more like 1 to 3 years, though if the case goes to trial she could be facing up to 15 years. Melngailis is accused of stealing $844,000 from investors and $40,000 in wages from her staff, as well as not paying $400,000 in sales taxes. In a Vanity Fair story published in November, Melngailis and her camp say that Strangis was the mastermind behind all the crime, explaining, "Strangis resorted to cult-like techniques, including gaslighting, sleep deprivation, and sexual humiliation, to control her." Her next court appearance is in April.

*This original version of this article incorrectly stated that Melngailis was offered six months jail time and five months probation.