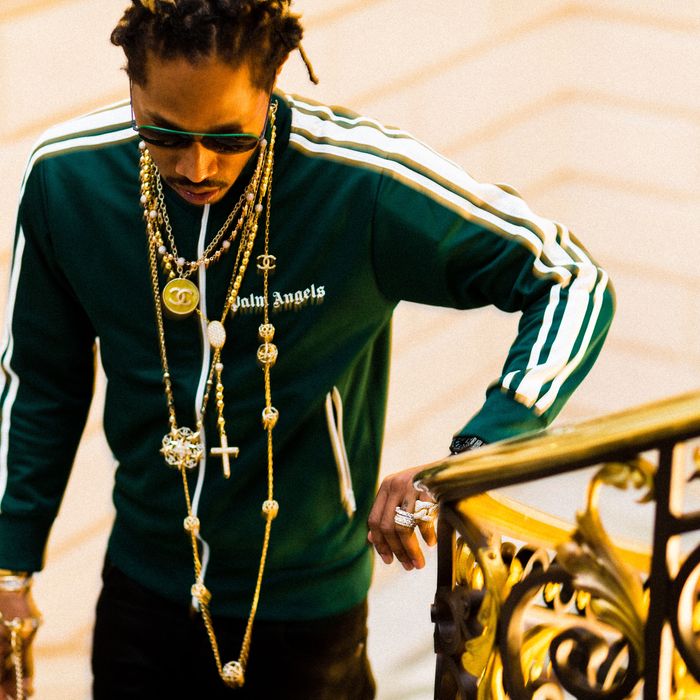 Future.
Photo: Nabile Quenum/Nabile Quenum
Nayvadius DeMun Wilburn, or Future, as he's more commonly called, arrived at the Shangri-La Paris (once the home of Prince Roland Bonaparte, the grandson of Napoleon's brother) with one rack of clothes — an amalgamation of Valentino trench coats, avant-garde Vetements puffer vests, more pairs of sunglasses then I could count, and enough diamond chains to open up a small store. Dressed in jeans, a fitted white T-shirt (Valentino) and Jimmy Choo slides, he made his own outfit choices — both for this shoot, and the two shows he'd be attending at Paris Fashion Week — with complete ease. That sort of assertiveness and confidence, especially from a person who knows they will be inundated by paparazzi, is rare. No overthinking, no outfit changes.
Future long ago mastered the art of personal style, a comfort that enables him to transition from street- to formalwear without a hiccup. He wore a custom Ermenegildo Zegna suit to the 2016 Met Gala and Givenchy to the MTV 2016 Awards. For his upcoming music video with The Weeknd, he chose a blue floral embroidered Gucci jacket. This is a man who is fluent in the language of getting dressed.
So fluent, in fact, is the 33-year-old Atlanta native, that his two new albums contain more than 60 fashion references (I counted). Off camera, he's a denim fanatic; a collector of trophy jackets; he has exquisite taste in jewelry. He prefers thin, delicate strands of diamonds and gold — personal pieces rather than excessive statement chains that have become associated with rappers. In another life he could have been a fine-jewelry editor.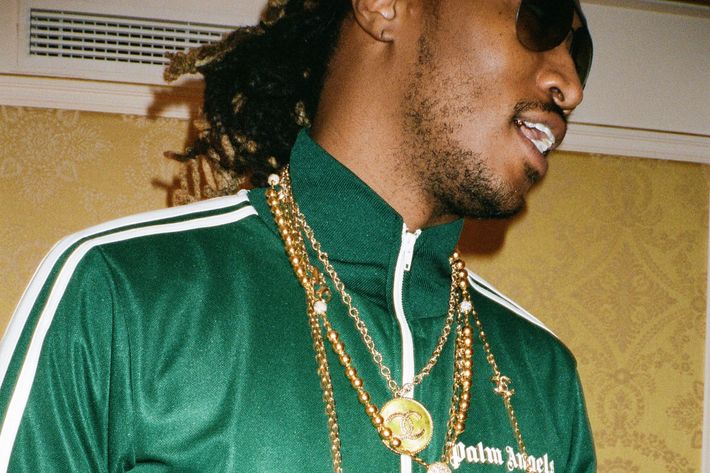 For as quickly as his style accolades seem to accumulate, his music credibility is rising even faster. Future made music history last month, when he dropped two number-one albums in the span of two weeks and become the first artist in the six-decade history of the Billboard album chart to replace himself in the top spot.
When I asked the musician to define his style, he said, "Everything." That's the answer of a man who doesn't subscribe to labels, even though he speaks of brands and designers in the same way an editor does. On any given day you might see him in a Givenchy checkerboard-print parka, with a wrist full of Cartier, Margiela sneakers, and, of course, sunglasses (most recently, Dior Splits, which he has in multiple colorways). When he raps about "Playing with the trenches in a suit, Armani got me with the juice," it's not because he's here to impress an audience. He's actually at Mr. Armani's house in Milan.
But he's no newcomer. Style has always been a part of Future's identity, well before fame. Growing up in Atlanta he looked up to the men around him in the hood — wearing tracksuits (before Gucci made it a trend) with Cuban-link chains, Rolex watches, and Cartier glasses. These are things he's absorbed through a lifetime of observation; aspirational status symbols that, through his successful music career, he's been able to realize in his own way.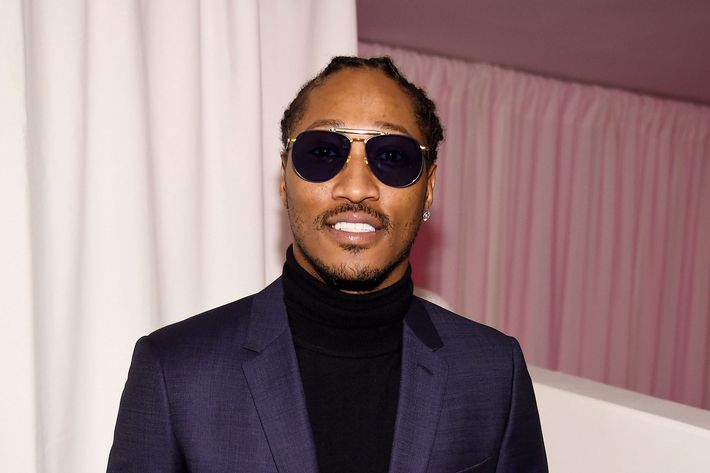 This much was apparent at the Dior Guggenheim party in November, which took place at the museum in New York. Where some men fidgeted with the cuff of their sleeve or the lapel of their blazer, Future was at his most relaxed. Dressed in a slim navy Dior Homme suit, fitted black turtleneck, sunglasses (even at night), minimal jewelry (only a diamond bracelet and diamond-encrusted watch), and his gold-and-black crown of dreadlocks braided together, he reminded me of a Barkley Hendricks painting: dignified and regal at no sacrificial expense to his urban roots.
"We started something," Future said when I asked about his early entry into style, and how it connected with his genre of music. "We started that shit being from the hood wearing big clothes. They told us it wasn't cool, but now they're taking it back," he says. "Everybody was wearing the 4X T-shirts at school seven years ago, and then they started wearing fitted T-shirts. Now it's going back to big-ass clothes."
The love affair between fashion and hip-hop has existed for decades. Run-D.M.C. rapped about their Adidas sneakers in 1986, and Versace invited pioneer of his time Tupac Shakur to walk the 1996 Versace menswear show in Milan. More recently, Marc Jacobs closed New York Fashion Week with his love song to hip-hop, a collection that looked just like a Jamel Shabazz photo filled with the track pants, heavy gold bling, and over-the-top fur pieces that have become staples in hip-hop fashion culture. Marc gave credit where credit was due and called it a "gesture of respect for the polish and consideration applied to fashion from a generation that will forever be the foundation of youth-culture street style."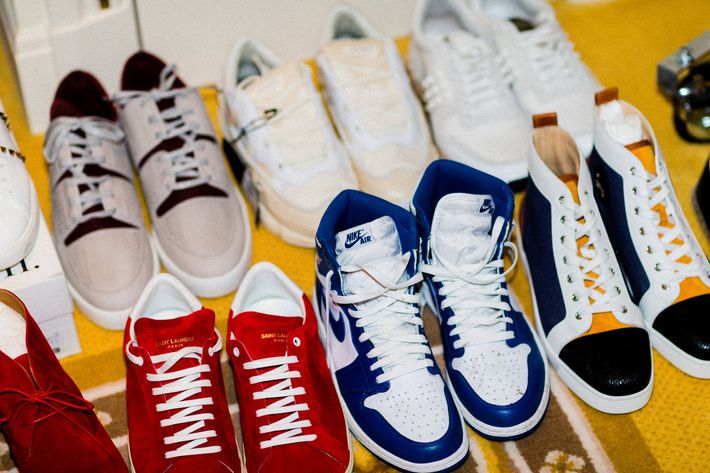 On our way to the Valentino show at the Hotel Salomon de Rothschild, I watched as Future tucked multiple strands of diamond and gold chains into his white T-shirt. It wasn't a self-conscious impulse that made him do this, but rather an understanding that venue changes can demand an altered aesthetic. You're not required to change your style to fit a designer's show, but the savviest dressers adapt to their surroundings. As Future made those pre-Valentino adjustments, we talked about his influential nostalgia (he grew up with Cooley High and Happy Days; he loved the Fonz and his leather jacket), as well as his affinity for jewelry after catching the rings that hug his fingers. I asked if he had a favorite stone. "Rolling," he answered. As in, "A Rolling Stone." Turns out the fashion-proficient rapper's got jokes too.