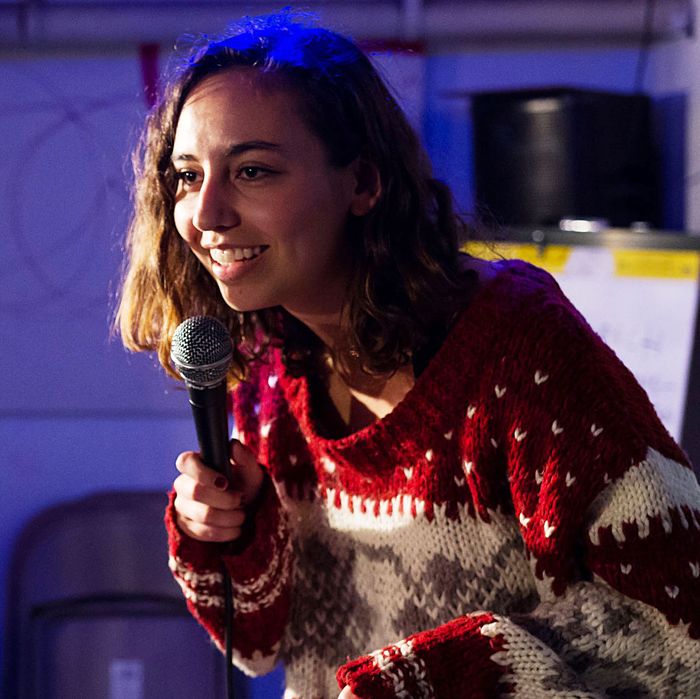 Learning the art of stand-up.
Photo: Jenni Walkowiak/JW Photography
The boys at Mackenzie's school make her feel bad a lot. Like when they say girls aren't good at sports. "The other day, in P.E., there were more girls on one team and the boys threw a fit and refused to play," the 12-year-old tells me. "So I think there's a direct correlation with that and how we're always doubting ourselves."
But today, Mackenzie isn't in P.E. class. She's standing on stage at the Salzy event space in Brooklyn and the boys who doubt her are nowhere to be seen — except for in the butt of her punchlines.
"The boys in my grade are like a unit," she says confidently into the microphone. "They think they're a flock of eagles but they're more like a waddle of penguins." After an eruption of audience laughter, she continues: "And why they do all wear so much Axe body spray? Just because the guy in commercial is hot and ripped doesn't make you're ever going to look like that, Elijah. You need to stop, Elijah."
Mackenzie is one of eight teenage girls, between 12 and 17 years old, who are honing their comedic skills this Sunday at a program run by Gold Comedy, a startup that wants to teach girls and women the art of stand-up. They spend the day learning technical skills like how to handle a mic and structure a joke, and in the evening they perform a set to a crowded room of friends and family.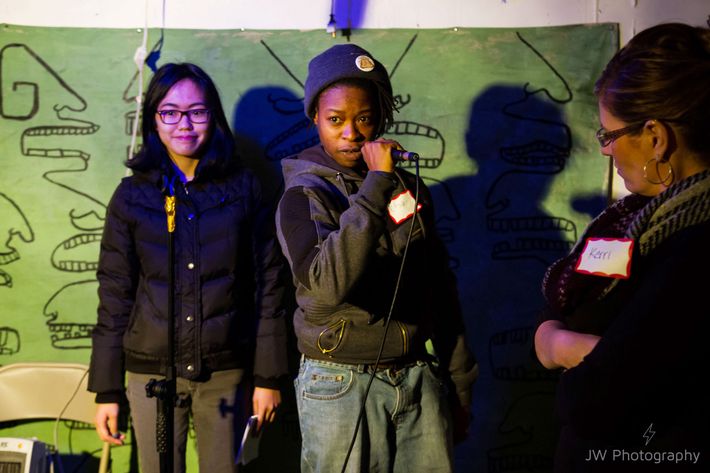 "There are still all these cultural messages telling girls to shhhh," says Lynn Harris, a Brooklyn-based writer and veteran comic, who founded the company. "And it doesn't matter whether you're in a middle-school classroom or a corporate conference room, girls and women are made to second-guess who we are. Be more of this, be less of that, fix this, change that." Comedy, Harris says, is a great confidence builder. It encourages you to embrace your insecurities; turn your malaise into material. "What makes you different is what makes you funny and what makes you funny is what makes you strong," explains Harris. "The message is don't fix anything about you. Comedy is power and I want more people to have that power."
A lot of the girls' jokes focus on the tribulations of teenage life, from social anxiety to body issues. Brianna, a tall 17-year-old, hates how her height makes her stand out from other girls. At the workshop she channels her insecurity into jokes about how she's bigger than everyone in her class, even the teachers. In one bit, she mimics staring down at a teacher who is trying to talk to her, cracking everyone up as she squints down at the floor, as if searching for a particularly diminutive ant.
Thea, 13, feels like she doesn't fit in at school. While the other kids obsess over "memes and anime" and think "books have gone out of style," she'd rather read than do pretty much anything else. In her performance, Thea plays up her bookishness, using a high-pitched voice as she deadpans a joke about her classmates: "I don't know all their names, but I do know their test scores." Later, Thea tells me it's "very therapeutic" to turn her feelings of "being too uncool into something cool."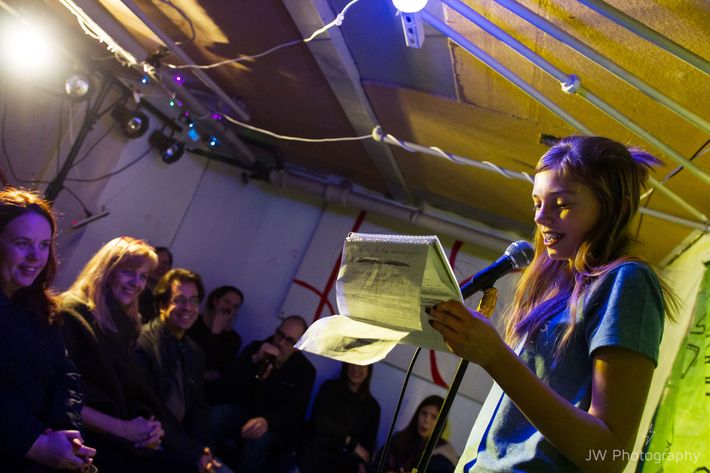 Elsa Waithe, a 27-year-old comic who is helping teach today's class, knows exactly how powerful comedy can be. "It literally saved my life," she says. In her early 20s, Waithe was in a bad place; depressed and using alcohol to self-medicate. She entered the stand-up scene haphazardly — her first time on stage was a dare — but quickly discovered that comedy was a positive outlet for otherwise destructive emotions. "Comedy is a good way to talk the demons out of the closet," she explains. Your problems don't "feel so big when you're making a joke [about them]. And when you have a room full of people identifying with what you're talking about, you feel less alone. It's kind of hard to be upset or mad or scared of something that you're laughing at."
These days, there is a lot making these girls "upset, mad, and scared" beyond school, or boys, or fitting in. Politics is also on their minds. At a previous Sunday workshop, a 14-year-old Muslim girl joked about hiding razors in her hijab in case people tried to grab it off her. Another talked about the pink pussy hats at the Women's March and how weird it was being able to say "pussy" in front of her parents. Today, Brianna riffs about feeling self-conscious about her Jamaican accent. "You know Americans favorite thing to do is stereotype so let me keep it crispy for you. All Jamaicans smoke marijuana? No. Some of us go to church. [People] always ask me if I can find them some marijuana. No. But I can find you a nice church!"
On Monday, the eight budding comedians will have go back to the stresses of school: Thea will have to deal with her meme-obsessed classmates and Mackenzie will have to deal with the Axe-lathered Elijah. But maybe instead of bottling up how they feel, they'll laugh about it instead.