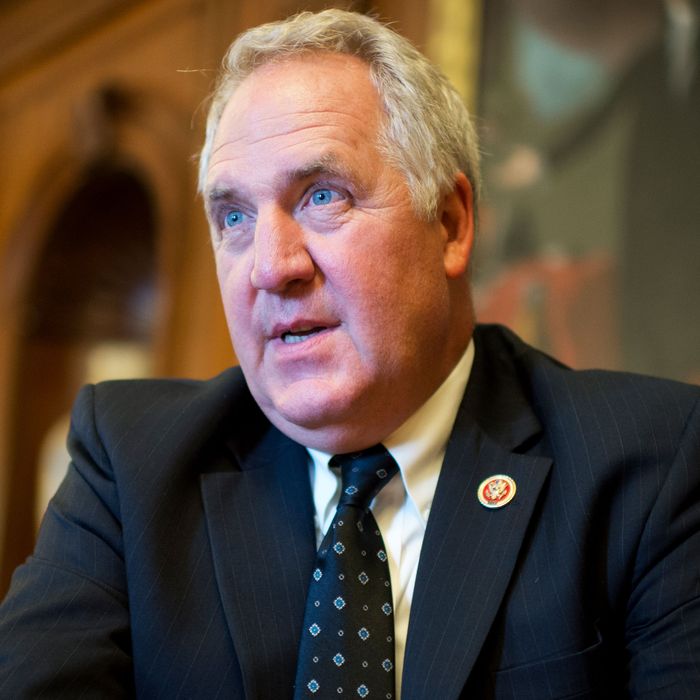 Representative John Shimkus is mad about prenatal care.
Photo: Tom Williams/CQ-Roll Call,Inc./Getty Images
Despite heavy criticism from both sides, the American Health Care Act (also known as Trumpcare) is making its way through House committees. And after a 27-hour marathon debate, the House Energy and Commerce Committee finally gave the act its stamp of approval. But Republican Representative John Shimkus asked the question that's drawing fire on social media just a few hours into the hearing, so he can't even blame sleep deprivation.
During a discussion with Democratic Representative Mike Doyle, Shimkus laid out some of his problems with the Affordable Care Act, including the requirement that health-insurance plans cover certain basic health benefits like hospital and doctor visits.
"What mandate in the Obamacare bill does he take issue with?" Doyle asked Shimkus. To which Shimkus replied, "What about men having to purchase prenatal care?"
As the room started to buzz, Shimkus added, "I'm just … is that not correct? And should they?"
As the Washington Post points out, it isn't the first time opponents of Obamacare have used its prenatal care and maternity-coverage requirements to make a point. Former North Carolina Representative Renee Ellmers asked the same question during a 2013 hearing: "To the best of your knowledge, has a man ever delivered a baby?"
But prenatal care is considered a basic health benefit under Obamacare for good reason. From the Post:
Up until now, many policies on the private market did not cover maternity care as a standard benefit. Women who unexpectedly became pregnant would find, to their surprise, they weren't covered for those services. In some cases, when they tried to switch, their insurance company would treat their pregnancy as a preexisting condition and not cover the cost.
In other words, lawmakers who wrote the policy didn't want insurers to be able to discriminate against women. And it goes both ways — under Obamacare, women pay for basic services that benefit men such as prostate cancer tests and a preventative service that checks older men who have smoked for abdominal aortic aneurysms. As Doyle reminded Shimkus during the hearing, "There's no such thing as à la carte insurance, John." In the immortal words of our president, who knew health care could be so complicated?