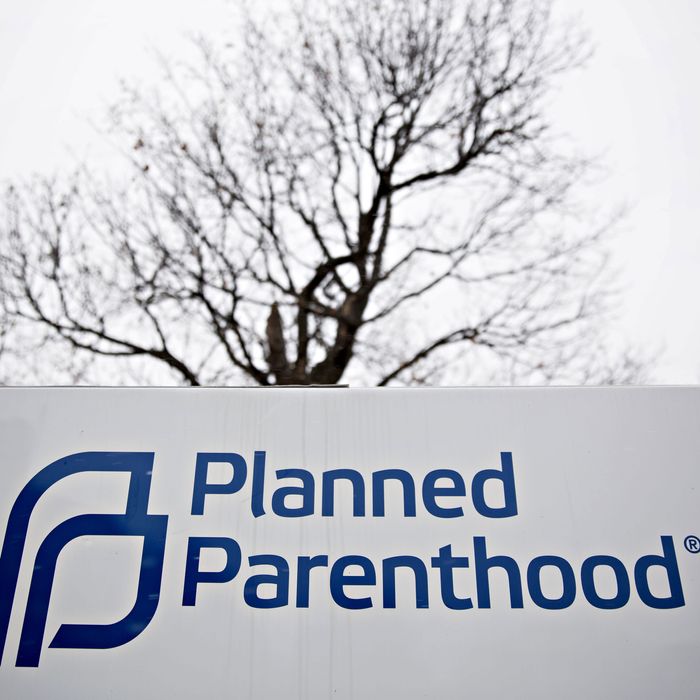 Photo: Daniel Acker/Bloomberg via Getty Images
The long-awaited House GOP's bill to repeal and replace Obamacare was unveiled on Monday evening, after being kept away from prying eyes. The GOP's resulting American Health Care Act not only repeals and replaces the Affordable Care Act, it also sets the stage to effectively defund Planned Parenthood and restrict insurance coverage for abortion.
House Speaker Paul Ryan has previously vowed to defund Planned Parenthood, and the new bill manages to do exactly that, by preventing Medicaid dollars from being used at the health-care facilities. The GOP replacement bill states that Medicaid cannot directly or indirectly fund any health-care organization that "provides for abortions" (read: Planned Parenthood), according to the Los Angeles Times. Low-income women would be most affected by the proposal, according to Vox, since Medicaid recipients typically earn far below the federal poverty line. In 2015, for instance, 78 percent of the patients seeking services at Planned Parenthood had incomes of 150 percent or less of the federal poverty level, Vox reports.
Due to the Hyde Amendment, however, federal dollars are already prohibited from being used on abortion. As a result, when Medicaid dollars are used at Planned Parenthood facilities, they help cover the cost of other procedures, such as mammograms, STD testing, or birth control. In short, the new bill restricts Medicaid funding to health-care providers like Planned Parenthood because they perform abortions, regardless of how the procedures are paid for.
It also includes language that could potentially shift the private insurance market to no longer cover abortion, or at least make it very expensive. Under the bill, tax credits wouldn't be allowed for health plans that cover abortion (except in cases of rape, incest, or to save the life of the mother). Though abortions themselves are not outlawed in the new bill, any government subsidies, such as tax credits, would be completely eliminated. The end result, as Vox points out, would be a situation that 1) offers little incentive to insurance providers to cover abortion, and 2) makes it difficult or too expensive for consumers to buy additional coverage for abortion, since the pool would be so small:
If abortion insurance coverage is both expensive and a logistical hassle, many consumers simply won't buy it.

That wouldn't leave insurance companies much incentive to offer abortion coverage at all, even if it's technically not prohibited by law. Indeed, it gives insurers almost no other choice but to stop covering abortion in many, or even most, of their plans.
President Donald Trump has previously spoken about the "millions and millions of women [who] … are helped by Planned Parenthood," but he vowed to defund the organization because it provides abortions. Still, prior to the new health-care bill's unveiling, the president dangled an offer before Planned Parenthood, according to the New York Times: If the organization agreed to not perform abortions, they could keep the $500 million in federal funding it receives annually. Planned Parenthood reportedly rejected the president's proposal.