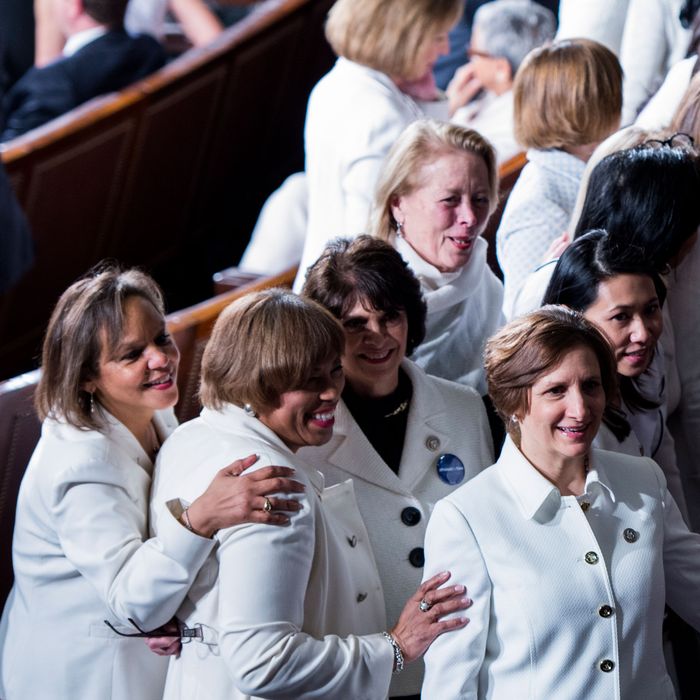 Women Democrats wearing white pose for a photo.
Photo: Bill Clark/CQ-Roll Call,Inc.
On Tuesday night, dozens of Democratic women representatives donned white pantsuits for Donald Trump's first congressional address — a gesture that was nice, though solely symbolic. According to a letter circulated by the heads of the Democratic Women's Working Group, the outfits were a nod to the suffrage movement and showed "solidarity with the women of our nation."
Neither Trump nor any of his surrogates mentioned the sartorial choice, but it bothered Republican Representative Kevin Cramer of North Dakota, who went on an unsolicited rant about the outfits during a radio town hall Wednesday morning.
According to Politico, a constituent remarked to Cramer that Democrats were "spinning a lot" and should work with Republicans. Cramer agreed, then went completely off topic. "But by the way, did you notice how poorly several of them were dressed as well?" he said "It is a syndrome. There is no question, there is a disease associated with the notion that a bunch of women would wear bad-looking white pantsuits in solidarity with Hillary Clinton to celebrate her loss. You cannot get that weird."
Nancy Pelosi, who Trump recently called "incompetent," didn't mention Clinton when she discussed the choice on MSNBC. "It's not even a protest," she said. "It's a statement of values." Perhaps the same can be said of Cramer's cargo pants.