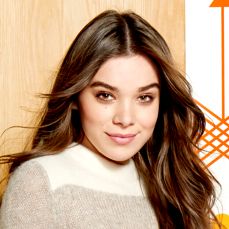 Hailee Steinfeld for REEF.
Photo: Yu Tsai/REEF
It is far too cold in New York City to even contemplate sandals, but the REEF sandals event on the Lower East Side Saturday night made summer seem even more tempting. Hailee Steinfeld is currently the face — or the feet, depending on how you look at it — of the flip-flop brand, which the Cali native says has been an integral part of her beach-loving life.
"REEF sandals are literally a staple" in her family's household, Steinfeld said. "For as long as I can remember, there has been a pair — or multiple pairs, I should say — of REEF sandals of the bottom of my staircase, between my brother and I, and my parents, even. They have been in my household forever!"
The event, which presented an attractive array of flippie-floppies in a variety of new styles and colors, required the Edge of Seventeen actress to fly in at the rude hour of 4:30 a.m. that morning from a much sunnier climate. "I'm in the middle of Pitch Perfect 3, just in Atlanta, which was nice. I was pleased to find out it wasn't that long of a flight. But yeah, I landed and before I even got off the plane I could see my breath," she laughed.
Part of the fun is Instagramming REEF sandals, of course, but that sometimes brings unwanted attention — not that Steinfeld has noticed. The Cut delighted, fascinated, and perhaps grossed her out with tales of the joys of Baby Foot, which we compared to a juice cleanse for your feet. It's entirely possible the actress and model, and perhaps her feet, might never be the same.