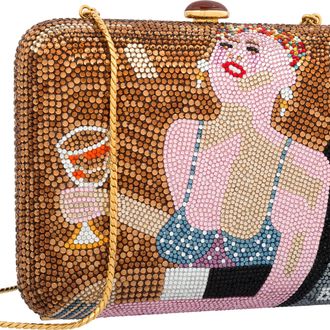 Gerson Leiber–inspired rhinestone-encrusted minaudière, 1992.
Photo: Gary Mamay/Courtesy of the Leiber Collection
Handbag designer Judith Leiber's eccentric, colorful purses have appeared on the wrists of everyone from Hillary Clinton (see this incredible cat purse) to Sex and the City's Carrie Bradshaw (remember the glittery swan purse Big gives Carrie in season two, instead of just telling her "I love you"?). The exhibition "Judith Leiber: Crafting a New York Story," opening April 4 at New York's Museum of Arts and Design, will honor Leiber's 65-year-long career and pay homage to her rise from Holocaust survivor to influential handbag designer.
As a young woman, Leiber spent much of World War II hiding from Nazi persecution; the majority of this time was spent in a small apartment with 26 other Hungarian Jews seeking refuge from Hitler's regime until her home city of Budapest was liberated. After the war, Leiber began to work her way up as a designer, making handbags for secretaries of the American Legation despite her lack of resources. "I already had ideas of my own that I made, but at the time, we didn't have that wide of a possibility yet," Leiber told the Cut. "The materials we could get were very limited. We had been at war, and the leather makers had been making items to support the war effort."
In 1963, Leiber opened her own company in her name, a little over a decade after she immigrated to New York. As her own boss, Leiber had the freedom and materials to begin designing over-the-top, colorful bags that became the brand's signature look. She produced every type of bag imaginable while running the company for six decades, from tiny bejeweled clutches shaped like snakes, swans, a bushel of asparagus, penguins, and Buddha to bags artfully embellished with entire cocktail-party scenes in rhinestones. Inspirations for her bags were infinite, from art, gardens, and jewels to buildings she saw while traveling. "I got the idea for the Penguin minaudière from a friend who was married to a famous explorer and traveled to Antarctica," she said. "She came home with stories of the penguins she saw and I got the idea to make a penguin handbag."
Leiber left the company in 1998, having left her mark on the fashion world. "What she did was groundbreaking," Harold Koda, former curator of the Costume Institute of the Metropolitan Museum of Art, recently told the New York Times. "She gave bags and purses a narrative. This conceptual focus makes them playful or surreal, sometimes both. She makes me think of Salvador Dalí and his telephone-dial compacts."
The MAD exhibition will be on view until August 6 and features nearly 100 of Leiber's handbags, along with memorabilia and photographs that trace her career. Click ahead to see purses in the exhibit, including a rhinestone-encrusted watermelon and a Buddha clutch.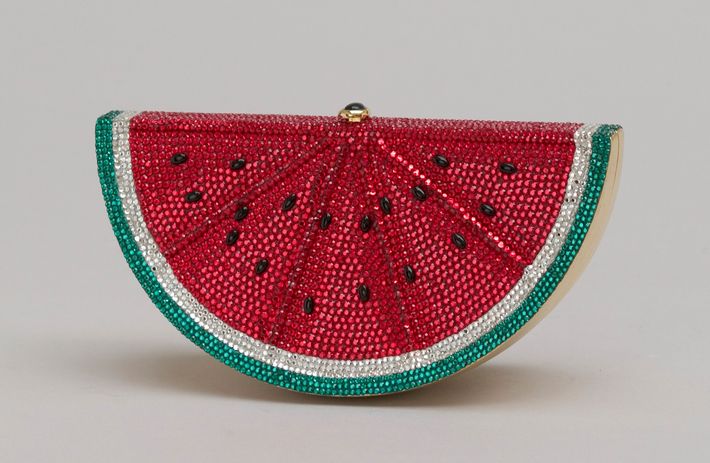 Watermelon minaudière with rhinestones, 1991.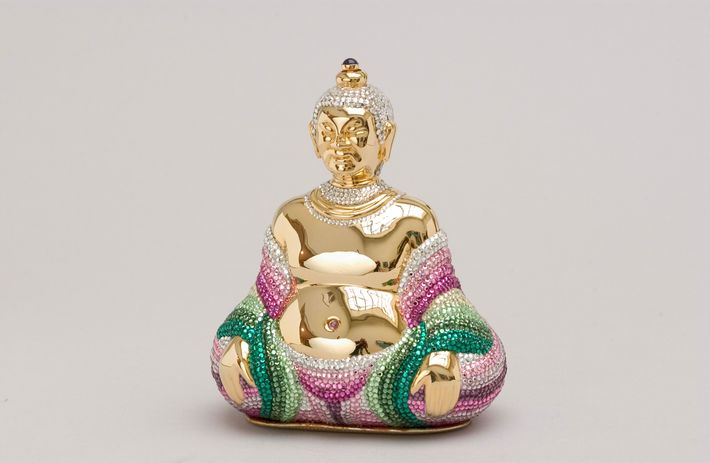 Buddha minaudière with rhinestones, 1987.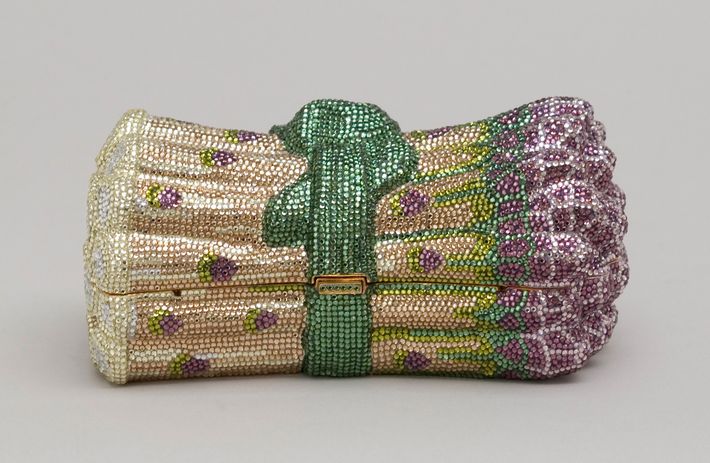 Asparagus minaudière with rhinestones, 1996.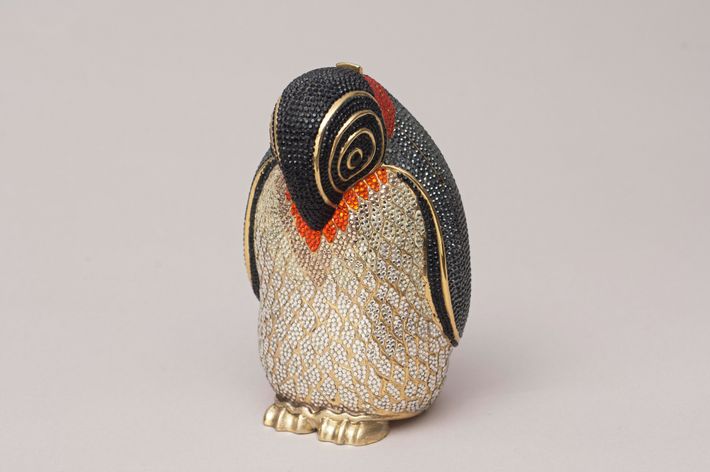 Penguin minaudière with rhinestones, 1991.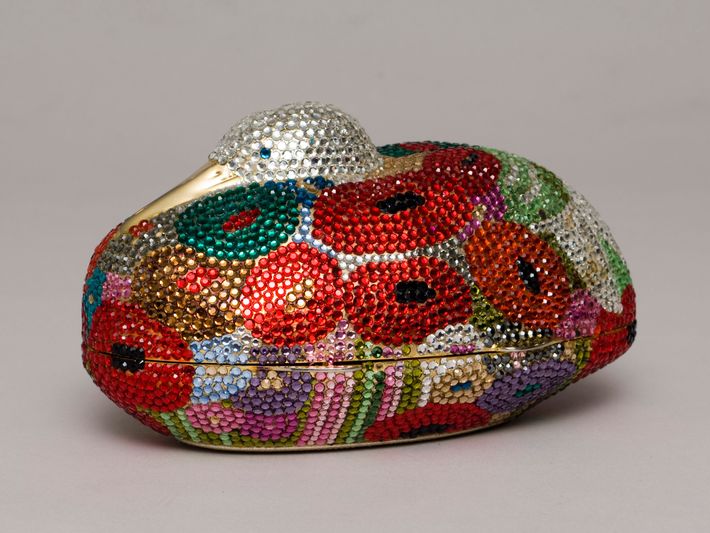 Resting crane minaudière with rhinestones, 1970.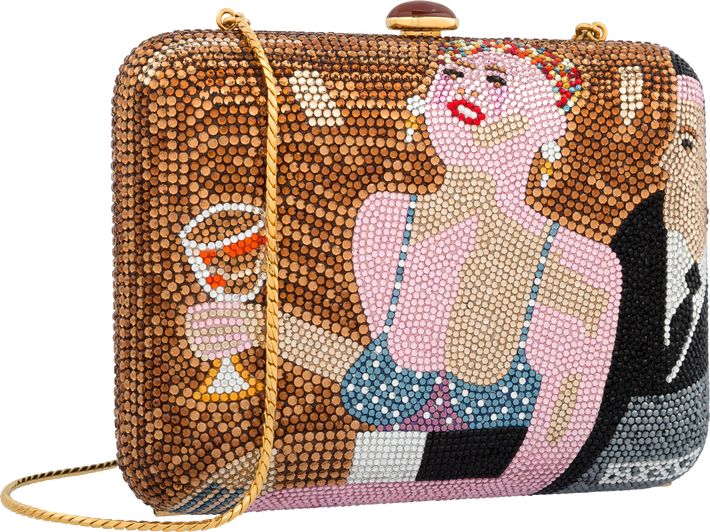 Gerson Leiber–inspired rhinestone-encrusted minaudière, 1992.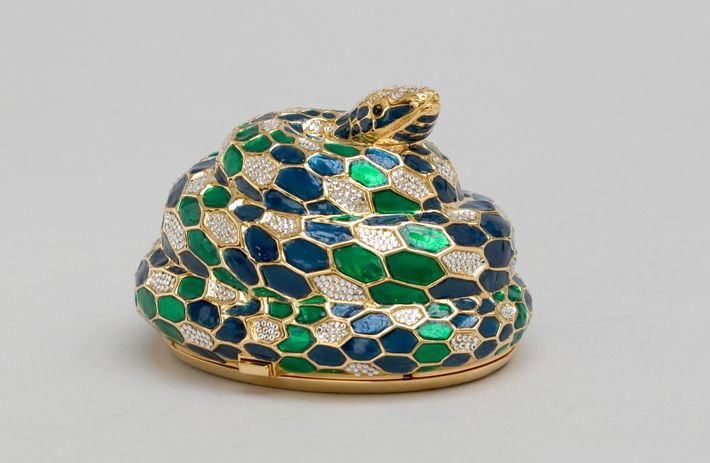 Snake minaudière with blue and green enamel, 1989.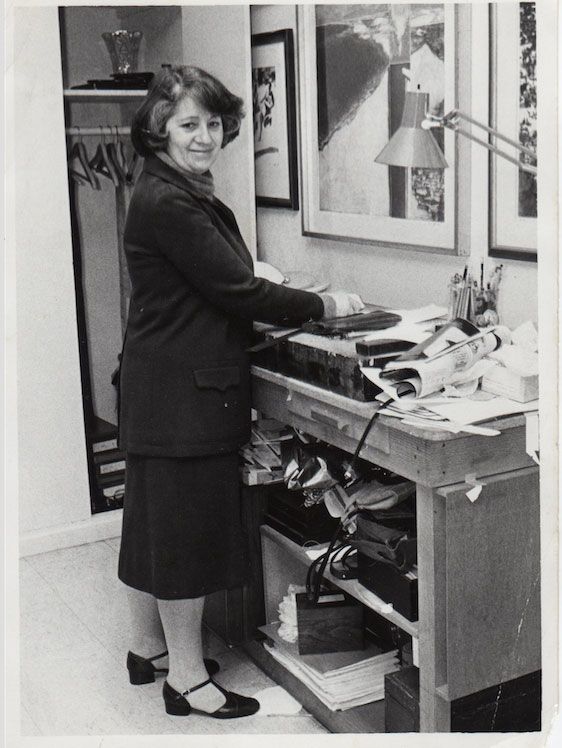 Judith Leiber at work in her studio.