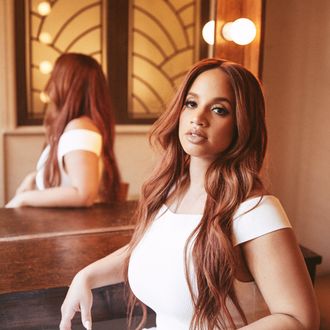 Dascha Polanco.
Photo: David Ralph
Dascha Polanco does not have the luxury to waste time. Between filming for Orange Is the New Black, trying her hand at theater again in Tell Hector I Miss Him, showing designers what they're missing out on when they pass her over (remember the time she showed up at NYFW in nothing but a custom-made bodysuit by the Blonds and a embellished duster coat in homage to Selena Quintanilla?), and raising two kids, it's easy to see why. The Dominican Republic–born actress moved to New York at the age of 2, and hustling comes naturally. "Being an immigrant, coming to America when I was so young, being able to work and to set my own goals to succeed, I find myself to be very proud to be doing what I love in New York while inspiring and influencing brown and black women."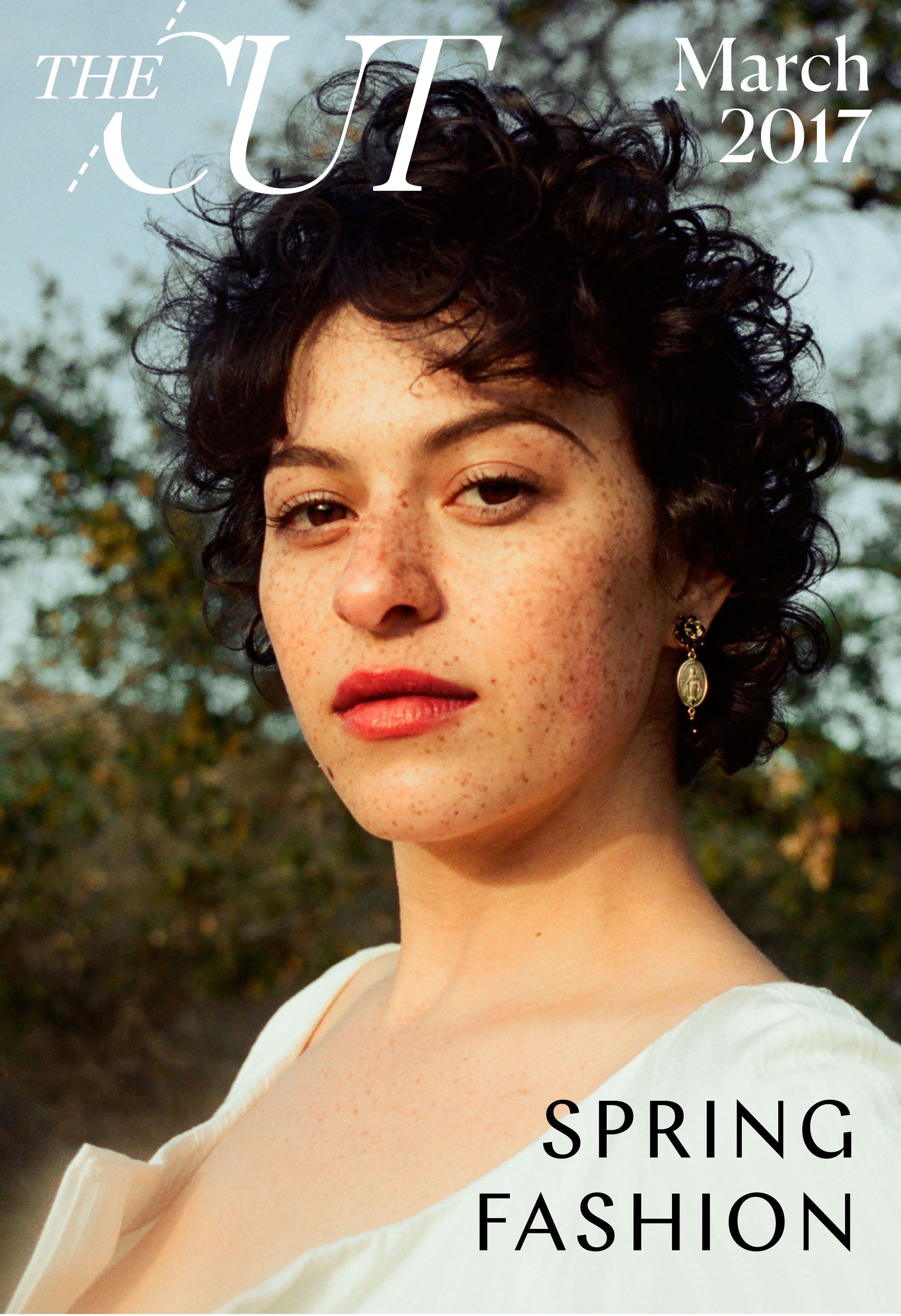 Polanco never considered herself a working actress before OITNB; in fact, she spent most of her 20s balancing three jobs and attending nursing school part time. "I went to acting studios in my free time and I got the opportunity to book a couple of small roles prior to OITNB," she recalls. "After I got the part in Orange Is the New Black, I remember asking some of my co-stars, 'What do you do?' Because I worked after auditions. And they would say, 'What do you mean what I do? This is what I do.' That was a moment of self-realization for me. I never thought that was possible; and from that moment I knew I could be a professional actress for the rest of my life."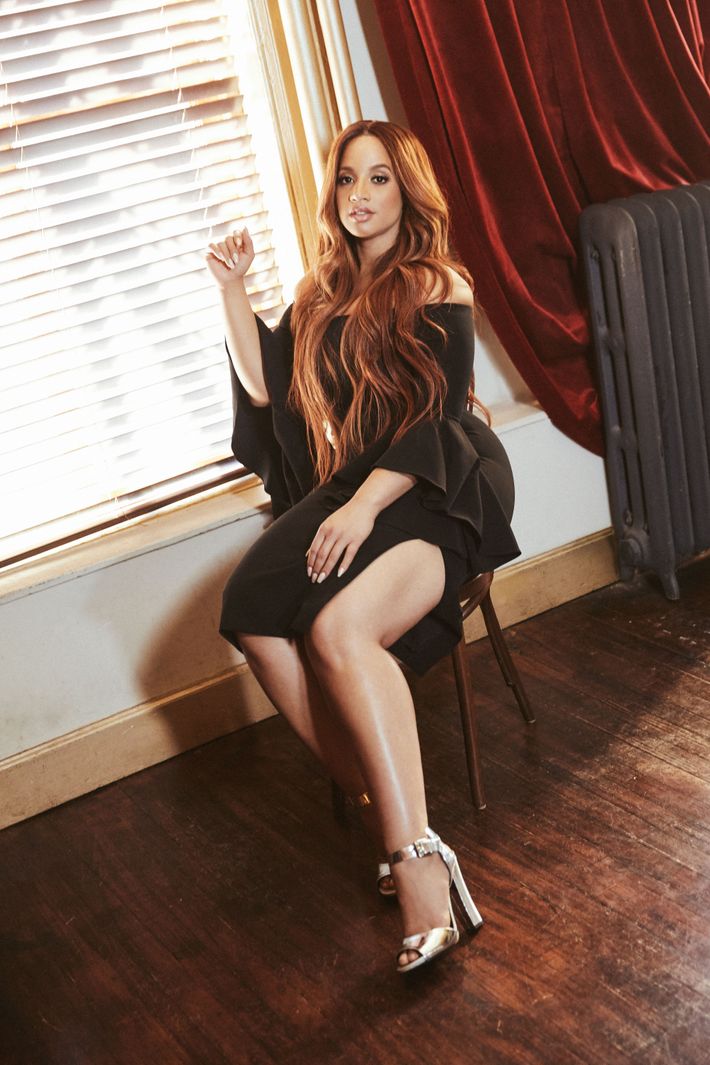 Milly Slit Dress, $485 at Milly, Giuseppe Zanotti Heels, $795 at Giuseppe Zanotti
And of course when she found out she got the part of Dayanara Diaz, she cried. "My manager called me while I was working a desk job at a hospital. I remember I was in my lab coat, it was freezing," she recalls. "Once I got the call, I wasn't cold anymore. Honestly, I didn't tell anyone that I was actually in a show. And when I did mention it to some people, it was like, 'Oh, it's just a Netflix thing.' They didn't take it seriously. But for me it was, like crying nonstop because I didn't know what was going to happen. For me to be excited is one thing but for a manager to be excited is different. So I was thinking to myself, 'this has to be bigger than what I thought.'"
We laugh at how much her life has changed since then, as Polanco relays stories of receiving DMs on Instagram from people she went to high school with and getting stopped on the street. And things really changed for her when OITNB started garnering critical acclaim, receiving multiple Emmy, Golden Globe, American Film Institute, Peabody, and SAG nominations and awards, and, later, becoming Netflix's most-watched original series. "Our show is a phenomenon," she says. "To have such raw talent on such a big platform was something that never existed before. It was a show for all women — some experienced, some not — and gave me the opportunity to show that I am equally as talented as anyone else out there."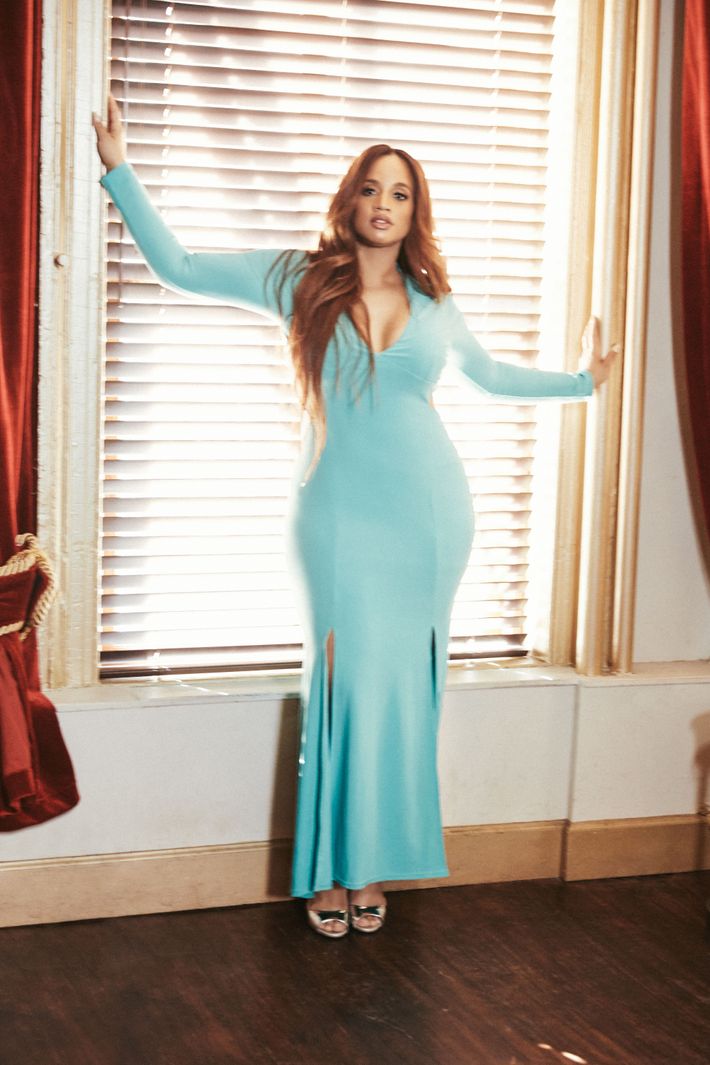 Christian Siriano Dress, $98 at Christian Siriano, Giuseppe Zanotti Heels, $650 at Giuseppe Zanotti
Season five, which premieres on June 9, is sure to be yet another binge-worthy weekend for fans. Polanco tells me it's going to be "one of the most powerful seasons ever. As a cast, we're exhausted emotionally, mentally, because of what's going on in the show. It's going to be very interesting to see the audience reaction." Her character on OITNB, Dayanara, came in as the shy member of the Spanish Harlem crew, dealt with having C.O. John Bennett's baby (played by Matt McGorry) and is responsible for one of my favorite lines to the day, "Fuck diamonds — I got spinach!"
"To see Dayanara develop as a human being has been amazing," Polanco says. "At the beginning she was just this hopeless romantic. Now I'm seeing layers and layers to this character. She's a product of a lot of things young adults experience across ethnicities. And for the most part she's become a woman. You've seen her as a teenager, artistic in her own little world to becoming a woman and to deal with these real-life issues that she's brought upon herself, but also she has been kind of brought into them without wanting to. They dynamic with her mother is positive at times, but also manipulative and not supportive at times. I'm very lucky that I'm still part of the show and that I'm able to see her trajectory in prison but also how she's grown up incarcerated."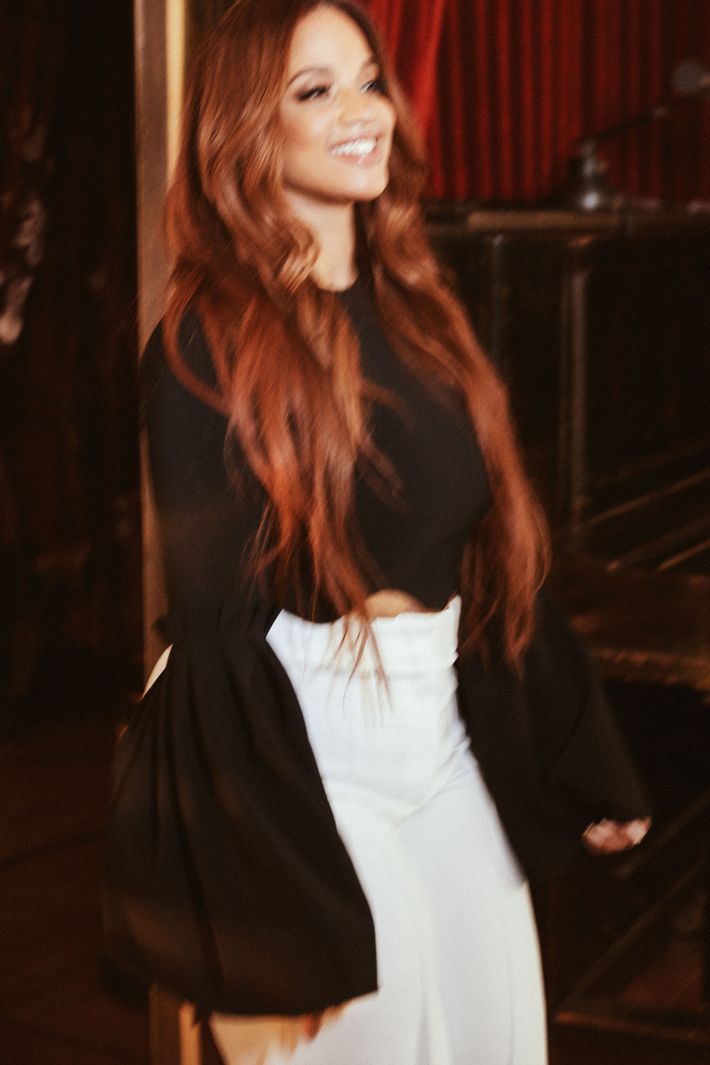 Christian Siriano Top, $750 at Farfetch, Milly Pants, $375 at Milly
And while on break from OITNB, Polanco was able to get back to her first love: theater. In high school and college she was only interested in stage acting, making her part in Tell Hector I Miss Him an even sweeter full-circle moment. The play centers around a neighborhood in Puerto Rico struggling with colonialism and poverty, while her character Malena navigates various love and relationship conflicts in an urban community. Polanco did a grueling eight shows a week. "Theater is different than TV because you get one chance to display your emotions through the character," she says. "It's a short run but I had a lot of fun because it's a totally different experience with the live audience. I had to be so aware of everything — where I would cry, what my next move would be. The more I did it, the more I learned about myself. It felt like when you go to the Caribbean for the first time and you get hit with all this culture. And then you go home and it's like, 'Wow, did that just happen?'"
Despite Polanco's notoriety, (she has 2.2 million followers on Instagram alone) the fashion world has been slower to embrace her and other women who have had successful careers but don't fit the 'traditional' aesthetic of blonde, thin, and tall. Publications love to interview Polanco, asking her about attending fashion shows and wearing custom pieces on the red carpet, but styled editorials have yet to come to fruition. "It's been hard for me to work with beauty and fashion brands because they don't think I can sell a product or be a 'face,'" she says. "But people will connect with me because I'm giving you what it is; this is honest. I've seen so many people physically alter themselves to be the 'face' and get jobs. And it's so hypocritical."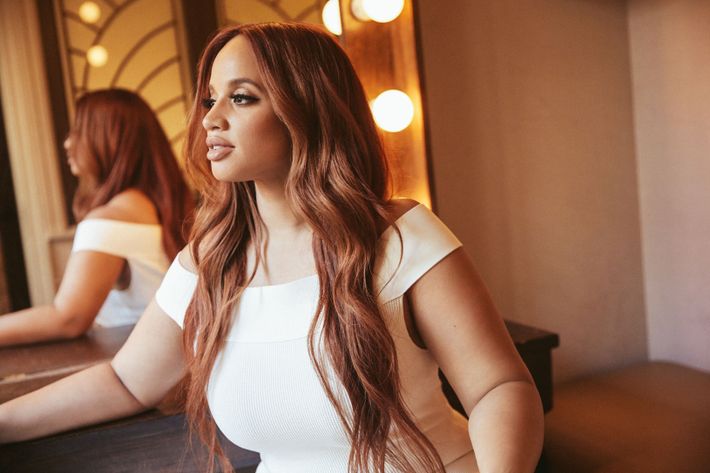 Roland Mouret Dress, $1,079 at The Outnet
No matter the uphill battle, Polanco says she really does enjoy fashion. She's taken sartorial risks that worked in her favor, like wearing a vintage Jean Paul Gaultier tuxedo to this year's SAG awards, and a long-sleeved, backless Michael Costello creation two years prior.
"My mom used to make me skirts. Fashion is something that's within me and I love it. I don't want a designer to make me feel like I'm a weird person, like I'm not capable of rocking something and making it look beautiful because of my size. I want to have the freedom to say, 'Today I feel like wearing Dolce and Gabbana. Tomorrow I feel like wearing Versace. The day after that I feel like wearing Tracy Reese.' It would be nice not to feel restricted in my choices just because the designer doesn't like my size."
Though it's still disheartening to know that someone as talented as Polanco doesn't get the respect she deserves from the fashion industry, she tells me it doesn't irritate her anymore because it's so predictable. "I can see the steps of when they're going towards rejection. You can tell when they're dodging your phone calls, and you know when they're not going to email you back. Before, I used to personalize it but now I can see right through them, and it's better for me mentally to just realize that they haven't gotten with the program and start to think of ways to create my own things and capitalize on these rejections. But we have to see more inclusion in magazines, ads, everything. It was cool to see what Lane Bryant did with Gabourey Sidibe but what about other brands? It's about having equal opportunities for everyone. It's not to discourage their Kate Moss; it's to have a Kate Moss, a Tyra Banks, and curvy models included and not separate."
Photos by David Ralph Studio, Styling by Lindsay Peoples, Hair by Cynthia Alvarez, Makeup by Keita Moore.